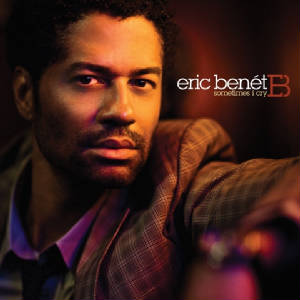 Eric Benet's 'Lost in Time' is finding its way - to the top of the charts

(January 7, 2011) - "I needed to hear some music on the radio with real passion," said R&B's Eric Benet about his latest CD project "Lost in Time" (Reprise). "Musicianship and live authentic realism...my ears was not hearing that - not saying it wasn't good music out there - but this CD is recorded live...with live strings...we used as little of modern technology (as possible)."

Eric Benet's latest CD project debuted on the Billboard Charts at #11 and the single, "Sometimes I Cry," debuted at #44. The official music video to the single has reach almost 350,000 views in two months.
Benet (44) executively produced "Lost in Time" and co-wrote/co-produced each song with his cousin George Nash, Jr., who was once in a group with Eric - along with Eric's sister Lisa - called Benet in 1992. In 1993 he became a single father to his daughter born in 1992, after the tragic death of his daughters' mother. A year later - in 1994 - he signed with Warner Bros Records and released a solo project, "True to Myself," in 1996.

In 1999 he released "A Day in the Life" which garnered the hit single "Spend My Life" featuring Tamia. Eric received a Grammy Award nomination for that single and the CD. In 2005 he released "Hurricane" and by 2008 "Love and Life" was released garnering the #1 Adult R&B Song "You're the Only One."

If passion is what Eric wants to hear his first single "Sometimes I Cry," one of my favorite cuts on the project, certainly provokes that feeling.
"I hope that and want a powerful reminder to the record companies and radio that people are hungry for real music," Benet said this was his hope of what the project will produce from those that listen to it. "Real singers, real artists and craftsmanship - not to slight the auto-tune because that's an art form too."

Well I think it was very crafty how he and Nash combined the sounds of the 70s with the contemporary R&B (and Pop) sounds of today. I can clearly hear the influence of The Stylistics in several of the songs. Though the entire album is a treasure because of selections like "Feel Good" with Faith Evans and "Good Life" featuring Ledisi, my favorite cuts on the CD include - aside from the hit single - "Never Want to Live Without You" because it's reminiscent of the Stylistics' "Betcha By Golly Wow" hit and it's a sweet and honest confession of a bad move; "Always a Reason" has a 70s vibe too and Eric's tenor capabilities is just amazing; "Paid," featuring Eddie LaVert, took me back to the O'Jay's vibe, and "Summer Love" an R&B/Pop selection featuring Eric's daughter India - how sweet - she does a wonderful job harmonizing with her father.
"India is very talent," Eric told me about his daughters' skills. "She is a singer and songwriter...she is developing her own sound and direction."
For more on Eric Benet log onto his website at
www.EricBenet.net
or you can follow him at
www.twitter.com/ericbenet
.
BET's Celebration of Gospel, an extravaganza of Praise & Worship performances, to air January 30, 2011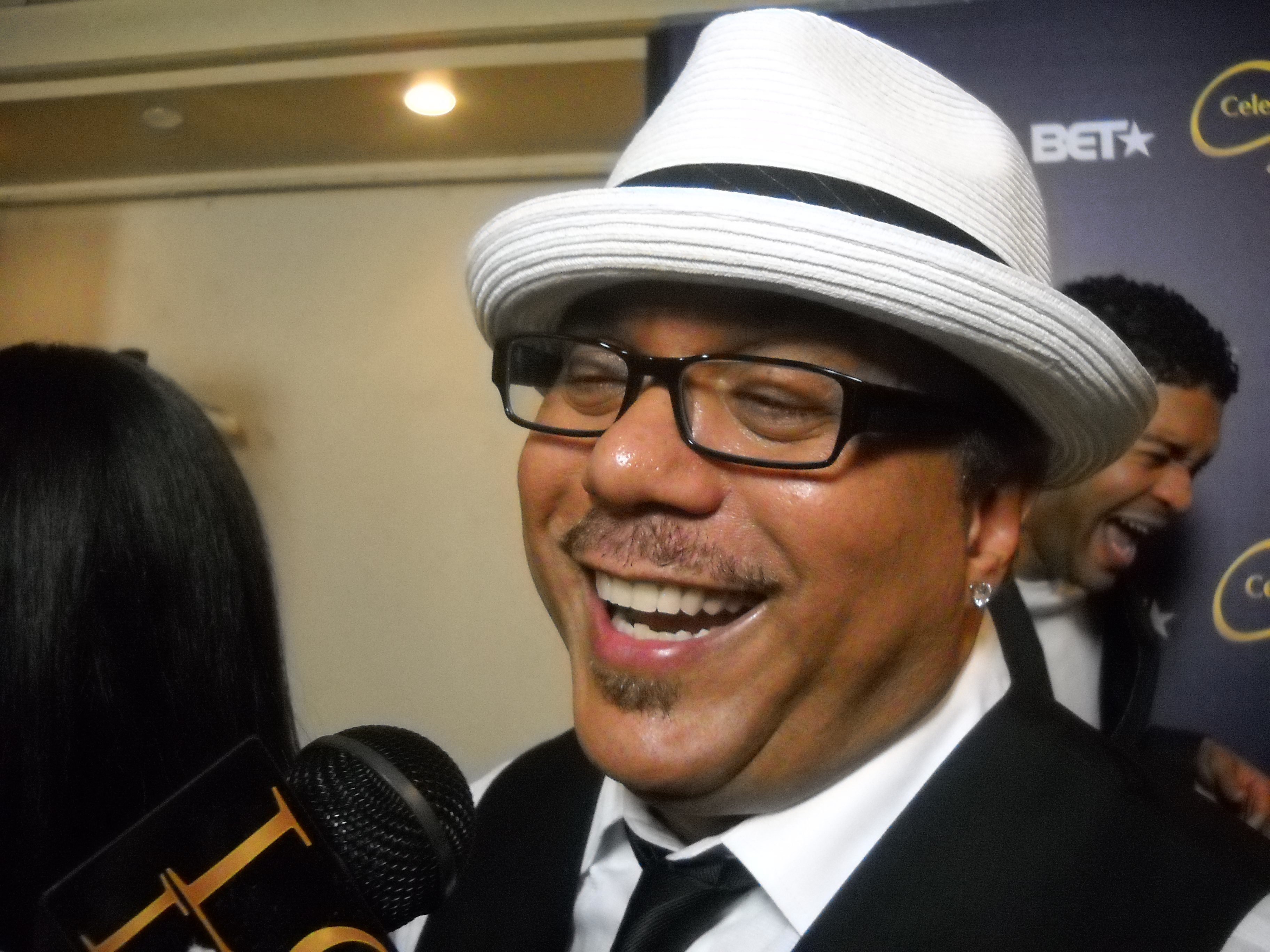 I was invited to cover the BET Celebration of Gospel, to air January 30, 2011, that started with an early-morning Prayer Breakfast where Dr. Bobby Jones and Dr. Jamal Bryant prayed briefly. Then it ended with the red carpet arrivals and the show which attracted enough people to fill The Orpheum Theatre in Los Angeles and form a line of anxiously - standing room only - hopeful attendees three blocks long.
There were over 22 artists there (Gospel and secular) to perform during the BET event such as Chaka Khan, Dr. Bobby Jones, Howard Hewitt, Israel Houghton, James Fortune, Kim Burrell, Smokie Norful and Mary Mary. The list just goes on and one with performances by Kelly Price, Kirk Franklin, El DeBarge, Donnie McClurkin, Beverly Crawford, Rance Allen Group, Kathy Taylor, Vashawn Mitchell and its all hosted, again this year, by the very funny Steve Harvey. It even has Whitney Houston surprising everyone when she appeared on stage to perform. In between performances you will get encouraging words from the likes of Bishop T.D. Jakes, Angela Bassett, Hill Harper and Keith David.
"You'll only be lonely at the top if you don't take nobody with you," Dr. Bobby Jones pointed out at the Prayer Breakfast.
If watching over 22 major artists perform with one thing in mind - praising God precious name - don't uplift, inspirit or comfort you - I don't know what will. So if you are ready to be inspired tune into BET's Celebration of Gospel January 30, 2011. For more information on BET or the event log onto www.BET.net.
Trueful's promo-tour takes him along the west coast corridor, stops by Club Aurora in Studio City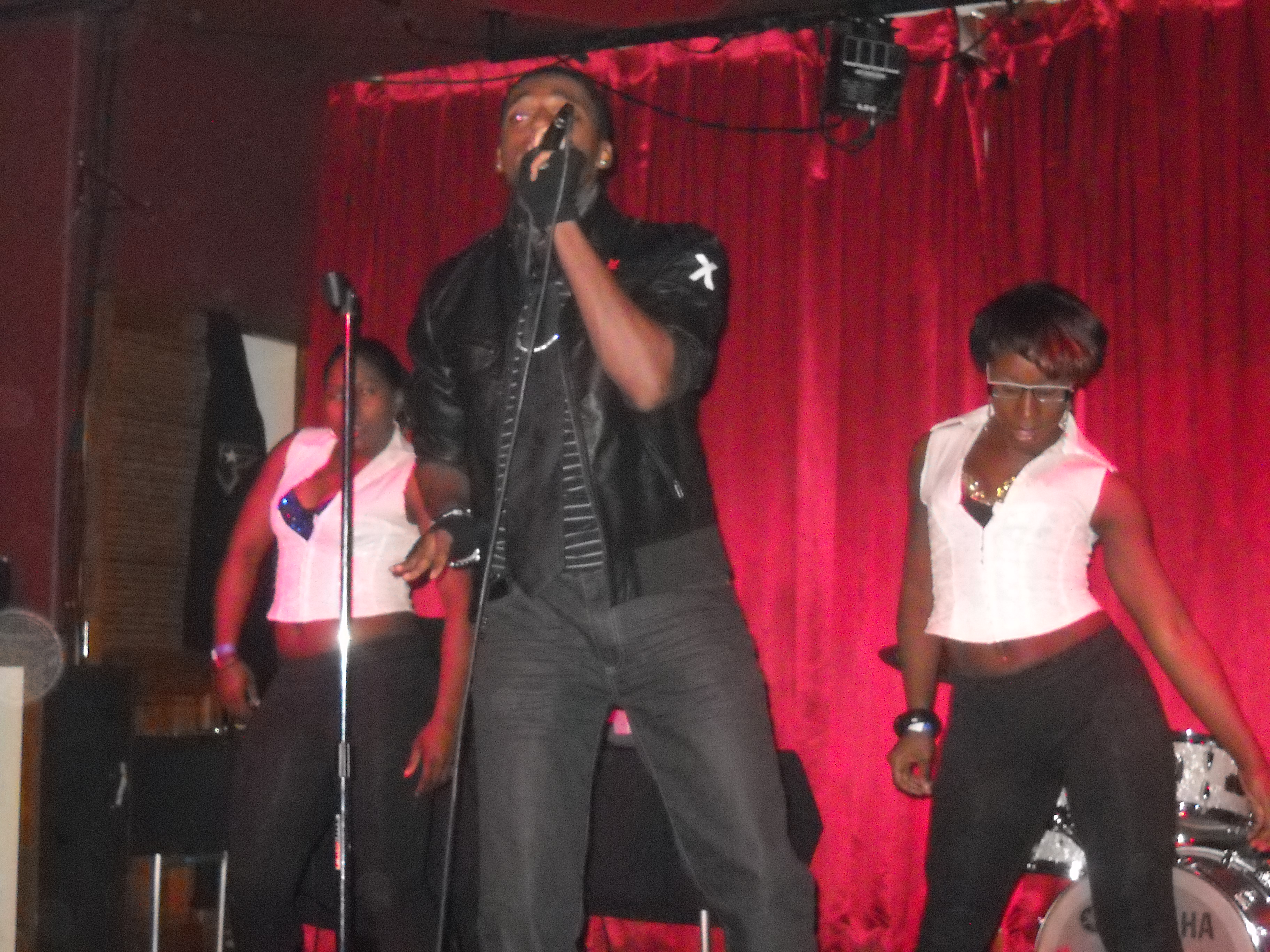 I stop by one of the many performances of Trueful, R&B's new singing/songwriting sensation, because I just love to see him perform - especially with his French Royalty Dancers. This particular performance was at Club Aurora in Studio City, part of his promo-tour to support his latest project "Taste of Class" (French Royalty Entertainment).
As usually the crowd seemed to be more excited about Trueful's performance than anyone else - as was I was. We knew he was going to be entertaining, because this boy always puts his "all" into his performances - a true professional.
Trueful, who recently celebrated the release of his sophomore project with a CD release concert that featured platinum acts Dru Hill and H-Town, performed three selections from his CD that night:"Feeling You," "Beast," and "My Baby."
Aside from his music, Trueful is also an actor - his latest role is in the Screen Gem film Easy A. For more information on performance dates or the CD log onto his www.myspace.com/BeTrueful or follow him at www.facebook.com/TruefulFrench.
February 4, 2011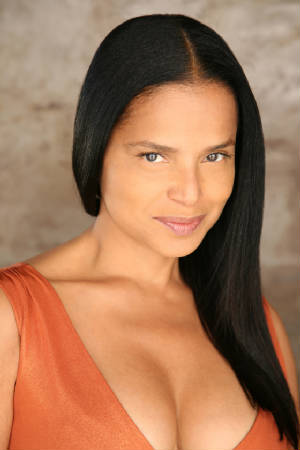 Tear-jerking 'Of Boys and Men,' starring Robert Townsend, Victoria Rowell and Angela Bassett, exams the power of family
By
Eunice Moseley


"The opportunity to work with Harvest Productions...two women inspired by true stories that happened in their family," said Emmy nominated Victoria Rowell about why she took the role as Janay in the Warner Home Video DVD presentation, 'Of Boys and Men," as the sister of Holden - played by Robert Townsend.

Victoria continued on with her list of motivators for taking the role, "the opportunity to work with Robert Townsend (also producer), with the director (Carl Seaton)...to be able to work with Angela Bassett and more, to work with virgin African-American actors. Angela and I collaborate off sound stage also...humanitarian work."

Bassett plays the wife who was tragically killed and Rowell's character is the dutiful sister of her husband who stopped her life to be counsel and house-keeper for her brother and as comforter to his kids. The film also stars Faizon Love, Dante Boens, Bobbe' J. Thompson, Scott Baity, Vince Green, Cynthia McWilliams, Yahaira Tarr, Brian Smith and Sharde Cole. The Stephen James Taylor music score is outstanding and it carries the film seamlessly through to a powerful, tear-jerking end.

"The story...is a testament of faith and the power of family," Victoria said frankly.
What a powerful testimony it was too, certainly worthy of some honors. For more information on 'Of Boys and Men," the urban family drama, log onto
www.WarnerVideo.com
.
Japanese born pianist Keiko Matsui releases 'The Road...' on Shanachie Entertainment

With an unbelievable 21 albums already under her belt, Japanese born pianist Keiko Matsui recently released yet another on Shanachie Entertainment titled "The Road..." Residing in America now, this mother of two is also a composer and producer. Her style is masterfully Japanese influenced, but yet infused with American genres such as Jazz, Pop and Funk.
"I've known him for a long time," Keiko said about legendary saxophonist Kirk Whalum - who is featured on several selections. "We've seen each other at festivals and concerts. I knew he was a wonderful artist and a very spiritual person"
Whalum is featured on "Awakening" and "Affirmation," along with drummer Vinnie Colaiuta. Saxophonist Jackiem Joyner is featured on the title track "The Road..."
"I love music," Matsui said when questioned about her outstanding 22 album history. "Music is my first love, that's why I'm doing it!"
Keiko Matsui is doing it pretty well too. My favorite cuts on "The Road..." CD include the Kirk Whalum featured "Affirmation" which starts off slow and smooth then progresses into a funky Jazz number; 'Secret Pond" a powerful masterpiece - no other name describes it; the title track "The Road..." is so sweet you can almost taste it, and "Nguea Wonja," which made me actually get up and do the Cha-Cha.
For more information on this breath-taking talented pianist, Keiko Matsui, logo onto her website at www.KeikoMatsui.com.
February 11, 2011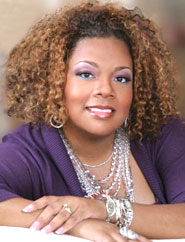 Former Gospel background singer takes center stage with debut CD, 'The Greatest Gift'


Imagine the vocal power of Jennifer Hudson, fused with Rock influenced vocal delivery with a Praise and Worship message, well that's what I hears when I listened to the debut album of Eumika Body-Griffin -'The Greatest Gift" (Make Music Group). I have never heard nothing like it in the Gospel industry.
~
"The initial prompting (for recording the CD) was from my husband," Eumika Griffin said about the project. "He's a trained keyboardist. We wrote our first song while dating 20 years ago...We work well together."

Eumika's husband Kevin "Griff" Griffin is producer and co-executive producer on "The Greatest Gift" project. Griffin, a 2008 Gospel Choice Award winner, began singing at the age of four and with the support of her family, church (Church of God in Christ) and husband she is able to share her powerful gift with us.
"God's hands are on it," Eumika said about her project.

The former background singer to Ann Nesby and LaShun Pace is a native of Minnesota, but currently resides in Atlanta.

My favorite songs on "The Greatest Gift" Eumika Body-Griffin debut CD are "Make Some Noise" for the guitar support of Keith Barnes; "All of Me" for the almost whisper like marching drum sound by Jeremy Haynes; "Worship Medley" because of its tight harmony and almost perfect vocals of Eumika; 'It's OK," for the heart-felt message from Christ, and "I Need You" a Pop flavored song supported by the great voices of Sweden's Veni Vidi Canti Choir - directed by Karin Aase.
Jazz vocalist Kathy Sanborn is back with 'Blues for Breakfast'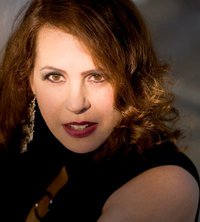 "The songs came flowing ...and I had to get it out somehow," Jazz vocalist/songwriter Kathy Sanborn said about the songs that are part of her newest album "Blues for Breakfast" (Pacific Coast Jazz).
Joining Kathy on the new project are Grammy Award nominee Scott Petito on bass, Chris Carey on drums and Wayne Ricci on trumpet. The passionate Blues singer is also an accomplished pianist who said even though all the songs came to her in a special way, "Butterfly" just came flowing out.
"I am always growing as a composer and producer," Sanborn admits. "I am learning all the time. 'Blues for Breakfast' is a product (of what was learned)."
"Blues for Breakfast" is also a unique fusion of Blues, Jazz and R&B. The project offers 10 delicious selections to carry you through your day. As I did, you will find yourself playing it continuously as you take that morning drive.
Those selections I find playing more than others include "Waterfall" for Kathy's relaxing tone and great piano support; "Painted Blue," the traditional Blues song; " Love's Delight," for its sentiment and "Butterfly."
For more on Kathy Sanborn's "Blues for Breakfast" log onto www.PacificCoastJazz.com or www.KathySanborn.com.
February 18, 2011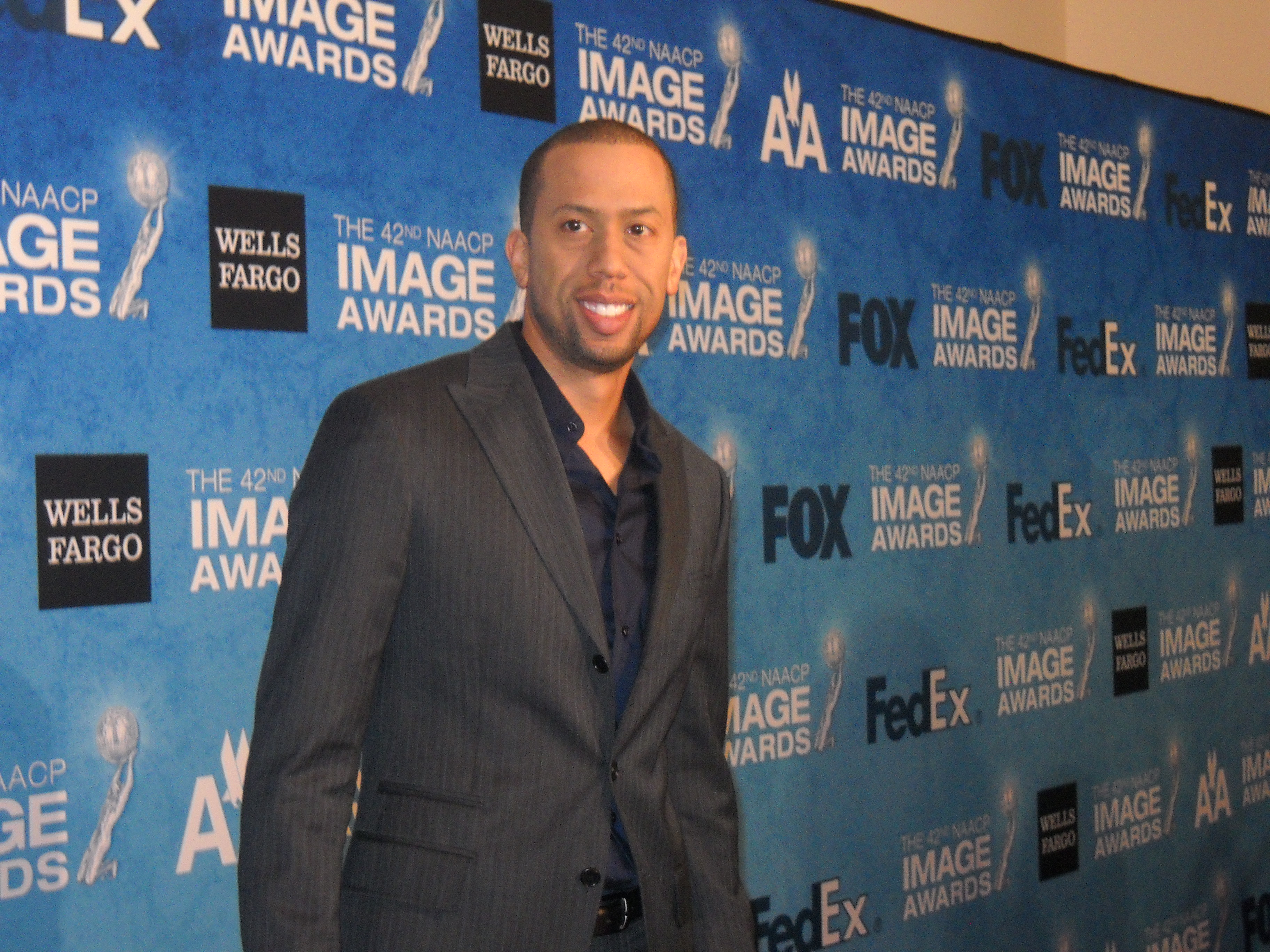 The The 42nd NAACP Image Awards nominees honored at luncheon hosted by Affion Crockett
The nominees of the 42nd NAACP Image Awards were honored at a luncheon recently in Beverly Hills, to the backdrop of some elegant music and plenty champagne flowing. The event, hosted by comedian/actor Affion Crockett, had a blanket of excitement wrapped around us as the nominees came down the red carpet.

"It keeps us relevant," actress Salli Richardson - a nominee for "Outstanding Actress in a Comedy Series" for Syfy's "Eureka" - about the NAACP Image Awards. "We have to support ourselves...unfortunately, we have it. That's what's important to me and the other actors, to be acknowledged by our own community."

That community Richardson speaks on his a population of "colored" people that the NAACP has been an advocate for since 1909. It's the members of the NAACP that get to vote on the winners in each of the categories.
~
Other nominees that were present included LaVan Davis for "Outstanding Actor in a Comedy Series" for "Tyler Perry's House of Payne," who just so happen to be mingling with nominee Marvin Sapp ("Outstanding Gospel Album"/Verity - "Here I Stand"); Tamera and Tia Mowry ("Outstanding Actress in a TV Movie, Mini-Series or Drama"/Lifetime - "Double Wedding"); Julia Pace Mitchell ("Outstanding Actress in a Daytime Drama"/CBS - "The Young and the Restless"); Ashley Argota ("Outstanding Children's Program"/Nickelodeon - "True Jackson, VP"); KeKe Palmer ("Outstanding Performance in a Youth/Children's Program"/Nickelodeon - "True Jackson, VP"); Dee Dee Bridgewater ("Outstanding Jazz Album," EmArcy/Decca/DDB Records - "To Billie With Love..."); Ray Charles Robinson, Jr. ("Outstanding Literary Work - Biography/Auto-Biography"/Crown - "You Don't Know Me..."); Myra J ("Outstanding Writing in a Comedy Series"/TBS - "Tyler Perry's Meet the Browns - Meet the Racist") Millicent Shelton ("Outstanding Directing in a Dramatic Series"/TNT - "Men of a Certain Age - Do With the Flow"); George Tillman, Jr. ("Outstanding Directing in a Motion Picture"/CBS Films - Faster), and Rodney Saulsberry ("Outstanding Actor in a Daytime Drama"/CBS - "The Bold and the Beautiful").

"(The NAACP) is a wonderful organization. It recognizes work that may not be recognized by the overall media," actor Rodney Saulsberry said about the NAACP's Image Awards. "It's going to be on Fox, seen all over the world."

Yes, that's true and I will be front-and-center on March 4, 2011 when the 42nd NAACP Image Awards airs on Fox at 8 p.m.ET/PT - live from the Los Angeles Shrine Auditorium. The NAACP Image Awards is sponsored by UAW/Chrysler, Walgreens, Wells Fargo, FedEx, Hyundai, Southwest Airlines, Anheuser-Busch, AT&T, Bank of America, Ford Motor Company, Pepsi and American-Airlines.
ASCAP's Rhythm & Soul host its 2nd Annual Grammy Brunch for its Nominee Members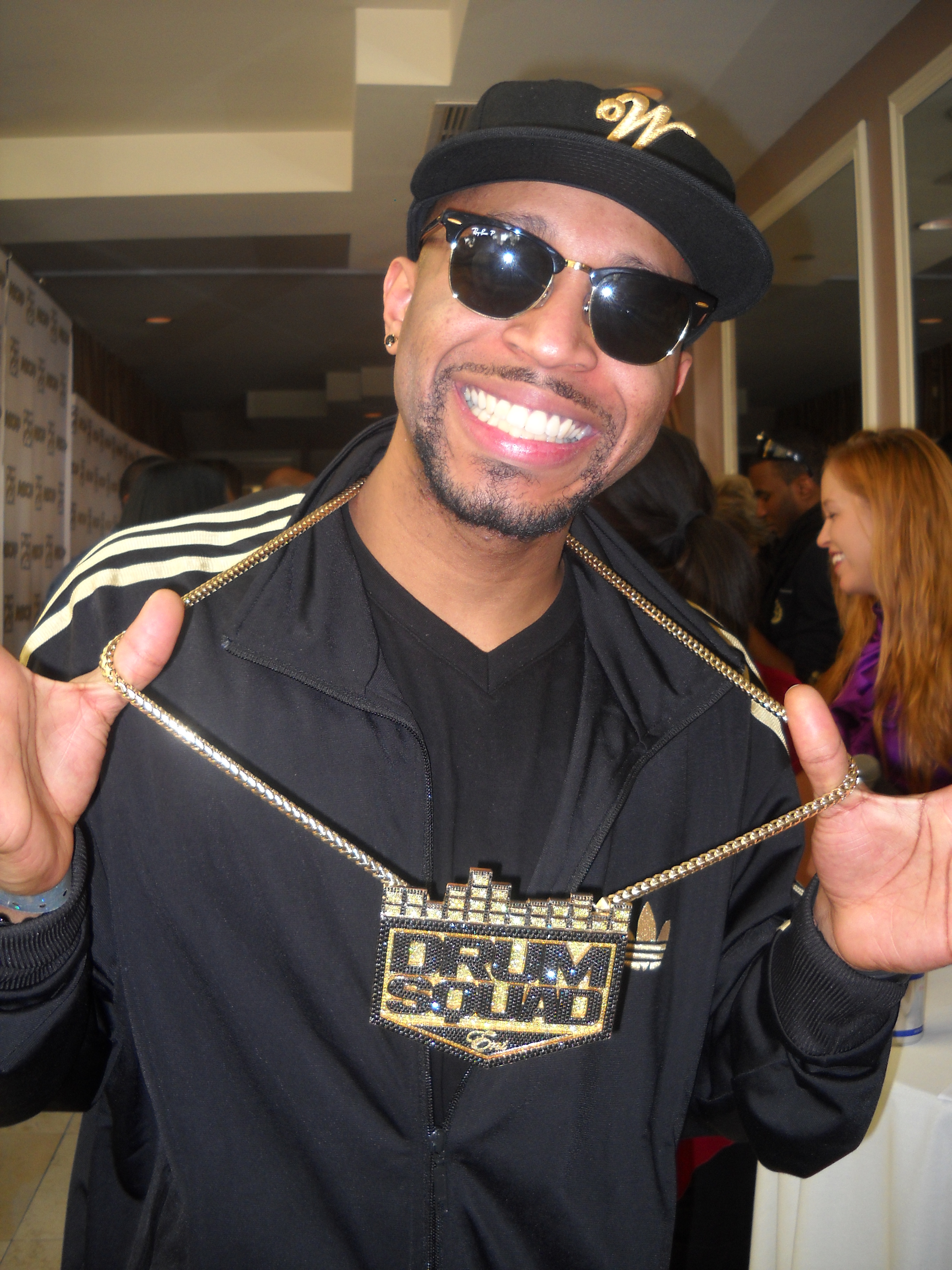 "I'm excited about the nomination," said ASCAP Grammy Award nominated member Carvin Huggins (Karma Productions) about receiving a "Best R&B Song" Grammy nomination for Jaheim's "Finding My Way Back." "It's a blessing to be recognized by your peers."
The peers that voted on the winners are members of the Recording Academy. The brunch seemed to be one big entertainment family get-together with all the ASCAP Grammy Award nominees mingling and enjoying the evening of food, drink and music.
Aside from Huggins, who just recently launched his own label Forever Music, others in attendance included Drumma Boy (Young Jeezy "Loose My Mind"); Jaheim ("Finding My Way Back"/Best R&B Song); Eric Roberson ("Still"/Best Urban/Alternative Performance); Tank, Natasha Bedingfield, Tricky Stewart ("Teenage Dream"/Album of the Year); Melanie Fiona ("Wake Up Everybody"/Best Rap/Song Collaboration); Aaron Sledge ("Aaron Sledge"/Best Gospel Album), and VaShawn Mitchell ("Nobody Greater"/Best Gospel Performance).
"I'm excited," Gospel singer/songwriter VaShawn Mitchell said about his Grammy Nomination. "To be recognized by your peers!"
Sponsored by Blackberry, Suntrust and Red Bull, the 2nd Annual ASCAP Grammy Brunch was the place to be for any artist in the industry, but unfortunately it was just for its members. As I left the Brunch I heard the buzz that L.A. Reid, Sylvia Rhone, Ne-Yo, Jermaine Dupri and Kelly Rowland were on their way as well.
ASCAP members who won the Grammy Award included Bruno Mars and Usher.
The American Society of Composers, Authors and Publishers (ASCAP) is home to the top-notch songwriters and composers in America. For more information on ASCAP or its members log onto it's' website at www.ASCAP.com. (Photo: To/Affion Crockett. Bottom/Drumma Boy. Photo Credit: Eunice Moseley.)
February 28, 2011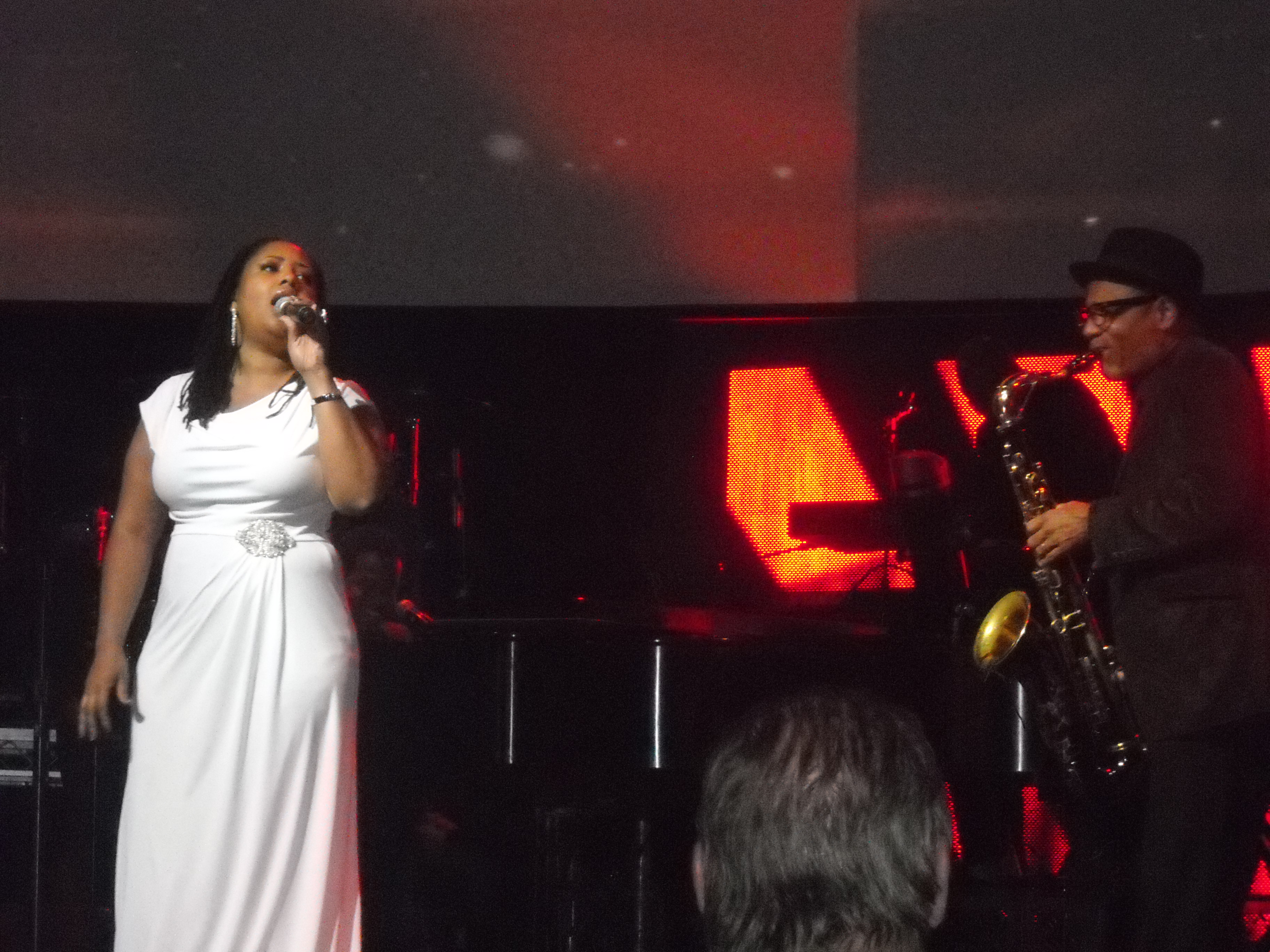 Kirk Whalum hosts 'It Started with a Dream' in honor of Gospel/Christian Grammy nominees
I was invited to attend the "It Started with a Dream" Concert hosted by The Dream Center, Victory University and 12-time Grammy Award nominee, Kirk Whalum. The free show was held at Angelus Temple in Los Angeles to honor the Gospel/Christian 53rd Grammy Award Nominees. Matthew Barnett, co-founder of The Dream Center and senior pastor at Angelus Temple, was co-host.

What a spectacular event it was with performances by Whalum and Lalah Hathaway, Vanessa Bell Armstrong, Lacrea, Jeff and Sheri Easter, Israel Houghton, Gunger, Forever Jones, Vashawn Mitchell, Karen Peck and New River, John Stoddart, and special guest George Duke. Benefiting The Dream Center's Project Hope initiative, "It Started With a Dream" was streamed live at www.DreamCenterLive.com. Project Hope provides a home to victims of human trafficking.

Throughout the concert we were treated to a little of God's Word from Kirk Whalum, who started the show with Lalah Hathaway on one of my favorite songs on his "The Gospel According to Jazz, Chapter III," album - "He's Been Just That Good." Two-time Grammy Award nominated Gospel Country artists Jeff and Sheri Easter performed "Expecting Good Things;" Billboard chart topping Gospel rapper Lacrea performed "Rehab;" Bluegrass Gospel artists Karen Peck and New River performed "Live at Oak Tree - The Series;" Israel Houghton performed "Others;" Rock/Gospel artist Gungor performed "Beautiful Things;" Contemporary Gospel group Forever Jones performed "He Wants It All;" Vashawn Mitchell performed "Nobody Greater;" Vanessa Bell Armstrong performed "The Experience;" John Stoddart performed "Loving in Love With Jesus," and George Duke performed "Because You Loved Me."
Cali Swag District joins Nelly's 'Blizzard Music Tour'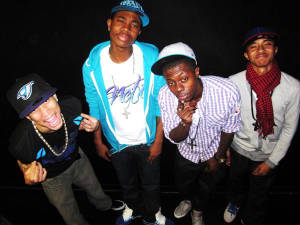 "We want to go rock every show," said group member Smooth about their upcoming appearance on Nelly's "Blizzard Music Tour," slated to start March 1, 2011 in Brooking, South Dakota. The Hip-Hop phenomenon's other members consist of Yung, JayAre and M-Bone. Their debut single "Teach Me How To Dougie" made them platinum selling artists and their debut album, "The KickBack" (EMI Music), is not due out unto this month.
Cali Swag District took a Doug E. Fresh dance and turned, the "Dougie," into a dance craze. In less than a year the music video to the single, "Teach Me How To Dougie," has received over 29 million views.
"Any tour is good as far as selling records," Smooth said about the tour benefits. "We 'need' to get up in different markets."
Smooth admitted to me that they group had to sacrifice a lot to achieve their dream.
"We put all our effort into it," admitted the EMI Music artists about their journey.
The group said some of the sacrifices included putting off partying for school. Member Smooth, who is also a DJ, admits Cali Swag District "lives in the studio."
For information on the dates Cali Swag District will be on the "Blizzard Music Tour" with Nelly, log onto www.BlizzardMusicTour.com or visit them at www.Facebook.com/CaliSwagDistrict.
NBA All-Star Weekend kick-off event, 'Fire on the Runway,' was a stunning show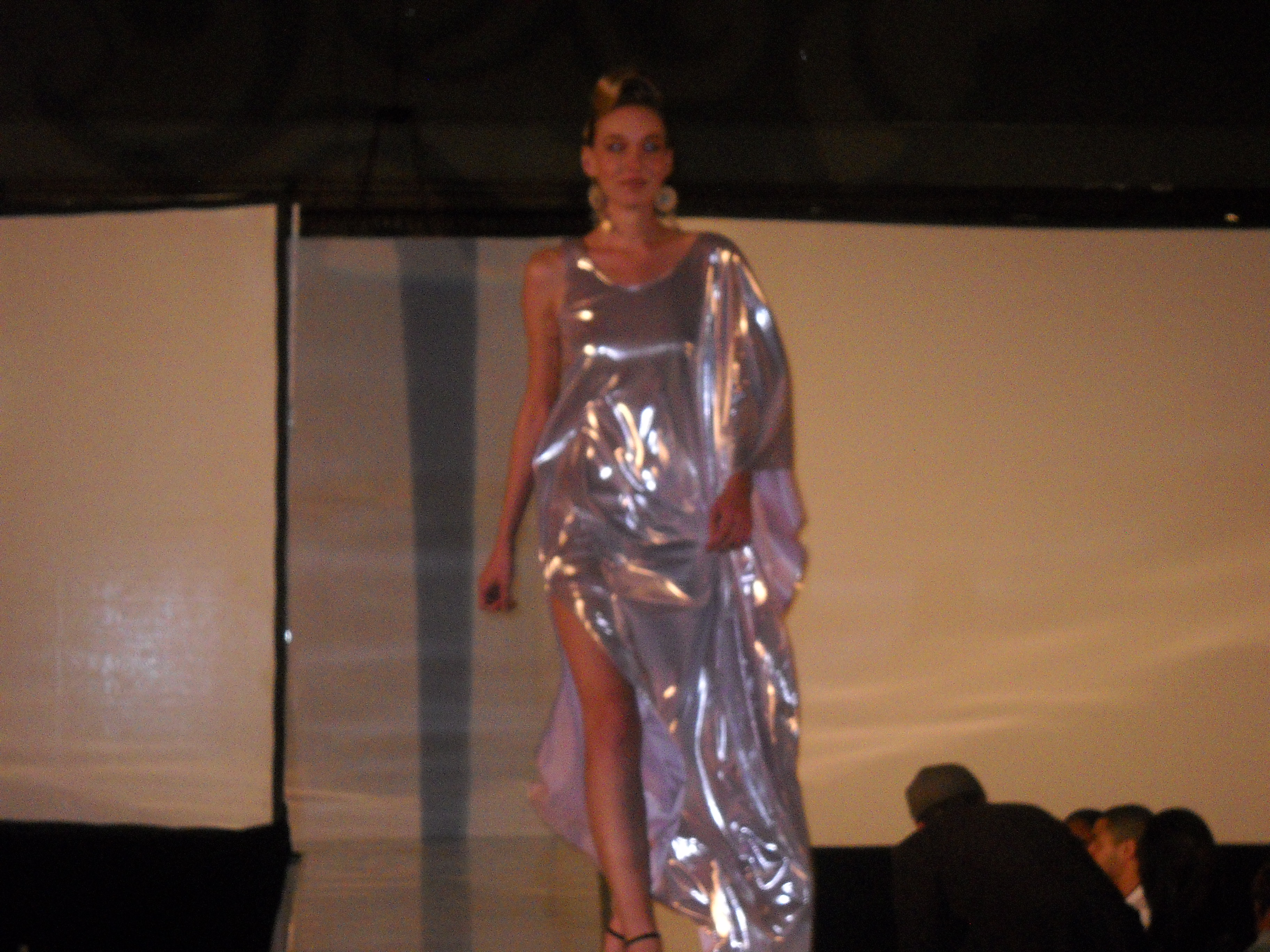 I attended one of many NBA All-Star events held in Los Angeles, this one, called "Fire on the Runway," benefits the Breast Cancer Angeles. The faith-based fashion show was hosted by Women of Virtue.
Before the fashion show guest and media were treated to an abundance of good food, music, mingling and drinks. When the show started, and the placed was filled with spectators which included Duane Martin and Tisha Campbell and Kym E. Whitley, all you could hear was cameras flashing because every one's eyes were on the runway.
Designs presented that night included Angela Dean of DeanZign, Woody Wilson of the Woody Wilson Collection and the St. John collection. "Fire on the Runway," a faith-based fashion show, was presented by True Love Worship Center. (Photo Credit: Eunice Moseley.)
March 4, 2011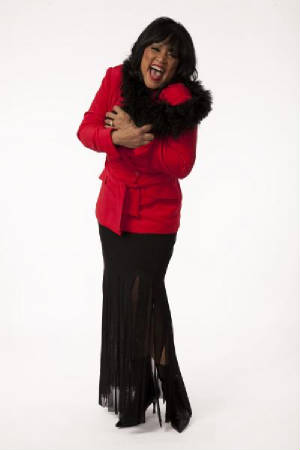 Ruffin's stage play, 'The Ideal Husband,' premieres exclusively on GMC TV Saturday, March 5, 2011
Playwright John Ruffin's Gospel stage play, "The Ideal Husband," makes it to cable as it exclusively premieres on GMC TV Saturday March 5, 2011 at 5 p.m. EST. The theatrical musical production, exclusively for GMC, stars Shanti Lowry, Erica Hubbard (Akeelah & The Bee), singer Shirley Murdock, Darrin Dewitt Henson (Stomp the Yard), actor Clifton Powell (Ray), R&B's Ginuwine and actress/comedian Jackee Harry ("Everybody Hates Chris," "Sister Sister").
~
"I play the mother of the lead (Darrin Henson)," said actress Jackee Harry about her role in "The Ideal Husband." "He's been a naughty boy...that's all I can say, you have to tune in!"
~
In 'The Ideal Husband" Tracey Malone (Lowry) and her husband, an injured NFL player Devin (Henson), are living a happy life until something from Devin's past threatens to rock their world apart. Directed by Ruffin "The Ideal Husband" is the second of a series of Gospel stage plays produced exclusively for broadcast on GMC. The first John Ruffin play was "Love Me or Leave Me."

When asked about any challenges in this particular production Jackee Harry said, "Completing it in a short amount of time, with no audience. That was the biggest challenge, no audience."

Harry said there are no similarities in her character and herself, "I don't take no mess out of nobody. I've been married three times. You work it out, just give me the check!"
"The Ideal Husband" will premiere on GMC TV Saturday March 5th at 5 p.m. EST. For more information on the production, "The Ideal Husband," or the channel, GMC TV, log onto
www.watchGMCTV.com
.
R&B new-comer Trueful's sophomore CD, 'Taste of Class,' is full of number one hits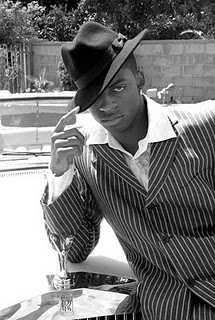 "I wanted to create something different, to come out the box," said singing/songwriting sensation Trueful about his sophomore album, "Taste of Class" on the French Royalty Entertainment imprint. "I want to bring R&B out in a new light, make it fun, and bring it back to music."

Fun and out the box it is what he has done with this CD. The R&B selections on the album have a bit of different flavors such as Jazz, Hip-Hop, Pop, Funk and Swing. Trueful invited some talented producers on this album as well. The team at Apt 6 and rapper/producer AVI The Most ILL are the producers on the CD.
Born in the Los Angeles area, Trueful grow up in a household that was full of music.
"I grew up on Prince, Earth, Wind & Fire, Usher... different people, thanks to my parents and grandmother," the unbelievably talented songwriter pointed out to me. "My grandmother listened to Blues, my Dad Funk and my mother listened to everything!"
Trueful's debut album in 2008 title "Truth Be Told" qualified him for a Grammy Award nomination as "Best New Artist." This album, "Taste of Class," is sure to achieve the same, if not more success, with the infectious first single "Feeling You" - which is accompanied by a music video that has a cameo appearance by comedian/actor Peanutt.
The Las Vegas Music Award winner is sure to turn heads with this project. Even though the CD is full of number one hits, my favorite cuts on the "Taste of Class" album include the first single "Feeling You," for its hot beat and vocals that are reminiscent of Usher; the hot club hit "Beast" and the sweet Pop selection "My Baby" all produced by Apt 6, as well "All Star" for its Swing era feel and the Funky "Drive" selection - both produced by AVI.
Also an actor who has appeared in the Screen Gem film "Easy A" starring Amanda Bines and the film "Death by Association" directed by JayTee (BET's College Hill), Trueful will be special guest performer of multi-platinum R&B group Dru Hill on their "InDRUpendence Day" tour slated to start in June, 2011. For now you can catch Trueful performing in the Los Angeles area with the "French Royalty Dancers" at such venues as the BB King Lounge, The Aqua Lounge, The Oasis and the House of Blues.
Follow Trueful at www.Twitter.com/BeTrueful or at www.Facebook.com/TruefulFrench for more information and updates.
Saxophonist Elan Trotman releases a romantic Contemporary Jazz CD, 'Love and Sax,' on March 8, 2011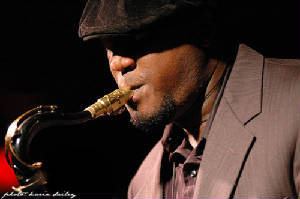 On March 8, 2011 Contemporary saxophonist Elan Trotman releases his sophomore CD "Love and Sax," featuring the vocals of R&B's Tony Terry with Brian Simpson on keyboard, Cindy Bradley on the Flugelhorn, and Jeremiah McConico on guitar.
"The album was well planned out and a follow-up to my previous album in 2009 ("This Time Around"), which was also a Contemporary Jazz album," said Smooth Jazz sax player Alan Trotman about his "Love and Sax" project. "I wanted to try something different...to slow things down...a mellow, laid back mood...very romantic."
Well Trotman sure achieved that, with me being a hopeless romantic, I truly loved this CD. My favorite songs on Elan's "Love and Sax" album include "Cancun De Amore," because I love the classical guitar support; "Last Dance" for its Funky smooth feel; "Rain," because Elan Trotman actually makes his sax sound like rain - breath taking, and "Midnight Serenade," which I think is a masterpiece because of the vocals of Tony Terry and the unbelievable sax playing by Trotman.
"I always try to make my music crossover, to include vocalists," Elan pointed out to me about his projects. "I don't want to do a CD with no vocals."

For more information on Elan Trotman or his "Love and Sax" album, log onto his website at www.ElanTrotman.com.
March 11, 2011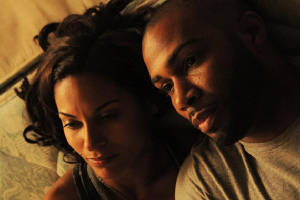 The African-American Film Festival Releasing Movement will release the tear-jerking film I Will Follow to AMC Theaters March 11, 2011
~
I Will Follow is yet another outstanding production of public relations specialist Ava DuVernay.

The film follows Maye, played by Salli Richardson, who choices to risk her marriage to go care for an ailing relative, Amanda - played by Beverly Todd, until her passing. After Amanda's passing Maye now has to get her house in-order, while pacifying the relatives' only daughter, who all but abandoned her while she was sick.
~
"I'm just completely amazed at what she's been able to do with this small film," award winning actress Salli Richardson said about the films' director/producer Ava DuVernay. "I am just impressed with the film, impressed with her vision in how she is distributing it and I am honored that she believed I could do it (the role). She is a very smart lady and I am blessed I agreed to do the movie."
~
In reviewing the film when it appeared at the African-American Film Festival I honestly couldn't take my eyes away from the screen. The anticipation to see what happens next was to strong, even through two or three times it brought me to tears.

"It's about the journey," Salli said about her acting. "It's always about the journey. Ava is making me do the things I use to do. I'm not a party girl, but that's what you have to do to push it. So I just follow Ava."
~
If you want to follow Ava as well, go to AMC Theaters to see I Will Follow and you will be a fan for life as Salli and I are. Log onto
www.AFFRM.com
for more information on the project.
Tangi Miller stars in the romantic comedy 'My Girlfriend's Back,' now on DVD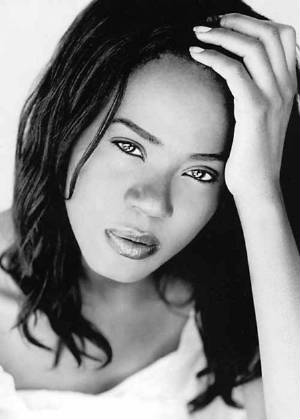 The Barnholtz Entertainment and Lionsgate Entertainment presentation of "My Girlfriend's Back," starring actress Tangi Miller, tells the familiar tale of how we are put in situations where we have to choose love over "status in life." Tangi plays the non pushy former love interest to Malik Yoba who is now in a relationship with a pushy woman who is intent on getting him a position in the high-society life as a partner in the firm where he works - so they can get married.
"It's a middle class African-American life," Tangi Miller points out about the film. "It's about women loving a man in a certain (way)...It's about him being the man he (really) is. There is no middle of the road. He has to struggle with that."
Struggle he did with two attractive and vital women, but as in all things in life "love" prevails, how that love prevails - you need to get the DVD. The film has comedy, drama and Urban flavor to make you feel right at home with the characters. Also starring with Miller and Yoba are CCH Pounder, Chrystee Pharris, Victoria Platt and DeRay Davis.
For more information on "My Girlfriend's Back" log onto www.TangiMiller.com.
March 18, 2011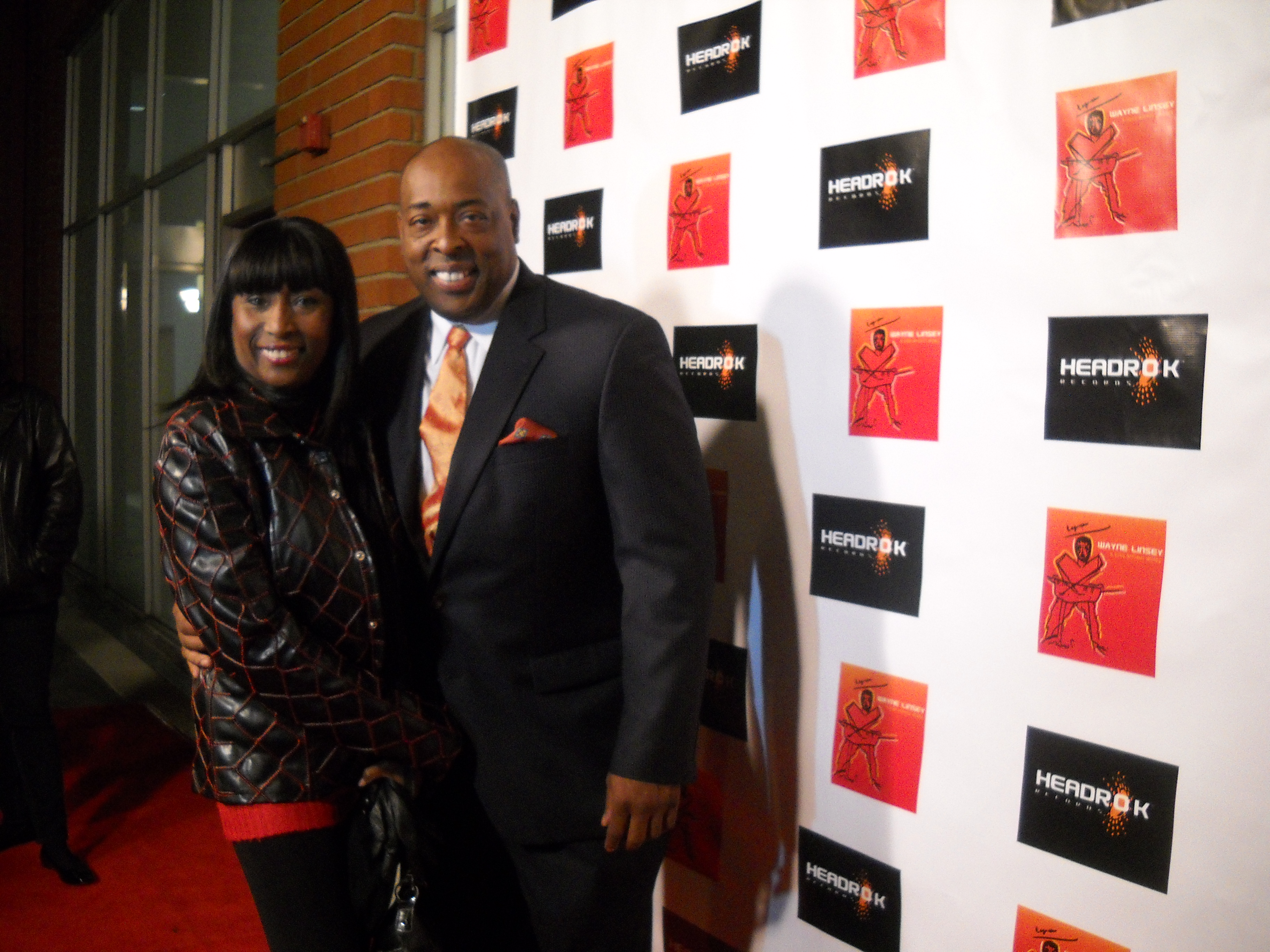 Keyboardist Wayne Linsey gives outstanding live performance at listening party for debut CD, 'A Song Without Words'
~
"Wayne plays everything. He can use every electronic (instrument)," said legendary guitarist Paul Jackson, Jr. about his fellow Jay Leno Band member Wayne Linsey. Paul, the other band members and a line-up of celebrities were in Hollywood recently at the Catalina Jazz Club for Linsey's listening party to promote his debut album, "A Song Without Words." "I've known Linsey for over 30 years. God has anointed Wayne...he is a genius."

Well, that night I actually saw a genius at work for Wayne literally played from another level of consciousness that I've never seen before. You can also hear the genius of Wayne Linsey in, this debut CD, "A Song Without Words." It's so versatile in what it offers you, you get Smooth Jazz, Hard Jazz, Pop and even Hip-Hop influenced selections.

The evening started with a line of Wayne supporters walking the red carpet into the club, which included Keke Sheppard (Apollo Theater), actress Ellia English ("Curb Your Enthusiasm"), actor Obba Babatunde ("Criminal Minds"), Willie Gault (former Chicago Bears), and the Jay Leno bandleader and musical director Rickey Minor.

Wayne's big break came as a member of Frankie Beverly and Maze. He later released an album as a duo called Linsey on Virgin Records titled "Perfect Love." He went on to tour with Whitney Houston, Stevie Wonder, Babyface, Chaka Khan, Aretha Franklin, Jonathan Butler and Miles Davis - who drew the cover of Wayne's CD and is on the "Miles Interlude."

My favorite cuts on the "A Song Without Words" project include the title track, which features the vocals of Bobby Brown and MC B Eaze Himself. Other songs I find myself playing over again include "Sidekick" - love how Linsey as that keyboard singing; "Tribute to Ahman," your typical Smooth Jazz vibe and I also love the angelic background vocals, and "Alana's Song," which features his daughter who sounds so precious and I see she can groove with her dad, and does an awesome job too!
For more on Wayne Linsey or his CD "A Song Without Words" (Headrock Records) log onto
www.WayneLinsey.com
.
Ford sponsors NAACP Symposium and donates to Boris Kodjoe and Nicole Ari Parker's foundation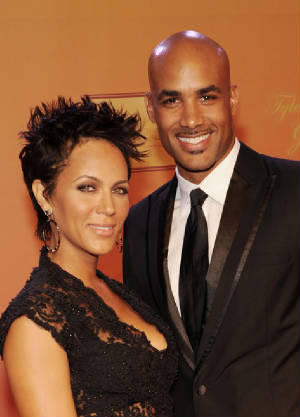 The Ford Motor Company Fund recently sponsored the 7th Annual NAACP Hollywood Bureau Symposium Reception at the Leonard H. Goldenson Theatre to address diversity and its economic impact on television. The Ford Fund also presented a $10,000 check to Sophie's Voice Foundation of actors Boris Kodjoe and wife Nicole Ari Parker.
The Sophie's Voice Foundation was created in honor of their daughter who is diagnosed with spina bifida. Other grants awarded went to Hill Harper's Manifest Your Destiny Foundation and Common's Common Ground Foundation.
This year's symposium titled "Diversity and the Business of Television" addressed the current market trends and its' audience power. Mediated by executive director of the NAACP Hollywood Bureau Vic Bulluck, the panel included Doug Anderson (SVP Research & Thought/The Nielsen Co.); actor Keith David (The Princess and the Frog), Dr. Darnell Hunt (director of UCLA Ralph J. Bunche Center); Brian Lowry (columnist/Variety); Cameron Mitchell (ICM Talent agent), and Millicent Shelton (director).
"Because corporate America is a niche business," said Cameron Mitchell, talent agent at ICM, about the lack of diversity in roles. "For me it's hard (to place diverse talent). It's corporate driven, not artists driven."
For more information on the Ford Motor Company Fund log onto www.Community.Ford.com and for more on the NAACP log onto www.NAACP.org. (Photo: (L to R) Keke Sheppard (Apollo) and Wayne Linsey. Photo Credit: Eunice Moseley)
March 25, 2011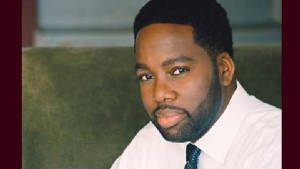 David E. Talbert's explosive stage-play, 'What My Husband Doesn't Know,' arrives in Los Angeles April 2-3, 2011 at the Pantages Theater'
~
"I forgot how much I love theatre," Award winning playwright David E. Talbert said about living life on the road with new stage play "What My Husband Doesn't Know." "I took off a few years and worked in film and television. I started received all these emails wanting another play."

Well David has given them that plus more with this production, because this play combines his 20 years as a playwright with his experience in Hollywood. His Hollywood credits include directing on the comedy film First Sunday, "SNL: Alumnus" and "30 Rock," and producing (and writing) NBC's "Jamie Foxx: Unpredictable." "What My Husband Doesn't Know" has an outstanding cast which stars Grammy Award winning singer Michelle Williams ("Chicago"), Morris Chestnut "V"), Brian White ("Stomp the Yard") and Ann Nesby ("I Know I Been Changed").

It's a provocative tale of love, lust, lies, betrayal and temptation amidst a groundbreaking use of theatrical with filmmaking influences such as voice over and flashbacks.

"I have wanted to do kind of a mixture of mystery, comedy and drama wrapped in one for years," Talbert explained about the play. "I said this is the one I'm going to do this with."

When asked if he saw a difference in this play's success and the success of his past plays David confused there was a difference.

"There's a big difference," he said. "Yes, because of the mixture (of theatrical and film) and I'm older, more experiences that you can put into your work. "...Nick of Tyme" I wrote in 2000, waited ...years (to produce it). I wrote this stage play as a grown man."

Talbert's "...Nick of Tyme" garnered him a New York Literary Award for "Best Playwright" and for "Fabric of a Man" (2005) he won an NAACP Image Award. Aside from a filmmaker David added author to his resume with his Essence Best Selling novel "Baggage Claim" and "Love Don't Live Here No More," which he co-wrote with Snoop Dogg.

With 12 critically acclaimed plays under his belt you can almost guarantee more than your money's worth going to see "What My Husband Doesn't Know." I know I will be there when it arrives in Los Angeles.
For more information on the "What My Husband Doesn't Know" or playwright David E. Talbert log onto
www.DavidETalbert.com
.
Comedian Joe Clair host TV One's 'Comedy All-Stars,' with classic moments of Robin Harris, Martin Lawrence, Mark Curry and Damon Wayans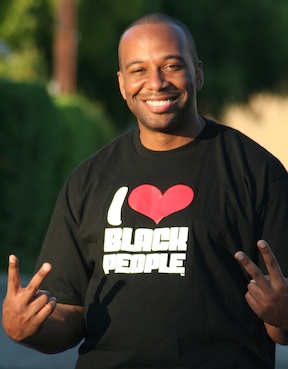 For four weeks TV One presents "Comedy All-Stars" hosted by comedian Joe Clair ("BET's Rap City," "Def Comedy Jams," "Comic View"). The 30 minute program airs on Fridays at 9 p.m. starting March 11, 2011 and ending April 1st (with repeats). Joe will provide his perspective each week on the classic moments of these legendary comedians.
"Watch these specials and learn," Joe Clair said about the TV One series "Comedy All-Stars." "Learn what it really is ...to work and have a real craft. Those guys grew up with having tons of comedy shows at their finger tips."
Joining Joe to talk about "those guys" is Tommy Davidson, Eddie Griffin and George Wallace.
"When they approached me I jump at the chance," Clair said about his new hosting "gig." "We talk about comedy and explain it. We say what was going on at that stage-of-comedy."
Joe recently hosted "The Best of...Stand Up" on TV One's Black History Month special "Way Black When." TV One is currently serving 52.1 million households.
For more information on TV One or the "Comedy All-Stars" series log onto www.TVOneOnline.com. For more on Joe log onto www.JoeClair.com.
April 1, 2011
Actress/Model LisaRaye McCoy is back for season two of TV One's top rated reality show, 'LisaRaye: The Real McCoy'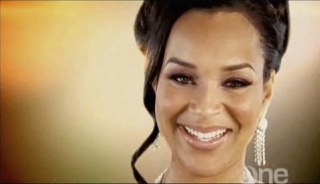 ~
TV One, serving over 52 million households, premiers the second season of its top rated reality series, 'LisaRaye: The Real McCoy," on Thursday, April 7, 2011 at 9 p.m. ET. Season two, which starts with two back-to-back episodes, will include appearances by Sheryl Lee Ralph, Tatyana Ali, Bobby Brown, Elise Neal, Nelly, Twista, Bishop T.D. Jakes, DeRay Davis, Chef G. Garvin and Jacque Reid. Side-by-side with LisaRaye will be her beautiful daughter KaiMorae, a budding young model.

"I was going through a divorce first season," LisaRaye said about her reality show last year. "This year is difference. I am working this year on B2B - my motto 'back to business.'"

This NAACP Image Award nominee is a native Chicagoan who started in the entertainment business as a model. She went on to appear in music videos such as "Incomplete" with Sisqo and "Toss It Up" with Tupac. McCoy went on to star in New Line Cinema's The Players Club starring Bernie Mac, Jamie Foxx and Ice Cube - who wrote and directed the film. As an actress she also starred in Beauty Shop and "Love Chronicles." LisaRaye went on to television becoming a household name as ex-wife Neesee James in the Will and Jada Smith creation "All of Us," starring Duane Martin.

"LisaRaye: The Real McCoy" will have a second season that has the "lady in white" examining her spirituality; getting her career back in motion; launching a jeans line; managing her daughter' career and searching for that "special" one.

When asked what she learned about her spirituality in the second season LisaRaye stated, "Just to get out my own way. We think we're listening to God, we just listening to us. Now I know how to relinquish control. I've always been in control. I had to be a fighter...I forgot how to take a back seat. I want Him in control, His will. I am learning to listen and be still."

Well, thank goodness her career is not still, because the former first lady will be starring in the Queen Latifah created comedy/drama "Single Ladies" as Keisha - with Stacey Dash and Kassandra Clementi. Not only that, LisaRaye has launched a line of jeans for the hour-glass (bottom heavy) shaped woman, as well as branding her B2B movement that not only uplifts her business, but everyone else's business that gets involved.

"I grew into my adulthood on the show," KaiMorae said about her experience on the first season of "LisaRaye: The Real McCoy." "I'm learning about my body...but I enjoyed it and I'm looking forward to the second season."

You will get to see all this and more during the nine episode season starting Thursday, April 7th at 9 p.m. ET with two back-to-back episodes.
Jamie Foxx hosts private fundraiser for actress Karyn Parson's Sweet Blackberry Foundation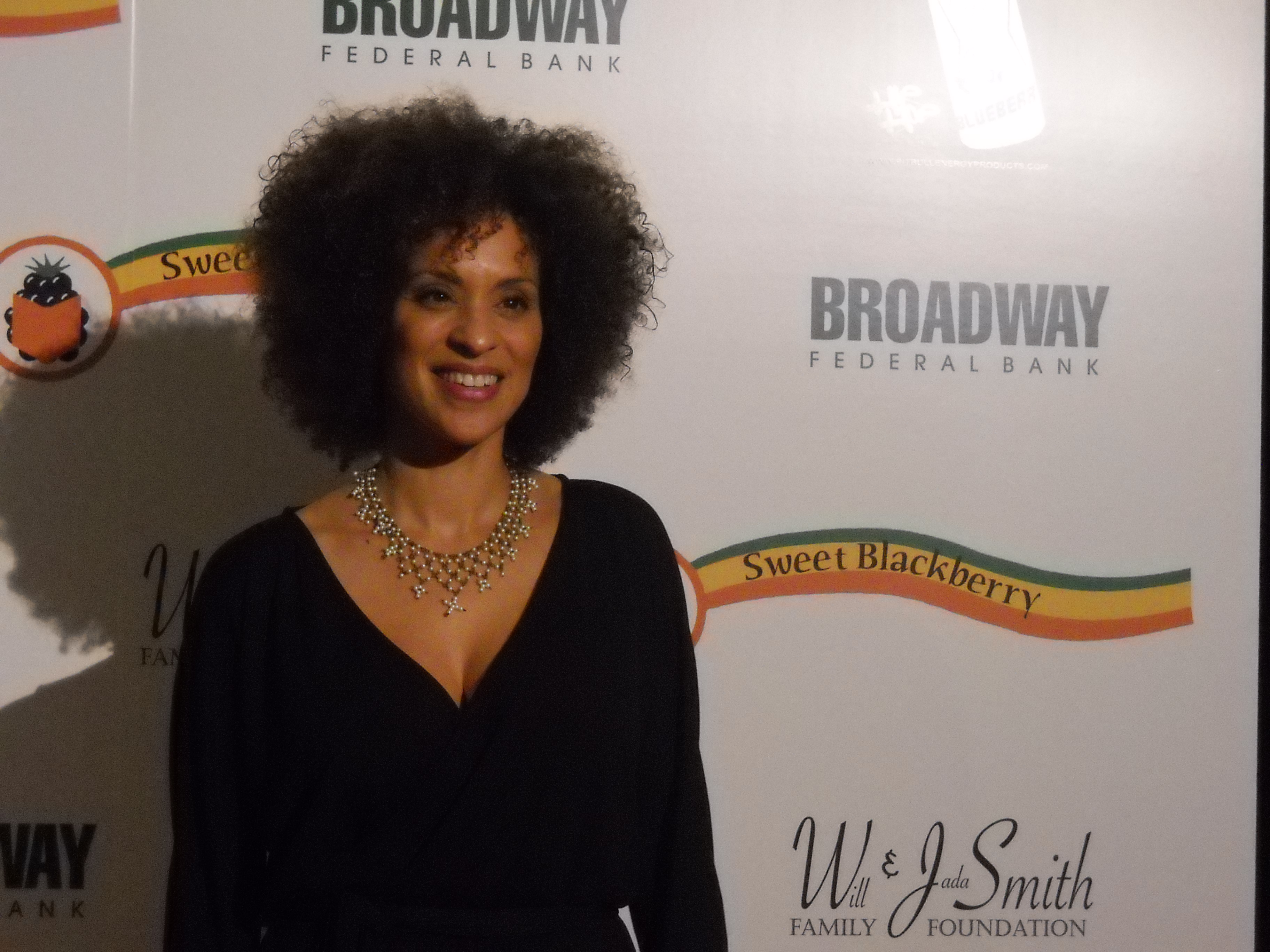 Sponsored by the Will and Jada Smith Family Foundation, Pitbull Energy Drunk and the Broadway Federal Bank, a private fundraiser was hosted at the residence of Jamie Foxx for actress Karyn Parson ("Fresh Prince of Bel Air"). The fundraiser was to fund her non-profit organization Sweet Blackberry.
"I started it for a story about Henry "Box" Brown," Karyn Parson said about her non-profit. "It's a fascinating story...when I started the company I just wanted to get the story out. I had programs I wanted to develop...and I started to see it was more of a 501 C3 model. It started to reveal to me what it wanted to be."
Anyone that learns about the goal of the organization will want to support it, not only to support Karyn, but to support her passion to spread true uplifting stories about African-Americans to children. In fact, I couldn't help myself after learning about the organization, but buy the stories myself before leaving.
Aside from the amazing story "The Journey of Henry Box Brown," who mailed himself to freedom, the Sweet Blackberry Foundation also released the story "Garrett's Gift" -about the man who invented the traffic light.
The stories come on CD narrated by living legends Alfre Woodard ("The Journey of Henry Box Brown") and Queen Latifah ("Garrett's Gift").
"It's a lot of work," Parson admitted about the process of obtaining funding. "But it's a lot easier when you care about it. Nobody is trying to get rich here...It's very much needed. People are recognizing the value of the stories we are doing."
One person who sees the value in Sweet Blackberry is actress Tatyana Ali ("Love That Girl"), who was there in support of the fundraiser.
"We were cast members...she's my very dearest friend. I'm on the board of the foundation. She has this incredible foundation bringing little known African-American stories to children all across the country. They're American stories...we're raising money to produce the stories," Tatyana said.
The Sweet Blackberry Foundation reports that "there are 16 million U.S. households with children under five years old and many - particularly those growing up in situations of poverty, racial and ethnic minorities, or youth at-risk of gang involvement - have no experience or little exposure to systemic, proactive and targeted positive media that is rooted in education and culture."
To learn more about Karyn Parson's Sweet Blackberry Foundation log onto www.SweetBlackberry.org.
April 8, 2011
IMAX Born to be Wild 3D, narrated by Morgan Freeman, is a breath-taking journey into the plight of orphaned elephants and orangutans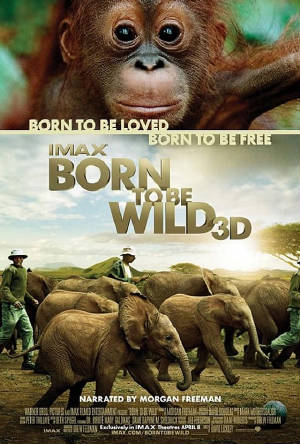 ~
Academy Award winning actor Morgan Freeman's voice narrates the IMAX Entertainment/Warner Bros Film, IMAX Born to be Wild 3D. The film, too be released Friday, April 8, 2011 at IMAX Theaters, is about the unbelievable journey of two women in their pursuit to save orphaned elephants in Kenya and orangutans in Borneo's rainforest.

The voice of Morgan Freeman takes us through the film as world-renowned primatologist Dr. Birute Mary Galdikas and elephant authority Dame Daphne M. Sheldrick adds personal insight into the plight of orphaned elephants and orangutans.

Nothing is as soothing as the voice of Freeman especially when the screen seems as though huge "baby" elephants are coming at you.

"I saw the film before the narrative," Morgan said about the use of any visuals while recording the voice-overs. "You get calls to do narratives, lots of them, and once in a while a project comes long that you are hooked and you go with it."

IMAX Born to be Wild 3D was directed by David Lickley and was written and produced by Drew Fellman. The music throughout the film was just as breath-taking as the film itself. The documentary takes you high in the trees of the rainforest to follow the orangutans and in between the legs of hordes of elephants to follow orphaned baby elephants.

"Transporting 30,000 pounds of gear during rain storms and all kinds of weather (was the challenge)," said producer Fellman about shooting the film in such remote places.

The film has lots of tear-jerking moments too, such as the unexplainable moment when a group of adult, former-orphans, came to welcome a small group of younger orphans who were brought to the half-way house compound - where they will stay for a couple years before being released into the wild.

No one tells the adult elephants when the orphaned ones will be coming, they just all know. They all come at the same time too, from all different directions, an unbelievable sight. At least 20-30 grown elephants coming to welcome "strange" young orphaned elephants, with hugs with their loving trunks and body parts and if this wasn't enough they adults all stay for a month before going back into the wild.

"Elephants are human animals in terms of emotions," elephant expert Daphne said about the species. "They are family oriented and just like us."

There was also a moment when a now fully grown former orphaned orangutan returned for a visit to the compound. That moment brought - for me - a brief "hold you're breath-in" moment because you are not sure what will happen, especially since orangutans get to be over three-times the strength of a man.
IMAX Born to be Wild 3D hits IMAX theaters across the country Friday, April 8, 2011. For more on the film or locations to IMAX theaters near you log onto
www.IMAX.com
.
David E. Talbert's 'What My Husband Doesn't Know' is full of comedy, drama, suspense and hot romantic scenes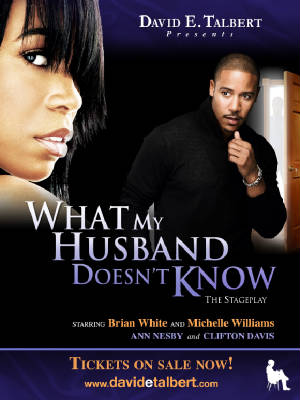 In my recent interview with the five-time NAACP Image Award winning playwright David E. Talbert recently he talked about how he forgot how much he missed being on the road with his stage-plays. Well, after attending his latest production, 'What My Husband Doesn't Know' at the Pantages Theater in Los Angeles, I was reminded how much I enjoy David E. Talbert productions. The play was full of comedy, drama, suspense, mystery and hot romantic scenes.
"What My Husband Doesn't Know" stars Michelle Williams, Brian White, Clifton Davis, Ann Nesby, Tiffany Haddish, Vince Vincent, Chloe Spencer and Esau McGraw. David's first stay-play since taking two years off to work in Hollywood, "What My Husband Doesn't Know," shows that Hollywood has influenced the playwright. That Hollywood influence is evident in the stage backdrop; his choice of actors; the music, his choice of customs, and most certainly in the script which reads like a combination of a drama, comedy and murder mystery television series. There were times that I forgot it was a live show because the acting and imagery was so on-point.
The audience is also treated to four musical selections by Ms. Williams and the powerful vocals of Ann Nesby. "What My Husband Doesn't Know" arrives next to The Beacon Theater in New York on April 7 - 10; the Coronado Performing Arts Center in Rockford, ILL on April 12th; The Arie Crown Theater in Chicago, Ill on April 14-16th; the Palace Theater in Louisville, KY on April 17th; the Willett Hall in Ports Monte, VA on April 28-30th; Raleigh Memorial Auditorium in NC on May 1st, and the Dallas Convention Center in Texas on May 3-8, 2011.
For more information about David E. Talbert's stage-play, "What My Husband Doesn't Know," log onto www.DavidETalbert.com.
April 15, 2011
Mint Condition bringing bands back with a banging new project, '7'

~
When you become recognizable for your sound you have made it. Well St. Paul, MN natives, Mint Condition, have made it. There is nothing like the sound of the five member band properly named Mind Condition. Vocally led by the unmistakable voice of Stokley Williams (also drums), Mint Condition - Rickey Kinchen (bass), Homer O'Dell (guitar), Larry Waddell (keyboard)l and Jeffrey Allen (sax and keyboard)- are promoting "7"(Cage Bird/Shanachie Records), a banging new album that is sure to bring bands but by popular demand - specially the way they work it.

"We hookup, we write, we rehearse. We just create and really don't think of it," the guys said when asked their style of songwriting. "It's hard," they said about keeping a group together, "We get in bickering fits here and there...you are going to clash, we're all unique. But we try to keep our eye on the big picture...the music we know we have."

Mint Condition is celebrating 20 years of providing good music together. It started for them at Central High School's performing arts program where they formed the band. While playing at a gig producers Jimmy Jam and Terry Lewis caught the act and immediately signed them to their Perspective Records imprint.

Mint Condition released three albums, while at Perspective, "Meant to be Mint," "From the Mint Factory" and "Definition of a Band." From those projects came the "classic" hits we all enjoy today - "Breakin' My Heart (Pretty Brown Eyes)," "So Fine," "What Kind Of Man Would I Be," and "You Don't Have To Hurt No More."

The guys went on to sign with Elecktra Records releasing "Life's Aquarium," "Living the Luxury Brown," "E-Life." With their seventh album, "7," released I can almost guarantee that it will produce another classic hit - or two.

Though the entire album will find you playing it from beginning to end, my favorite cuts on the project include "Walk On" for its Pop feel; "Caught My Eye" for its traditional Mint Condition sound; "Not My Daddy" featuring Kelly Price, a nice R&B number; "Mind Slicker" a very Urban cut; "Ease the Pain" for its a funky feel, and "Unsung," which is so beautiful in so many ways - with sweet vocal support from Tonia Hughes-Kendrick.
Mint Condition will be at the Essence Music Festival and making other appearances to promote the "7" release. For updated information log onto
www.MintConditionMusic.com
.
The unbelievable vocals of Gaye Arbuckle on 'Holy' take Contemporary Gospel to a new level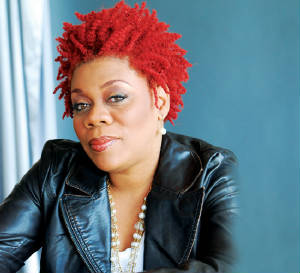 Born in Texas, Contemporary Gospel artist Gaye Arbuckle began singing at the tender age of six. Since then she has spend her life perfecting her music and this album, "Holy," gets very close. Maybe it's her degree from Prairie View A&M University or her experience as musical director at Baptist Student Union or as minister of music at Concord Church that has given her that versatile vocal strength. Then maybe it could be her passion for spreading God's word.
"Singing came naturally since I was six," Gaye said about her life. "I would actual go to the piano to make sure I was in the right key."
When explaining her fresh Contemporary delivery of the Gospel she said with a smile, "Though secular music wasn't allowed in the house I did listen to Barbra Streisand."
Gaye Arbuckle's sound can go from Traditional Gospel to Pop and from R&B and Christian style music. In it all you can tell she is on fire for God's word. Fiery just like her trademark red natural hair. Arbuckle has performed as opening act for such artists as Yolanda Adams, Kirk Franklin, Vickie Winans, Bebe and Cece Winans, Fred Hammond, Dorinda Clark-Cole, Karen Clark-Sheard, and Kelly Price.
The two-time Texas Gospel Music Excellence Award winner has released two other projects "Thinking About It," in 2002 and "Miracles and Blessings" in 2007. Her new project "Holy" offers 10 masterly crafted songs that not only show her vocal abilities but offer the "message" in many genres of musical ways.
"This one is more scripture based," Gayle pointed out about the difference in this album and her previous. "People remember scripture when it's with music."
My favorites on the "Holy" CD are "Madaase" for its African "motherland" feel; "Totally Committed" because of her unbelievable use of vocals; "Jesus Is My Rock" because she is "jamming" for the Lord, and "Waiting Right Here" a Heavenly sweet song supported by a wonderful harmonic voices in the background.
For more information of Gaye Arbuckle or her CD "Holy" log onto www.GayeArbuckle.com.
April 22, 2011
Freddie Jackson headlines the Men of Soul Tour with Hewitt, Osborne and Bryson

~
"We are all excited. We're having a great, great time," Freddie Jackson said about the "Men of Soul" Tour which he headlines along with Howard Hewitt, Jeffrey Osborne and Peabo Bryson. "All with number one hit records!"
~
Jackson, who is currently promoting his latest album "For You" (Orpheus/EOne Music), hits include "Jam Tonight," "Do Me Again," "You Are My Lady" and "Rock Me Tonight," which went platinum. Hewitt, formerly of the group Shalamar, hits include "Second Time Around," "A Night To Remember," "Dancing In The Sheets," and "This Is For The Lover In You" - with the group and "Stay" and "Say Amen" as a soloist. "Say Amen" became his signature song. Osborne hits include 'Back In Love Again" and "Concentrate On You," with his former band L.T.D., and "On The Wings Of Love," and "Stay With Me Tonight," as a soloist. Jeffrey Osborn also wrote the lyrics to Whitney Houston's "All At Once." Bryson's hits include "Feel The Fire," "Reaching For The Sky," "I'm So Into You," "If Ever You're In My Arms Again" and "Can You Stop The Rain." He won two Grammy Awards, one for "Beauty And The Beast," featuring Celine Dion and "A Whole New World," featuring Regina Belle.

"We talked about this a year or so ago," Freddie said about the concept for the "Men of Soul" Tour. "We tested it out...it felt real good...loving it!"

Jackson said that the tour has already been asked to come to Europe and Africa. The "Men of Soul" Tour will arrive next June 24, 2011 at The Nokia Theater Los Angeles and June 26th in Monterey, California. On May 8th Freddie Jackson performs in Washington, DC to honor Grammy Award winning producer/songwriter Barry Eastmond (Anita Baker) at the Library of Congress.

"We all get together at the end and come on stage and connect," he informed me.

Freddie said the overwhelming response to the tour is because adults want to go out and hear good music, hold hands, etc... I agree, it seems a lot of the R&B groups, bands and artists with hits from 10-20 years ago are experiencing an emergence of popularity that is very refreshing to me. I see it changing the scope of modern music into something we all have not heard before. I personally can not wait to hear the balance in the old school and new school sounds.
For more information on the "Men of Soul" Tour featuring Freddie Jackson, Howard Hewitt, Jeffrey Osborne and Peabo Bryson log onto
www.MenofSoulTour.com
.
Magnolia Pictures' release Rejoice and Shout will have you doing just that, hits theaters June 17, 2011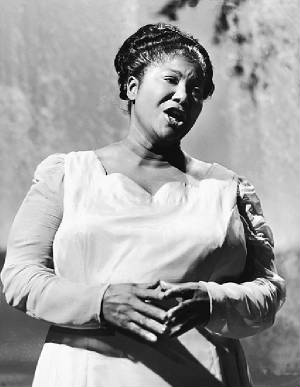 Don McGlynn's emotionally inspiring documentary on the history of Gospel music is a Magnolia Pictures release, produced by Deep Rivers Production and executive produced by Mark Cuban and Todd Wagner. It features commentary by Andrae Crouch, Mavis Staples, Ira Tucker and Ira Tucker, Jr., Marie Knight, Bill Carpenter, Willa Ward and Smokey Robinson.
The documentary had me rejoicing, shouting and crying - especially when they covered the incredible career of Mahalia Jackson, considered the greatest Gospel singer in the world.
"Mahalia Jackson crossed all barriers," Smokie Robinson said of the Gospel legend. "Mahalia sold 2 million records in 1947 at a time when 200,000 was considered a success," said Gospel historian Bill Carpenter.
Smokie spoke on today's Gospel music, explaining that in today's time Gospel music is different from the past, but it is still Gospel music.
"If you hear Hip-Hop with Gospel lyrics and you don't like it, too bad because that's how they sing it, if the presence of the Lord is in the music, than its Gospel music."
The documentary takes you to the beginning during slavery in the cotton fields where Spirituals began. Then it progresses to the church and its acceptance of the different genres of Gospel music.
"If we go back to 1900s...Black Baptist developed a polish sophisticated style of worship," Carpenter said.
Rejoice and Shout will explain how Gospel music went from conservative to what it is today. The documentary film will open in New York on June 10, 2011 and then Los Angeles - along with the top ten markets - on June 17th. The documentary covers 200 years of music history of African-American Gospel.
For more information on Rejoice and Shout log onto www.MagPictures.com.
April 29, 2011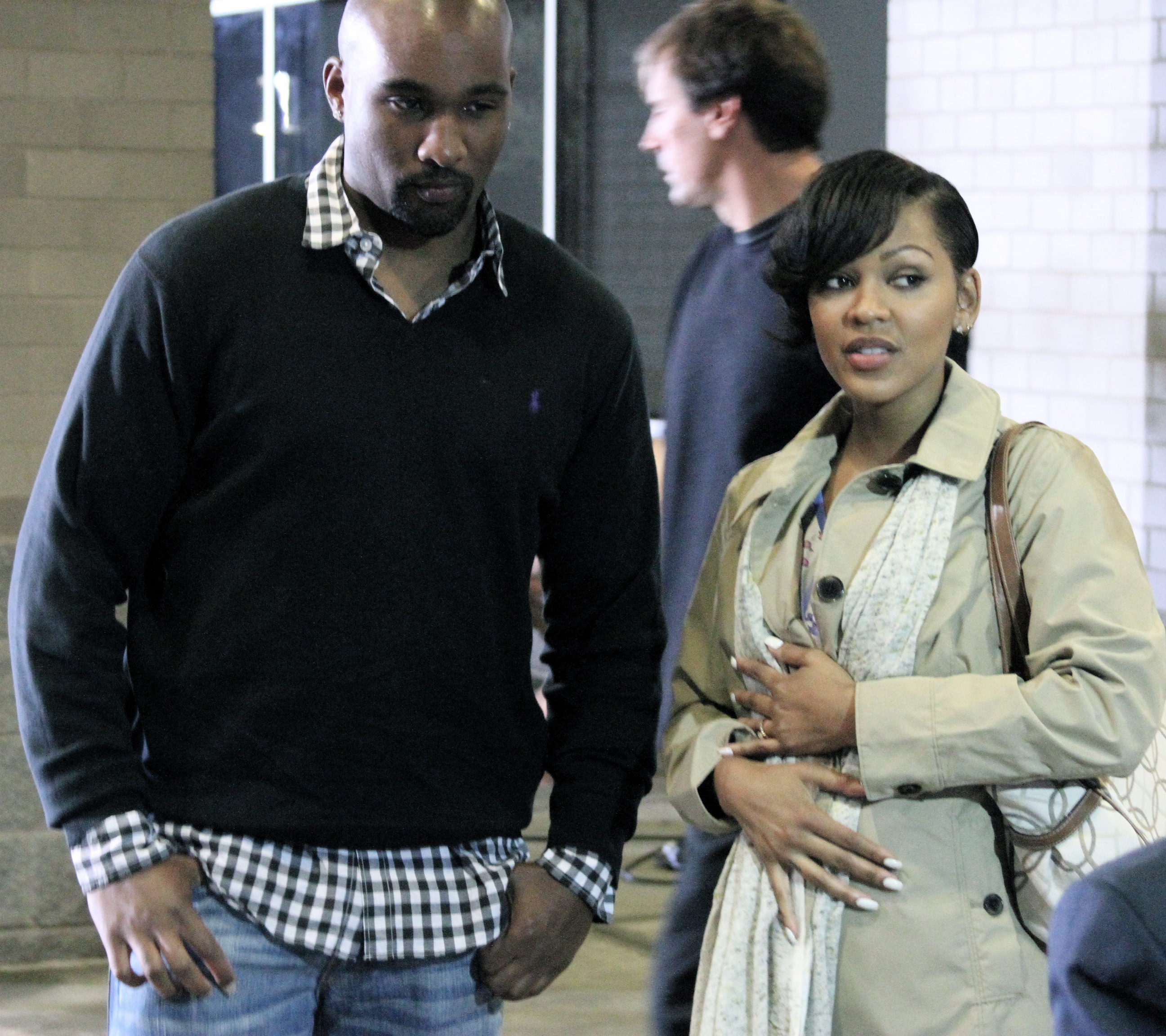 Film/TV producer Datari Turner's taking over Hollywood with major projects in 2011, one brings him to Baltimore

~
If you don't know the name remember it, Datari Turner, this film and television producer is quietly taking over Hollywood working his way to becoming one of its best. This former Ford model turned actor has made a successful transition into a film/television writer and producer. One of four major projects Turner has for 2011 release brought him to my hometown of Baltimore. His Stony Island drama, Learning Uncle Vincent (L.U.V.) - starring Meagan Good, Dennis Haysbert, Turner, Charles Dutton and Common - is about the real-life story of the man behind the concept for the television series "The Wire." In the film this man bonds with a shy 13 year-old.

"We're wrapping," Datari Turner said when I spoke with him about his time shooting in Baltimore. "The story is similar to Carlito's Way meets Training Day. It's inspired by a true story...This is his story."

Turner is telling many stories to entertain us lately, such as the Dan Garcia/Turner Production/Most Wanted Film, Video Girl, starring Meagan Good, Ruby Dee, Paul Victor, Datari and LisaRaye - his first film. The movie will be released to limited theaters April 29, 2011 and in December his Turner Productions comedy film Dysfunctional Friends - starring Stacey Dash, Hosea Chanchez, Wesley Jonathan, Terrell Owens and Tatyana Ali - will be released as well.

In television his credits include BET's "The Ultimate Hustler," an Urban reality show similar to "The Apprentice" and "I Married a Baller," about the lives of famous athletes' wives. His newest television hit is the TV One reality show "LisaRaye: The Real McCoy," which recently started its second season.

"It was time," Datari pointed out when asked about his string of successes. "I paid my dues, its time for me to have a hit. LisaRaye is from a real place like Baltimore, in Chicago. Her father was a notorious business man...With that and the glamour. It's their highest rated series."

They say when you are on a roll you can't stop, well same here with Datari because he has projects to be released well into 2012. First project next year will be the Mandalay Vision comedy film Happy Holidays, starring Kate Beckinsale and Sigourney Weaver, about a mother and daughter reuniting during the holidays after a family death. He has other projects in different stages of development. So Datari Turner is certainly one to watch.
Check out www.VideoGirl-TheMovie.com for more information on his first film Video Girl and
www.LisaRaye.TVOne.com
for more on the "LisaRaye" show.
Contemporary Gospel artist Madelyn Berry puts a new Pop/Urban twist to the genre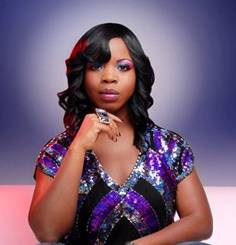 Watch out Mary Mary Madelyn Berry's in town sporting a hot Pop/Urban Contemporary Gospel sound. She is going to share that sound on her newest album, "Madelyn." A background singer for the likes of Richard Smallwood and Darwin Hobbs, Berry offers twelve inspirational songs on the CD.
"God inspired me to do this album," Madelyn confessed. "Every song is my testimony. When I first went to my husband (also the producer on the CD)...we had producers sending us difference tracks. We wanted to touch as many people as possible, not in church but outside of church."
Berry first started singing at the age of 11 at the urging of her mother. But she said that at some point she realized that her voice was "something special."
"Never give up if God gave you His word and promise. Hard work (and tears) but do not give up because of the promise," Madelyn stressed. "People can't do it alone...speak things into the atmosphere."
On "Madelyn" (Berry Tight Music) she takes it practically there as she covers a wide range of genres of music laid over by her Gospel and inspiring lyrics. My favorite cuts on the album include "I Believe In You" for its sweet inspirational lyrics and I also love the piano support; "Still Standing" a great Pop/Gospel sound; "Why I Love Him" because of its Urban flavor I think is reminiscent of Mary Mary, and the "Why I Love Him Remix" a hotter version of the first, but still a Praise and Worship song.
For more information on this Contemporary powerhouse vocalist, Madelyn Berry, log on to www.MadelynBerry.org.