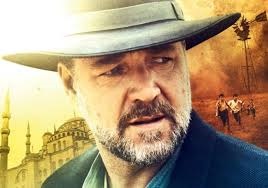 The pull of love is real and alive in Warner Bros' The Water Diviner starring Russell Crowe, in theaters April 24, 2015
Writers Andrew Anastasios and Andrew Knight creatively showed how strong the pull of love is in the Warner Brother's presentation of The Water Diviner starring Academy Award winner Russell Crowe, who also directs. Produced by Troy Lum, Keith Rodger and Andrew Mason The Water Diviner makes real the energy and power of love.
The backdrop of the Rated R dramatic and action film is in Australia and Turkey. It follows Connor (Crowe) an expert Australian water finder who, at the request of his wife before she committed suicide, went in search of the bodies of his sons who enlisted during WWI five years before. Yilmaz Erdogan played the Turkish Commander who ultimately helps him located his sons, at risk of his own life.
During his journey he befriends a widower (Olga Kurylenko) and her son (Dylan Georgiades) who runs a hotel. Their very similar ordeals, widowed with son(s), bond them in a way that shows love is real and always alive. Jai Courtney plays an Australia Officer charged with finding and identifying over 3,000 dead Turkish and Australian soldiers on a beach where the historic "Battle of the Gallipoli" occurred.
A Fear of God Films, Hopscotch Features, Seven Network and RatPac Entertainment production The Water Diviner is full of action, passion and drama. Leading the case and directing the film is Russell Crowe, the makings of an award winning recipe. The Water Diviner also stars Jacqueline McKenzie, Ryan Corr and Cem Yilmaz. Log ontowww.TheWaterDivinerMovie.com.au to watch the movie trailer and for more information.
Fashion Week at 'Show Up and Show Out' attracts a steam of designer lovers to the fashion show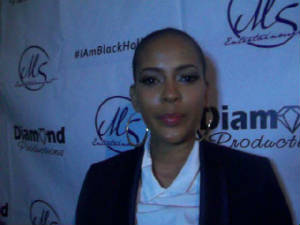 "I'm wearing a blazer, I left my pants at home," said Va'Shaundya Karlette Nelson executive producer of VH1's "Basketball Wives" and "Basketball Wives LA" while arriving at the "Show Up and Show Out" Fashion Show. "I felt I wanted to do something different - something out of the box."
Va'Shaundya was one of many who turned out during Fashion Week. I was invited to cover the red carpet arrivals of the "Show Up and Show Out" fashion show, held at the Arena Hollywood. R&B singer Christina Milan's designs were among those shown. Designer lovers, and sports and entertainment industry personalities came out to behold the entertainment and excitement that fashion brings.
"As usual for Fashion Week you don't want to follow the regular trends," Nelson added. When I asked what about fashion excited her she said, "Anything exotic, anything difference, anything that goes against the grand excites me."
This is the third year that the "Show Up and Show Out" fashion show has been held. The event was also collecting can goods and non perishables for the LA Regional Food Bank.

(Syndicated Columnist: Eunice Moseley, has an estimated weekly readership of over ¼ million with The Pulse of Entertainment. She is also a Public Relations Strategist and Business Management Consultant at Freelance Associates, and is Promotions Director (at-large) for The Baltimore Times.www.ThePulseofEntertainment.com. EVENT: Sat October 24, 2015the "Uplifting Minds II" Free Entertainment Conference at the Celebrity Centre in Hollywood, CA. Sat April 16, 2016 the "Uplifting Minds II" Free Entertainment Conference at Security Square Mall. www.UpliftingMinds2.com.)