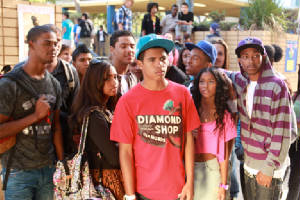 Mario Van Peebles' 'We The Party' is socially deep and culturally on point, arrives in theaters April 6, 2012

"This is my first major role," said young actor Mandela Van Peebles about his starring role in the Mario Van Peebles directed film We The Party - which hits selected theaters April 6, 2012. "I did commercials...and been on the set since I was born."

The son of Mario Van Peebles, who is also the film's screenwriter and also co-stars in the movie, Mandela surprised me with what I feel is an award winning performance. Mario Van Peebles' We The Party is socially deep and culturally on point. It also stars Sallie Richardson-Whitfield, Michael Jai White, Simone Battle, Snoop Dogg, Tiny Lister, Orlando Brown, Patrick Cage, II, Makaylo Van Peebles, Moises Arias, YG, Ryan Vigil, The New Boyz, The Rej3ctz, The Pink Dollaz, Maya Van Peebles and Quincy Brown.

We The Party follows the life of Hendrix (Mandela), a young high school student whose dad happens to be his teacher and mother the principle at his school - Crenshaw High in Los Angeles. We The Party details the life of today's young culture. During the film Hendrix finds love and himself, and his parents finally see their son for who he really is.

"What does smart look like," Mario said about what he wants the audience to walk away thinking about the movie. "I...made a multi-cultural movie...that I hope forces the audience to think."

Van Peebles accomplished that because in We The Party everything is not what it seems. Fellow classmate C.C. (YG) comes from a family of criminals, wears a "hoodie" and shades all the time - but yet is not what he seems. The father of Cheyenne (Battle) - Hendrix's love interest - Officer Davis (White), comes off as a hard-nose cop you need to fear, and Hendrix's parents Sutton (Mario) and Principle Reynolds (Richardson-Whitfield) seem to not get along because they differ on how to raise their son - are really not what they seems to be.

"We The Party is coming out at a perfect time," said Patrick Cage, II, who plays one of Hendrix's best friends Chowder. "Hoodies are what you wear (not who you are)..."
We The Party, which includes music, dancing and lots of drama, is a XLrator Media and MVP presentation of a Mario Van Peebles Film that arrives in selected theaters April 6, 2012. For more on the Rated R film 'like'
www.facebook.com/wethepartymovie
.
Actor/film producer Datari Turner's three current projects - Dysfunctional Friends, Cherry and LUV - have Hollywood's attention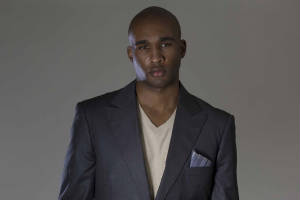 Actor and film producer Datari Turner's three current projects- Dysfunctional Friends, Cherry and LUV - have Hollywood's attention. Dysfunctional Friends was just released in selected theaters to mostly sold out crowds and it was just released on DVD this week. BET just picked-up Dysfunctional Friends to air on its network. His film Cherry, which was recently shown at the Berlin Film Festival, was just brought. His film LUV, stars Common and Danny Glover, arrives at theaters in the Fall, 2012.
"I am an independent producer for every film so far," Datari Turner said about his profession in films since leaving his career as a model. "To release to theaters...1500...that's 15 million. The only black films (Hollywood) releases are Tyler and Rain Forest."
A native of Oakland, Datari's early years in television began as creator of BET's "The Ultimate Hustler," starring Damon Dash, which he executive produced. He then executive produced and wrote for TV One the "LisaRaye: The Real McCoy" reality show in 2010; acted in and produced Video Girl in 2011 and Dysfunctional Friends. In television, as an actor, Datari has appeared on "The Handler" and "Boston Public."
"I read scripts," Turner confessed about the script for Dysfunctional Friends, a film written by Cory Grant - who also directed it. "Cory went to Howard and is a talented writer. I worked with the writer on the script...to polish it...changed the name, and then raised the money."
His LUV movie was recently shown at the Sundance Film Festival, which said that Cherry is one of the most anticipated films.
Find out more on Datari Turner by logging onto www.facebook.com/datari-turner.

J.J. Hairston and Youthful Praise releases new anticipated album, 'After This,' which is #1 on Billboard's Top Gospel Chart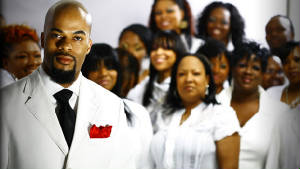 Praise & Worship's J.J. Hairston releases his highly-anticipated album, "After This," (Light Records/eOne) with Youthful Praise. Just off a promotional tour, Hairston's new project has reached #1 on Billboard Top Gospel Charts.
"This is the first time I knew what I wanted," said J.J. about the concept for the album "After This." "I believe in spite of...He can turn it around. The whole album is about faith."
The 12 selection on "After This" features the assistance of many of today's' Gospel greats such as Bishop Hezekiah Walker, James Fortune, Tye Tribbett, Minon Bolton, Pastor John P. Kee and Lisa Knowles, Bishop Eric McDaniels and Lashun Pace.
"I wanted to include a lot of people I respect," Hairston pointed out about his long list of featured vocalists. "...Everybody said yes!"
J.J., who says that his family (wife and kids) is his source of strength, has 20 years of experience in Gospel music. Hairston and Youthful Praise have built a reputation as one of the best Praise & Worship acts in Gospel music today.
My favorite cuts on the "After This" project include "My King," a great Praise and Worship song; "Now," featuring James Fortune - a passionate heartfelt selection song; the title track "After This," which features Bishop Eric McDaniels, is a nice uplifting Praise and Worship offering that will surely have you dancing in the church, and "The Victor," a powerful song that just gave me chills.
For more information on J.J. Hairston and Youthful Praise's new album "After This" log onto www.YouthfulPraise.org, www.LightRecords.com or follow Hairston at www.Twitter.com/JJ_Hairston.