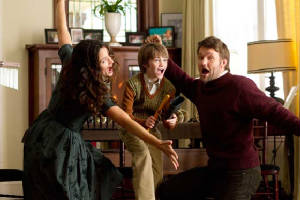 Disney's The Odd Life of Timothy Green is an inspiring tale of parenting, in theaters August 15, 2012

By
Eunice Moseley

"Tim taught me that everyone is not a nobody, no matter who you are, you can make a difference in the world," said 11 year-old actor C J Adams about his starring role in the new Disney movie release The Odd Life of Timothy Green - in theaters August 15, 2012.

Adams stars in the family film - that offers fantasy, drama and excellently placed comedic relief - along with Jennifer Garner and Joel Edgerton. Garner and Edgerton are Cindy and Jim Green a couple with a passion for parenting.

Directed by Peter Hedges, the Ahmet Zappa story tells of the never ending journey couples go through to have a child. The fantasy mixed with reality made for an inspiring tale of parenting.

"You can make a family, it doesn't have to be traditional," Jennifer Garner said about the theme of the movie.

Cindy and Jim Green experiences a miracle that allows them to 'finally' be parents of the child of their dreams. The Odd Life of Timothy Green is written by Hedges who let the script have its natural flow from Zappa's birth of the tale by creating an almost simplistic look at the reality of the parenting process.

"The real magic of life is actually for all of us, it's loving unconditionally," said Peter. "I wanted to tell a story about being human."

The Odd Life of Timothy Green also stars M. Emmet Walsh as Uncle Bub, Lois Smith as Aunt Mel and Odeya Rush as Joni Jerome. A Scott Sanders Production this Peter Hedges Film is Rated PG.
Leela James delivers a soul-stirring Etta James tribute in her new album release, 'In The Spirit of Etta James'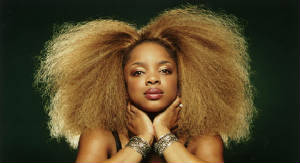 Shanachie Entertainment artist Leela James delivers a soul-stirring Etta James tribute in her newest album release "In the Spirit of Etta James." The project is an excellent blend of the legendary Rock and Roll, and Blues Hall of Famer Etta James' legendary style with her own, Leela James, signature style and sound.
In a previous interview James admitted she wanted to keep the feel from that time period but still caption "Leela.
"I listened to a lot of her music...and used her standout records," said Leela James. "I could relate to some, but they were too dated."
James has taken her Gospel influenced upbringing and mixed it with Soul, Blues, Funk and R&B to create a page of her own in music's history books. James' previous album release, "A Change Is Gonna Come," which had production by Kanye West, Raphael Saadiq, and Wyclef Jean, forewarned us she was coming to make her imprint on the industry. "In the Spirit of Etta James" she tells me she is 'just' getting started, and I anticipate the musical experience.
My favorite cuts on the project include "Something's Got a Hold On Me," a Funk/R&B hand clapping selection, "I'm Loving You More Every Day," a great cruising in your car song - with a vocal delivery that gave me an Aretha Franklin vibe, and "Damn Your Eyes," which she gave a very hot rocking twist to.
"In the Spirit of Etta James," is produced by Drew Ramsey and Shannon Sanders.
Disney ABC unveils exciting new programming at the recent TCA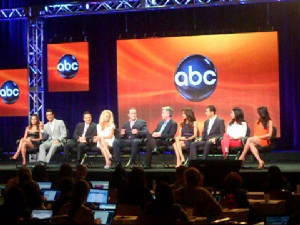 "I wanted to bring family comedy back since taking this job," said Paul Lee, president of ABC Entertainment Group about the new programming."
On Wednesdays at 8:30 starting September 25, 2012 the network will unveil The Neighbors, starring Jami Gertz and Lenny Venio as Debbie and Marty Weaver who move into a Long Beach neighborhood of "civilized" aliens. Alien neighbors are played by Toks Olagundoye, Simon Templeman, Clara Mamet and Tim Jo.
October 10th at 10/9 p.m. (Central) it premieres "Nashville," a musical drama that stars Hayden Penettiere, Connie Britton, Powers Boothe, Clare Brown, Robert Wisdom, Eric Close, Charles Esten, Sam Palladio, and Jonathan Jackson. If you are a country music lover this series will include every kind of music in Nashville, according to Connie Britton who plays Rayna James.
"Dancing with the Stars: All Stars" continues on September 24, 2012 at 8/7 p.m. (central) with its new season. There will be 13 participants, past finalists, that include Bristol Palin, Melissa Rycroft, Helio Castroneves, Pamela Anderson, Drew Lachey, Gilles Marini and Kelly Monaco.
"I wanted the best of the best," said executive producer Conrad Green about the new season's choices. "I wanted the best personalities, the best dancers and I got everyone on our wish list."
For more about the Disney ABC upcoming programming log onto www.DisneyABCTV.com.

(Eunice Moseley is a syndicated entertainment columnist,
www.ThePulseofEntertainment.com
. NEWS: Attend the "Uplifting Minds II" entertainment conference Sat., Oct. 20, 2012 from 1 - 5pm at the Celebrity Centre in Hollywood, CA. - admission is free!
www.UpliftingMinds2.com
)