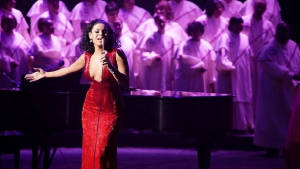 TriStar's presents Sparkle, offering stellar performances by all, arrives in theaters August 17, 2012

By
Eunice Moseley

TriStar Pictures presents the Bishop T.D. Jakes and Whitney Houston executive produced remake of Sparkle, starring Jordan Sparks as Sparkle, Whitney Houston, Mike Epps (Friday After Next), Omar Hardwick (The A-Team), Derek Luke (Antwone Fisher), Carmen Ejogo (Glory) and Tika Sumpter ("Gossip Girl") - it arrives in theaters August 17, 2012. The film offers stellar performances by all; even CeeLo Greens' small part was bigger than life.

Directed by Salim Akil (Jumping The Broom) and written by Mara Brock Akil ("The Game), Sparkle not only didn't disappoint but the customs, hair and music was utterly breathtaking. Even though watching the late Houston was tear-jerking in itself, it didn't overshadow her magnificent performance and those of her co-stars. The storyline (by Joel Schumacher and Howard Rosenman), though in line with the original, had some new twist to it which includes new music by R. Kelly.

Produced by Debra Martin (Just Wright), along with Jakes, the Akils and Curtis Wallace (Not Easily Broken), Sparkle is just one of many projects coming from Bishop Jakes.
"I'm working on a lot of things," said the Bishop. "I want to bring Sparkle to Broadway; I have a film, Heaven's for Real, a faith based movie coming out in the spring of 2013; an indie film Winnie, a story about Mandela's marriage to Winnie and what it brought to the table, and "Women Thou Art Loosed: on the 7th Day" is coming out on DVD."

With all these projects going on and Bishop Jakes currently promoting Sparkle you would think it was all taking away from his unprecedented way of spreading the Gospel, but according to him that is not so, "The church still sees me as a pastor," he said. "What people don't know is that the church is not making movies... it's a whole separate company, separate staff, separate facilities. The advantage is I draw more entrepreneurs and business people. It changed me because I get out officiating close to people who see life from one sphere... yet staying true to who I am. There are all kinds of ways of going into the world."

The Bishop hopes that Sparkle unify people through music, "The Original Sparkle is historical, has music and cultural value and the role music plays from a sociological perspective reminds young people who we come from. The struggles and challenges of life are still the same."

So it is and as in the film Sparkle in the end it all works out for those that love God and 'try' to work towards God's purpose. To name a specific actor for their outstanding performance would be to downplay the stellar performances by them all. I certainly see multi-awards being racked up on this project. Bravo!
Rated PG-13, see the movie trailer for Sparkle and learn more on the actors by visiting
www.Sparkle-Movie.com
.
Tyscot recording artist Damita releases her much anticipated Contemporary Gospel album 'Anticipation'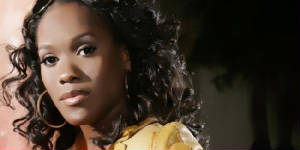 "I am more excited about this (album) than another of the others," said Damita, known for her R&B//Pop flavored Gospel, about her newest project, "Anticipation," release on the Tyscot imprint.
The project not only offers her trademark R&B/Pop influenced sound, but on this one, according to Damita, produce Frederick "Blaze" Crawford add some Hip-Hop influence with rapper Regula, making this project - for me - one of the best Gospel albums I've reviewed this year.
In 2000 Damita released her self-titled project on Atlantic Records and the second, "No Looking Back," in 2008 on her current label Tyscot. "Anticipation" is her third project.
"We're on a promotional tour now," said Damita about the album's release, at the time Nashville was the next stop.
Damita co-wrote the album with Blaze, "He said it would be great to add a rap hook so he called Regula who dropped it."
What an excellent addition to an otherwise predictable R&B/Pop Damita Contemporary Gospel sound, to make a fresh new Urban sound. My favorite cuts on the "Anticipation" album include "Won't Turn Back," a futurist sounding song that will make your feet move for sure, which rapper Regula bringing that Urban vibe; the simplistic "Be Reveal," a sweet song of love for God with a powerful vocal delivery; "Elevate Me," another hit with an Urban feel with Pop flavor; the Heavenly sounding "Anticipation Waiting," a Pop sounding inspiriting selection, and "Turn The Lights On," love the background vocals lifting Damita sweet vocals magnification.
Advice to other artist from Damita is to "Keep working hard, don't settle and change who you are. There are lots of creative ways to get your music heard."
For more Damita or to hear the album, "Anticipation," log onto www.Tyscot.com.
BMI's 'Next Fresh Thing' showcased four outstanding rising stars at The Viper Room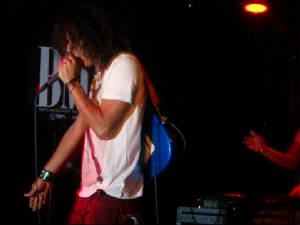 I was invited to attend the Broadcast Music Inc. (BMI) presentation of their "Next Fresh Thing" showcase where they presented to the public four outstanding rising stars to The Viper Room in Hollywood. Shane Free, Troy NoKA, Revenge of the Nerds and Dawn Richard were the talent presented.
BMI - a global leader in music rights and performing rights management organization representing over 500,000 songwriters, composers and music publishers - always an advocate for its members presented an excellent setting to showcase the talents when they chose The Viper Room.
The event started with the unbelievable sounds of Shane Free - a Reggae/Rock offering. Born in Trinidad and raised in Barbados, Shane was a powerhouse performer. He released his first single at the age of 15 and he recently enlisted producer Inotchz for the second single "Fire Waist."
Troy NoKA does it all rap, produce, songwriter and musician; he brought spoken word to the show entertaining us with his wisdom. Troy is best known for his production skills for such projects as Frank Ocean's "Nostalgia" and Chris Brown's "I Should Have Kiss You".
Revenge of the Nerds, a group of songwriters/producers from Los Angeles (David Randall, Kyle Coleman and Ramir Vincent), have written and produced for such artists as Jojo, Kevin McCall, Frank Ocean, Kid Ink, Ginuwine and Pixie Lott.
Last, the highlight of the event was singer/songwriter Dawn Richard (former member of the group Danity Kane and Diddy's Dirty Money). The New Orleans native just finished a tour with YMCMB and PJ Morton and is prepping to release her solo album "Goldenheart" this year.
For more information on BMI log onto www.BMI.com and for more on their"Next Fresh Thing" talent log onto www.ShaneFreeMusic.com, www.R3vengeoftheNerds.Tumblr/com, www.TroyNoKA.com, and www.DawnRichard.Tumble.com.
(Eunice Moseley is a syndicated entertainment columnist, www.ThePulseofEntertainment.com. NEWS: Attend the "Uplifting Minds II" entertainment conference, Host/DJ is Roc (KJLH 102.3fm), for the Sat., Oct. 20, 2012 event held from 1 - 5pm at the Celebrity Centre in Hollywood, CA. - admission is free! - www.UpliftingMinds2.com)