By
Eunice Moseley

Kenn Viselman, the man responsible for 20 billion in entertainment programming for children 3 - 5 years old, brings for the first time a similar concept to the big screen with The Oogieloves in The Big Balloon Adventure. A Rated G film, that still offers a wonderland for all ages, stars Toni Braxton, Cloris Leachman, Christopher Lloyd, Chazz Palminteri, Jaime Pressly, and the three Oogieloves: Goobie, Zoozie and Toofie - arrives in theaters on August 29, 2012.

While watching a Tyler Perry Madea movie Kenn noticed the women mimicking what they saw on the screen and he started to think of a movie that would do the same for his demographics (children 3 - 5 years-old).

Viselman achieves that in The Oogieloves in The Big Balloon Adventure because the audience is encourage throughout the film to stand up, dance and sing along - all 3 - 5 year-olds present did just that. The movie repeatedly shows the audience cultural differences between today and the 1950s, such as the little song they sang every time one of the Oogieloves pants fell down - reflecting today's culture with the "pants half down" style.

"I wanted a movie for the youngest possible," said Kenn on his reason for bringing, for the first time, an interactive movie just for a selected age group. "What would make young kids go to the movies?"

Viselman had to bring this interactive movie to the theaters himself because the studios at first thought it was a big risk, even though Kenn has made 20 billion in similar programming, and then later they wanted to much of the percentage he said. "I believe in Rated G, the studios don't," Kenn pointed out. "I believe there is enough violence in the world. Can we show love...just experience love?"

Love is what the film is about as the love of the three Oogieloves for their friend Schluuly drives them on in search of five helium balloons for his birthday. The balloons blew away so the race is on to get them back, for Schluuly's surprise birthday party - before he wakes up. Cloris Leachman, Toni Braxton, Christopher Lloyd, Chazz Palminteri, and Cary Elwes and Jaime Pressly each have possession of one of the balloons.

It was a joy for me to see kids' (3 - 5 years old) happy faces, when I screened the film, as they immediately began singing and dancing along. The interaction was to help the Oogieloves succeed in getting the balloons back so they can have that birthday party at the end - what kid doesn't like birthday parties!?
The Kenn Viselman presentation of The Oogieloves in The Big Balloon Adventure arrives in theaters August 29, 2012, log onto
www.Oogieloves.com
for more information.
Sony Pictures presents Premium Rush starring Joseph Gordon-Levitt and Dania Ramirez, in theaters August 24, 2012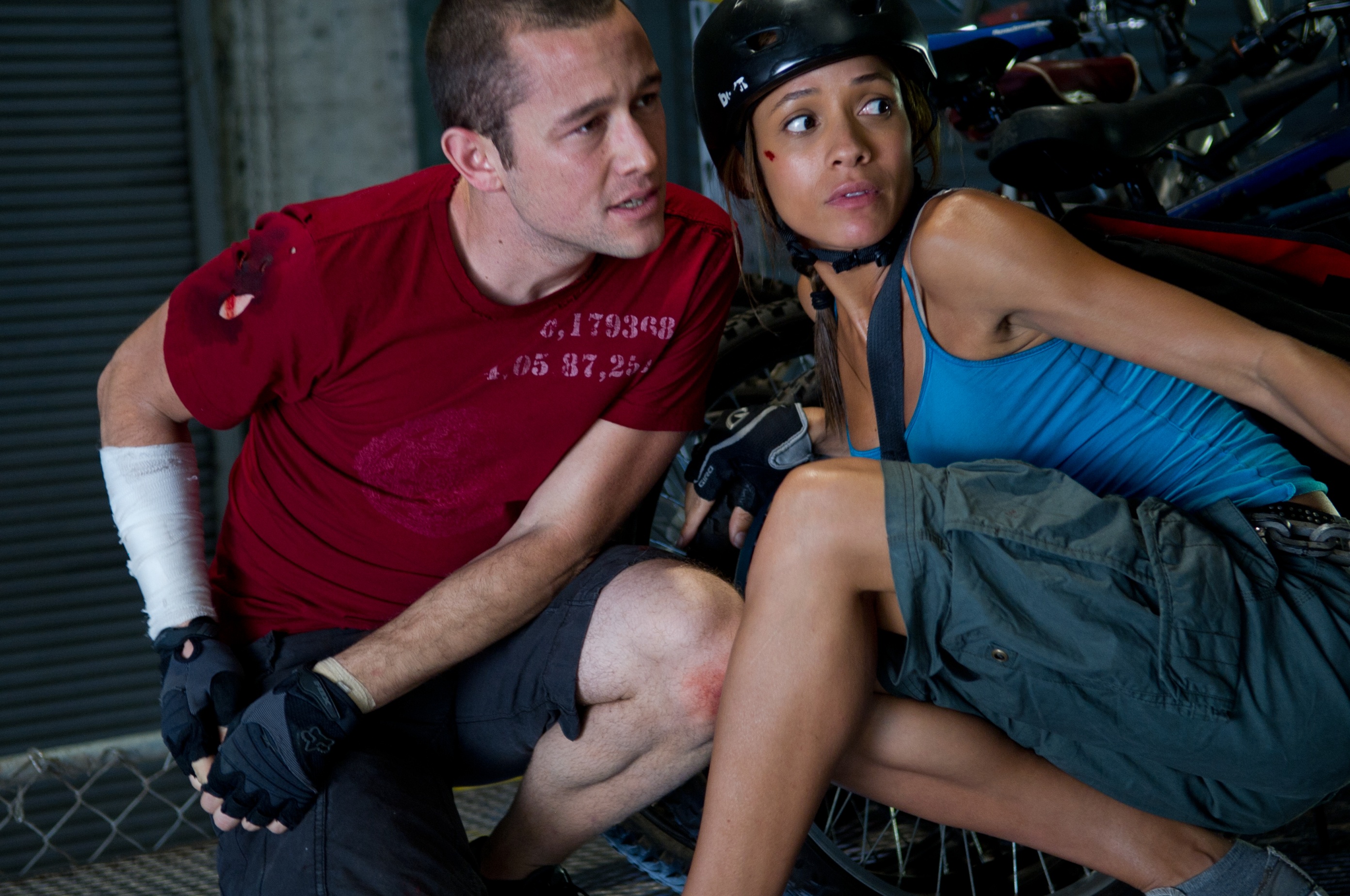 Can you believe a movie shot mostly on bikes? Well the new Sony Pictures release Premium Rush, starring Joseph Gordon-Levitt, Michael Shannon, Jamie Chung and Dania Ramirez, does just that. The action film, which arrives in theaters August 24, 2012, has Joseph and Dania dodging speeding cars and crazy traffic each day to deliver the package.

"Most of the time we were on bikes," said Dania Ramirez about her scenes. "We talked on bikes, had a relationship on bikes..."

Ramirez, who before this was a bit afraid of bikes, is not new to action movies thanks to her role in X-men.

"I had a fear of riding bikes, so I wasn't a master," she said about her experience.

Dania grew up in New York, that and her playing volley ball in high school and college gave her just the edge she needed to land the role.

Directed by David Koepp, the film follows Wilee (Joseph) - one of New York's best bicycle messengers - as he finds that his last envelope of the day has put him in a life or death chase through Manhattan. Dania is Vanessa a fellow bike messenger and his on-screen love interest.

"I had chemistry with Joseph," Ramirez pointed out. "The director also thought I had the essence of the role."
Produced by Gavin Polone, and written by David Koepp and John Kamps, Premium Rush is Rated PG-13 - arrives in theaters August 24, 2012. To see the complete cast log onto
www.PreminumRush.net
for more information.
(
Columnist:
Eunice Moseley is a PR/media & promotions consultant, and as well as a syndicated entertainment columnist for over 20 years - www.ThePulseofEntertainment.com.
NEWS FLASH:
KJLH 102.3FM's DJ Roc host/DJ the Sat. Oct. 20, 2012 "Uplifting Minds II" entertainment conference, presented by Boosweet Records and sponsored in part by www.EURweb.com. Held at the Celebrity Centre in Hollywood, CA, the one-day ULMII conference offers three intense seminars, an 'established artist showcase,' and a national talent competition showcase - admission is free!
www.UpliftingMinds2.com
)