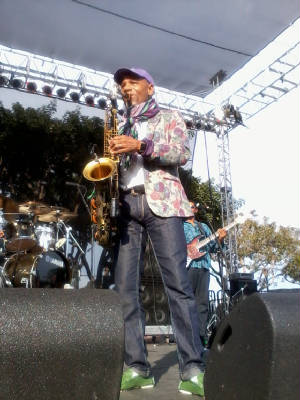 The Long Beach Jazz Festival returns to Rainbow Lagoon Park for its 25th year
By
Eunice Moseley

"I've been coming here for ten years," said legendary Jazz saxophonist Kirk Whalum about his performance at the three-day Long Beach Jazz Festival held at the Rainbow Lagoon Park near the ocean. "It brings the heart and soul to Long Beach...that makes it unique."
~
I truly enjoyed attending the event near the water, where in three-days over 30,000 people come to enjoy great Jazz (and R&B/Soul), adult company and good food. The headliners for the weekend included The Isley Brothers, The Blackbyrds, Leela James, Jonathan Butler, Keith Sweat, Poncho Sanchez, Rick Braun, Chrisette Michele, Al Williams and Friends, David Sanborn and Brian Culbertson (The Dream Tour), Larry Graham and Graham Central Station, Eric Darius, Dianne Reeves and Kirk Whalum.

I had time enough to see the outstanding performances of Dianne Reeves, who did amazing things with her voice going from scatting to Latin and African chanting all with her signature twist of Jazz, and Kirk Whalum. I talked with Kirk briefly backstage before he blew me away, literally, with his sax skills. Hearing him on his albums is great, but to hear him live takes your breath away. I know I was out of breath just watching him.

The 25th Annual Long Beach Jazz Festival was presented this year by US Bank with a theme of "Jazz and Beyond." The event hosted tons of vendors with food, refreshments, art, gift items and a second stage of great talent in the pavilion area. The Long Beach Jazz Festival also offered a VIP section where attendees were catered to, as if they were in a Jazz club.
The Merge Summit three-day conference offered great entertainment and highly inspiring panels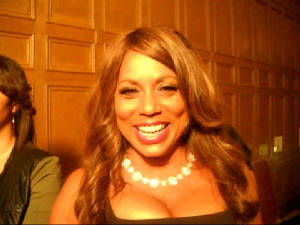 The Merge Summit returned to Los Angeles for the 4th year, with its three days of entertaining events, inspirational people and educational panels/workshops, held at the historic Millennium Biltmore Hotel. Presented by Holly Carter, president and CEO of Releve' Entertainment and Chair of The Merge Summit, and Robi Reed, V.P. of casting and talent at BET Networks and co-chair of The Merge Summit, the events' weekend started with a red carpeted opening night gala reception hosted by Derek "Fonzworth Bentley" Watkins ("The Game") and Faune Chambers.
While covering the red carpet arrivals I could feel the excitement by everyone involved of the opening night gala, excited to hear great inspiration performances and to network with many industry people attending in support.
"I'm here to see people in the industry that are God fearing people," said comedian/actress Kym Whitley about her attendance at the Merge gala. When asked what she was up to Kym added, "Me and Kim Coles have a comedy night every Tuesday at the Comedy Union."
I had a chance to also talk to actor Dorian Missick ("Southland") about his co-starring role on the hit series "Southland," with Regina King, "It's very challenging, but not as challenging as a natural detective," he said to me about this role on the hit series. "We'll be back (on the air) in February, we go back to work in November."
Talk show personality Rolanda Watts and many others stop by to talk. Other attendees to the Merge Summit Opening Night Gala include LisaRaye, Sonja Norwood, Wendy Raquel Robinson, Regina King, Niecy Nash, Shaun Robinson and many more.
The theme for the 4th annual Merge Summit was "Integrating Faith and Entertainment." The other two days included panels and workshops on career development, and keynote speakers, such as Denzel Washington.
For more information on The Merge Summit Conference log onto www.TheMergeSummit.com.
Terrell Taylor releases powerful new Praise & Worship album, 'He Is Good: The Live Experience'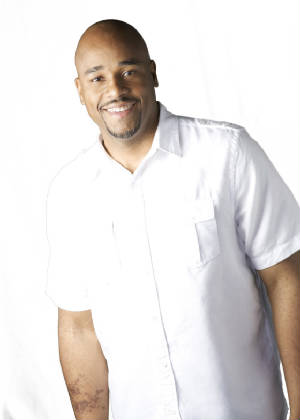 "It was recorded here in Atlanta," said Terrell Taylor, president of T.N.T. Ministries, Inc., about his newest album, a Praise and Worship project, 'He Is Good: The Live Experience." "I wrote the music and the musicians did a great job interpreting it."
They did an excellent job indeed, because it was the quality of the musicians that stood out for me, such as one of my favorite cuts on the "He Is Good" CD, "Entrance of the King," a soundtrack worthy selection.
"I arranged the orchestra," Taylor informed me about the "Entrance if the King" cut. "Wanted people to experience what it would be like if the King of Kings was invited."
Terrell has been a Praise and Worship leader for many years and wanted to give the listeners of "He Is Good" the feel of the church, and he did just that. You can hear that church feeling in some of my other favorites on the project that include "Exalt His Holy Name," an awesome Praise and Worship selection, along with "Over All The Earth;" "He Is," a hot jam for Christ features a rap blend; "His Promises Are Yes and Amen," a heartfelt cut; "Let Us Worship," I love the horn lead; "In The Blood of the Lamb," which has a Pop feel to it, and "New Horizon," which has a beautiful vocal delivery by Joslyn Brockman.
"I'd want my songs in churches all over the world," Terrell Taylor said about his project. "I just came from South Africa and its played in English! I want people to experience the joy and presence of God."
For more information on Terrell Taylor and his newest Praise and Worship album, "He Is Good: The Live Experience," log onto www.TerrellTaylor.com.

(Columnist: Eunice Moseley is a PR/media & promotions consultant, and as well as a syndicated entertainment columnist for over 20 years - www.ThePulseofEntertainment.com. NEWS FLASH: KJLH 102.3FM's DJ Roc host/DJ the Sat. Oct. 20, 2012 "Uplifting Minds II" entertainment conference, presented by Boosweet Records and sponsored in part by www.EURweb.com. Held at the Celebrity Centre in Hollywood, CA., the one-day ULMII conference offers three intense seminars, an 'established artist showcase,' and a national talent competition showcase - admission is free! www.UpliftingMinds2.com.