Ron Howard's In the Heart of the Sea is a thrilling tale of man meets nature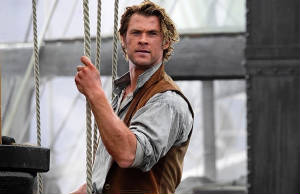 Academy Award winning Ron Howard (A Beautiful Mind) directs and co-produces the Warner Bros. Picture presentation of In the Heart of the Sea a thrilling tale of man meets nature, based on the novel of the same name about the classic tale of Moby Dick. In the Heart of the Sea stars MTV Movie Award winner Chris Hemsworth (Thor, The Avengers, StarTrek) as the veteran 1st Officer Owen Chase, Benjamin Walker (Abraham Lincoln: Vampire Hunter) as the inexperienced Captain George Pollard of the ill-fated whaling ship Essex and Golden Globe nominated Cillian Murphy (Batman Begins, The Dark Knight) as 2nd Mate Matthew Joy. The Rated PG-13 action adventure film's inspiration is the best selling novel by Nathaniel Philbrick. Pilbrick's novel was inspired by the real-life maritime disaster told by Herman Melville in the classic tale of "Moby Dick."
The thriller follows 1st Mate Owen Chase (Hemsworth) as he deals with leaving his new wife and unborn child for a year or two in search of needed oil and the struggle he has as a veteran sailor desperate for his own ship, but who has been denied again and now must sail the Essex under the orders of a less experienced Captain. The result means a damaged ship early on in the voyage and a desperate crew willing to search for a school of whales protected by a legendary gigantic man-eating white whale - Moby Dick.
You would think seeing the rugged 1st Mate Chase (Hemsworth) meeting the feared Moby Dick face to face would be the movie's climax but Ron Howard (Apollo 13) gives us more by showing us what a shipped wrecked crew will do when trying everything they know how to do to stay alive . He also shows what could possibly happen when man meets nature In the Heart of the Sea. The tale of Moby Dick, in the film, includes what the original book may not have said happened, because of the period (1850s). It was brilliant of Ron to now add it and to include at the end what happened to the remaining crew of the Essex - those who survived and what happened to the oil industry.
Brian Grazer, Will Ward, Joe Roth and Paula Weinstein co-produced with Howard, and the screen play credit goes to Charles Leavitt. A Village Roadshow Picture, Roth Films and Imagine Entertainment production In the Heart of the Sea also stars Tom Holland (Spider-Man) as the 14 year-old cabin boy Thomas Nickerson who the writer Herman Melville, played by Ben Whishaw (Skyfall, Spectre), based his Moby Dick tale on. Melville was an American novelist and poet who published "Moby Dick" in 1851. Brendan Gleeson (Harry Potter, Brave Heart) also stars in the film as the elderly Thomas - as the film recounts his cabin boy story.
In the Heart of the Sea arrives at theaters November 11, 2015. It also stars Michelle Fairley, Gary Beadie, Frank Dillane, Charlotte Riley, Donald Sumpter, Paul Anderson, Edward Ashley, Sam Keeley, Osy Ikhile, Gary Beadle, Morgan Chetcuti, Richard Bremmer, Jordi Molla and Jamie Sives. Watch the trailer at www.IntheHeartoftheSeaMovie.com.
Evan Ross silently builds an acting career as the one to hire in Hollywood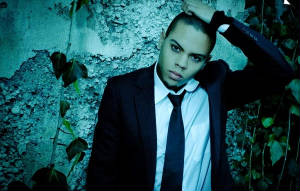 "I feel like everything is coming together," said Image Award nominated Evan Ross-Naess about his career in entertainment as an actor, singer and musician. Ross has silently built an acting career as the one to hire in Hollywood. "I feel very fortunate."
When I commented that I watched him build his career on talent alone - not by mentioning that he is the son of the living legend Diana Ross - he gave me a hug and that solidifies my support of him always. Evans started acting in 2005 appearing in the Notorious BIG music video; in 2006 he appeared in his first major role in the film ATL with T.I. and Big BOI; in 2008 he had a role in Linewatch with Cuba Gooding, Jr.; in 2009 he had a role in According to Greta opposite Hilary Duff; in 2010 he had a role in the CW dramatic series "90210"; in 2011 he appeared on "The Family Tree" and in the film 96 Minutes, and in 2013 he starred in VH1's bio-film "CrazySexyCool: The TLC Story" as Dallas Austin. His music career started in 2007 when he started recording his debut album which released its first single in February 25, 2011 "Yes Me" which he co-wrote and on May 14, 2015 he released the 2nd single "How to Live Alone" which features T.I.
"I have such as incredible happiness right now with my team, where my music is, the things that are happening - like being on the 'Rolling Stones'," he said. "It's such a blessing to be able to continue my dream."
As you can see he worked hard for his dream which includes a role as Messalla in The Hunger Games: Mockingjay Part I (2014) and II (2015). This year he was cast in the ABC criminal/drama series "Wicked City" as a paparazzo which can be seen now on Disney-ABC Domestic On-Demand. Upcoming projects include a role opposite Columbus Short and Vivica A. Fox in a romantic/drama True to the Game which is filming now. True to the Game is based on the Teri Wood novel of the same name. Woods wrote the novel in 1992 while working in a law firm. She self published in 1998 and its success led to a multi-million dollar publishing deal.
Evan Ross has three siblings on his mother's side and five on this father's side. His father is Arne Naess, Jr. a Norwegian shipping magnate who enjoyed mountain climbing until his death in 2004. Evans married Ashley Simpson in 2014 and they recently gave birth to a baby girl. Learn more about Evan Ross by following him on Twitter and Instagram @RealEvanRoss.
(Syndicated Columnist: Eunice Moseley, has an estimated weekly readership of over ¼ million with The Pulse of Entertainment.She is also a Public Relations Strategist and Business Management Consultant at Freelance Associates, and is Promotions Director (at-large) for The Baltimore Times. www.ThePulseofEntertainment.com. EVENT: Sat April 16, 2016 the "Uplifting Minds II" Free Entertainment Conference arrives in Baltimore at Security Square Mall and Sat October 22, 2016 (TBC) the "Uplifting Minds II" Free Entertainment Conference at the Celebrity Centre in Hollywood, CA. www.UpliftingMinds2.com.)