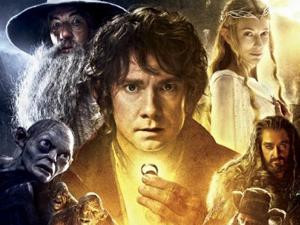 New Line/MGM's The Hobbit: An Unexpected Journey is an inspiring tale of an unlikely hero, arrives in theaters December 14, 2012
New Line Cinema/Metro-Goldwyn Mayer (MGM) and Wing Nut Films' presentation of The Hobbit: An Unexpected Journey is an inspiring tale of an unlikely hero. To be shown in 3D (IMAX), the Rated PG-13 film arrives in theaters December 14, 2012.

The 'journey' starts when Bilbo Baggins, played by Martin Freeman, is involuntarily included in a quest to reclaim the home of the Dwarfs of Erebor - which was stolen from them by a dragon called Smaugh. The fantasy adventure is based on J. R. R. Telkien's novel "The Hobbit," he is also author of The Lord of the Rings.

Directed by Peter Jackson The Hobbit: An Unexpected Journey offers a fabulous visual of the lands of the "Middle-Earth." Familiar characters from Lord of the Rings are there, such as the wizard Gandalf the Grey, played by Ian McKellen; Frodo Baggins, played by Elijah Wood; Galadriel, played by Cate Blanchett; an older Bilbo Baggins, Ian Holm plays, and Saruman played by Christopher Lee. Even "the ring" makes an appearance thanks to the CGI character Gollum - voiced by Andy Serkis - who calls it "my Precious."
Recruited by the Grey, Bilbo eventually joins the wizard and the dislocated King of the Dwarf's of Erebor, Thorin Oakenshield - played by Richard Armitage - along with his 13 dwarves to claim the king's mountain of treasure (and home). They encounter Goblins and Orcs, deadly Wargs and Giant Spiders, Shapeshifters, and Sorcerers along the way. Bilbo stumbles onto Gollum's "precious" ring, which aids him in becoming the hero, Gandalf believes him to be. Becoming a hero was surprising not only to him, but his new band-of-brothers.
To see the trailer or learn more information on the New Line/MGM presentation of The Hobbit: An Unexpected Journey log onto
www.hobbit.com
.
Award winning journalist Miki Turner debuts 'Journey to the Woman I've Come to Love,' a commentary picture book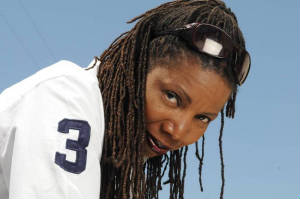 Award winning journalist and famed photographer Miki Turner recently released her debut book "Journey to the Woman I've Come to Love," a picture book with commentary about women's journey to self-love. The book includes such celebrities as Halle Berry, Angela Davis, Gladys Knight, Della Reese, Jenifer Lewis and Sanaa Lathan.
"It started out very celebrity driven, " said Hampton and Boston University graduate Miki Turner about her book which is currently available on Amazon.com. "That process was tricky...done with chance encounters. I went to the people I knew well, like Halle and Jenifer. My initial goal was 60 - 78 pictures and that quickly went away as I kept running into these incredible people."
Miki began to also include non-celebrities who had amazing self-love stories to tell.
"It's not just a book, it's a movement," Turner points out. "Everyone had to be over 36, any younger and I felt they didn't know who they were... and haven't fallen in love with themselves."
Miki hopes her book will inspire and empower women (and people in general) to gain self-love.
"The book will show you how," Miki confidently said. "It's ok if you don't know who you are. Everyone wants the same thing - to be loved and respected. I did find that older white actress's self-love is wrapped into how they look."
Some non-celebrities included in the book are magazine editor Cori Murray, her personal friend Laurel Holloman, and Isabelle Van Rolleghem, a corporate CEO. Miki Turner was the first African-American regular columnist at the daily Oakland Tribune, She is also a producer and has performed production duties projects such as an ESPN Hollywood TV Series and the 2006 BET Awards Post Show.
Learn more about Miki Turner's "Journey to the Woman I've Come to Love" by logging onto www.CreativeSpace.com/3939932.
The 44th NAACP Image Awards nominations are out, winners announced February 1, 2013 on NBC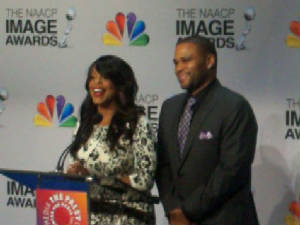 I went to cover the announcements of the 44th NAACP Image Awards nominations at the Paley Center in Beverly Hills recently. The announcers included Anthony Anderson ("Guys with Kids"), Niecy Nash ("The Soul Man"), Yvette Nicole-Brown ("Community"), Garcelle Beauvais (Flight), Tyler James Williams ("Go On") and Zendaya ("Shake It Up").
ABC Network led the nominations for such projects as "Grey's Anatomy," "Scandal," "General Hospital" and "The View." Loretta Devine lead individuals actors' nominations for Disney Jr.'s "Doc McStuffins" and ABC's "Grey's Anatomy." In music, leaders included Bruno Mars, KEM and Elle Varner with three nominations each. In film - with four nominations each - DJango and Beast of the Southern Wild lead the way.
Some of my favorites that were nominated include "The Soul Man" (TV Land), "The Game" (BET), Regina King ("SouthLAnd"/TNT"), "The TeenNick HALO Awards 2012" (Nick@Nite), Usher (RCA Records), Alicia Keys (RCA Records), Mary Mary ("Go Get It"/Columbia), Flight (Paramount), Life of Pi (20th Century Fox), and Red Tails (Lucasfilm).
The 44th NAACP Image Awards will be held live Friday, February 1, 2012 in a two-hour program on NBC. For the complete list of nominees of the NAACP Image Awards log onto www.NAACPImageAwards.net.
(Columnist: Eunice Moseley is a PR/media & promotions consultant, and as well as a syndicated entertainment columnist for over 20 years - www.ThePulseofEntertainment.com.)