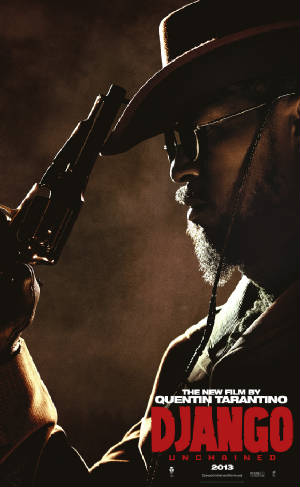 The Quentin Tarantino directed Django Unchained successfully brings western movies back

I love western films and I didn't know how much I missed them until I went to screen the Quentin Tarantino directed (and written) Columbia Pictures presentation of Django Unchained, starring Academy Award winning Jamie Foxx, Teen Choice Award winning Kerry Washington, Golden Globe winning Leonardo DiCaprio, Christoph Waltz and Image Award winning Samuel L. Jackson. The dramatic, yet sometimes funny, film takes place before the civil war and addresses the brutality of slavery in a blunt yet romantic way through the love of Django, played by Foxx - who gave such a great performance I forgot he was in character - and his (forbidden) wife Broomhilda played by Washington.

The Weinstein Company, Brown 26 production is Rated R and follows a German bounty-hunter, Dr. King Schultz, played by Waltz who did such a good job delivering his lines some of them still resonates in my mind, "you have a slave I'd like to acquire." The German bounty-hunter enlists the help of slave Django, who can identify his next bounty 'killing,' in exchange for his freedom.

The two develop a bounty-hunting 'partnership' with the promise that after the winter months they would both go find Django's wife, who was taken from him - because they married - and sold to a very brutal plantation owner, Calvin Candie, played by DiCaprio, who also gave a stellar performance. Jackson plays the "house nigger" Stephen, who has Candie wrapped around his finger. His instigating triggers a 'plantation civil war' as Django and Dr. Shultz have to battle for now their lives, after purchasing the freedom of Broomhilda for $12,000. Django is now enslaved, again, and what he does next will have you cheering.

This "battle" is the climax of the film and will have the audience on their seats, rethinking the history of not only the "wild wild west," but of what brought on the civil war in the first place. It will have you facing the fact that in America it was "blatantly" normal to enslave another human - today I feel, sadly, it's done in secret. Reality check is what Django Unchained brings with a successful blend of drama and laughter to make, I am sure, another block buster success. The film is not even out to the public, as I type this, and Jamie Foxx has received five Golden Globe nominations already.
Released to theaters on Christmas day, December 25, 2012, Django Unchained also stars Don Johnson as a plantation owner. To see the trailer to Django Unchained or for more information on the film log onto its website at
www.UnchainedMovie.com
.
Kim Fields' 'Holiday Love' television special returns with a special performance by Dr. Shirley Caesar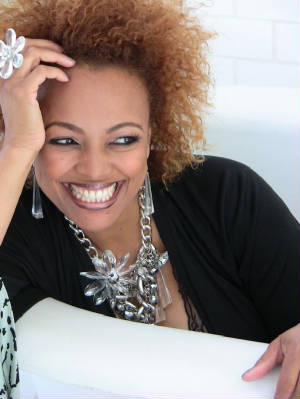 "New is (NY Times Best-Selling) author Karen Kingsbury and Dr. Shirley Caesar who sings an original song for the show ,which we were bless to produce for her," said actress/director Kim Field's about her new television special "Holiday Love: Re-Imagined" which started airing December 16, 2012 in various cities to last until the New Year. Kim is best known for her role in the sitcom "Living Single" and as a director on BET's "Let's Stay Together."
"Holiday Love: Re-Imagined" will have Kim doing funny skits with Rickey Smiley in his recurring role as "The Delivery Man," and offering performances by Yolanda Adams, Smokie Norful, Kenny Lattimore, Wess Morgan, Tye Tribbett and Ledisi.
"We released Tye Tribbett's single "Little Drummer Boy" on iTunes. Everyone has their favorites," Fields points out. "It's scripted so they can have an idea of where the scenes are going, but we're not trying to make you feel uncomfortable...I had Rickey for only five hours!"
This is Kim Fields third "holiday" special.
"The last one was two hours, an extended cut," Fields said of her normal one hour show. "Each one takes three to three and a half days to shoot. We have fun, but we want to be efficient with some ones' time...You get a sense of where you can cut the fat. We have an amazing crew, everyone is so professional."
Kim said God gave her the idea for the holiday specials. It worked for her because she grew up, as I did, on Dick Clark and Bob Hope television specials.
"I was on an Andy Williams Special," she adds. "I kind of self proclaimed (television specials) and have picked up the torch. I am having one on Mother's day."
When asked about the message of the specials Kim said, "The same joy, compassion and love we see during the Christmas holiday, have it 365, make God prominent 365."
Learn more about Kim Fields' "Holiday Love: Re-Imagined" television special and when/where it airs by logging onto www.HolidayLove365.com. Some of the cities/dates to air "Holiday Love" include December 22nd at 9 p.m. in NY/WLNY; December 23rd at 4 p.m. and December 25th at 10 a.m. in Atlanta/WATL and also WXIA at 7 a.m.; December 30th in Chicago/WMAQ at 1 p.m.; December 25th at 7 a.m. in Baltimore/WJZ; December 23rd at 9 p.m. in Charlotte/WJZY, and December 24th at 10:35 p.m. and December 30th at 1 p.m. in New Orleans/WDSU.
(Columnist: Eunice Moseley is a PR/media & promotions consultant, and as well as a syndicated entertainment columnist for over 20 years - www.ThePulseofEntertainment.com.)