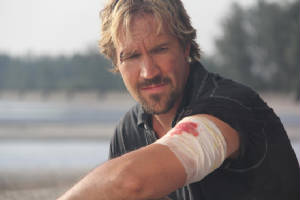 Have a talk with Jesus in Pure Flix's Encounter: Paradise Lost, now on DVD

"I first played Jesus in the Gospel of Matthew in the '90s. That was a landmark film all over the world, so I developed a reputation because of it," said Bruce Marchiano who stars as Jesus in the new Pure Flix Entertainment film Encounter: Paradise Lost, which also stars Robert Miano, Gary Daniels, Rif Hutton, Shelley Robertson, Ammy Chanicha, Sahajak Boonthanakit and David A.R. White. "It's very challenging because the issues were challenging, a couple lost a child. How many of us shake our fist to God saying, 'How could you let this happen.' We live in a broken world. I would hope that my Jesus characteristics are warmth and goodness...warmth personified...with compassion and love for people. Every moment has to be those qualities...without saying a word."

This faith-based dramatic/action film is a sequel to the "Encounter" film franchise. This one takes placed seven years after the world's most devastating Tsunami in Thailand. Six strangers find themselves trapped at a Thai resort owned by a grieving couple, Chris Ward (Hutton) and Helen Ward (Robertson) - who lost their only child, a son. Trapped there also is a retiring drug smuggler Bruno Mingarelli (Miano) and his ruthless body guard Charles Doles (Daniels), and the DEA Agent hot on their trail Rik Capernia (White). Just as things get heated Jesus shows up (Machiano) offering redemption.

"Our goal is to bring different human...struggles to light and how Jesus relates to it so we can see ourselves and identify with that," said David A.R. White who also serves as producer on the Rated NR film, along with Michael Scott, Russell Wolfe and Elizabeth Travis. "Each one (characters) have different struggles. The writer Sean Paul Murphy does just a wonderful job. People want to know if Jesus was in their living room, what would he say? Life delivers blows to us on different levels. (We question) why God allows bad things to happen to good people - we wanted to address this issue."
Pure Flix has developed a reputation of staying true to the tone of Jesus, so if you want to see what Jesus might actually say, watch Encounter: Paradise Lost and find yourself also in one of the characters. This outstanding film is directed by Bobby Smyth, presented by Kaos Film Production and is now available on DVD. You can log onto
www.PreFlix.com/ParadiseLost
for more information or to see the trailer.
Disney's Santa Paws 2, a must see for puppy lovers, now on DVD and Blu-ray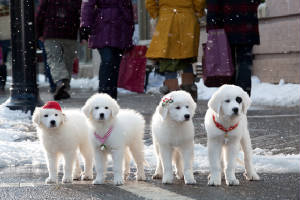 Sheryl Ladd (Charlie's Angels) leads the cast in the Disney film Santa Paws 2: The Santa Pups, which also stars George Newbern (The Father of the Bride), Pat Finn, Jose Feldman ("The Closer"), Danny Woodburn (Mirror, Mirror), Kaitlyn Maher and Obba Babatunde (Miss Evers Boys). Ladd plays Mrs. Clause who travels to Pineville, run by the mayor (Babatunde), and stowed away on her sled is mischievous Santa pups out to prove they can handle dishing-out wishes, when they learn an important lesson that a wish can change everything.
A sequel in the Disney Buddies franchise the inspiring film is a must see for puppy lovers.
"I was thrilled to be a part of the film. I play the mayor of Pineville. I make sure Pineville stays happy until I get hit with the Christmas cold," said Tony Award nominee Obba Babatunde (Broadway's Dream Girls) about his character. "Robert Vince is brilliant in directing the film. It's a beautiful story of what one positive spirit to another positive spirit can do - uplift."
That uplifting spirit Obba talks about is what will save the day when the Santa Pups (Hope, Jingle, Charity and Noble) grant a wish for Christmas to go away. If that's not bad enough, the pups have lost the magic crystal - the key to reverse the wish - so the hunt is on.
"I love animals," Sheryl Ladd said about working on set with the Great Pyrenees puppies. "I had a wonderful time. What I want the audience to get from the film is the joy of family - Christmas and family."
Disney's Santa Paws 2 is written by Robert Vince, Anna McRoberts and Philip Fracassi, and is produced by Robert Vince and Anna McRoberts. You can watch the Rated G holiday film trailer at www.disneydvd.disney.go.com/santa-paws-2-the-santa-pups.
Grammy Award nominated Reggae hit-maker Wayne Wonder releases new album, 'My Way' and video for 'Drop It Down Low' single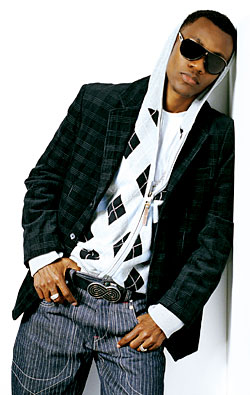 "We're performing in Europe," said Reggae hit-maker Wayne Wonder about upcoming shows to promote his latest album release "My Way". The video was shot in the Netherlands and is the second single, 'Drop It Down Low," off the album.
The video is produced by Triple Dee, and directed by Sicerow and Ruban Solognier. The "My Way" project is his first in six years. It was recorded in his native country Jamaica and his resident state of Florida. Wonder has guest appearances by Shaggy on "Don't Say No" and R&B superstar Maya on "If I Ever."
"In 1988 I hooked up with King Toby (a producer) he was the gateway into the industry," said Wayne, a Grammy Award nominee. "The ride has been great. The (new) video is all about fun, everybody joyful...all fun"
Wayne Wonder reached the national spotlight in 2003 with his album "No Holding Back" (Atlantic Records) when his hit "No Letting Go" dominated Urban radio and reach #11 on Billboard Hot 100 Chart. This led to performances on national shows such as NBC's "Saturday Night Live." The next album collaborated with Hip-Hop superstars like Foxy Brown, Trina, TLC's Lisa "Left Eye" Lopes and Capone & N.O.R.E. His last album "Foreva" in 2007 debuted at #6 on the Billboard Top Reggae Albums Chart. "My Way" is his first fully creatively controlled project on Singso Music.
Learn more about Wayne Wonder or listen to clips of his album at www.WayneWonder.com.
(Columnist: Eunice Moseley is a PR/media & promotions consultant, and as well as a syndicated entertainment columnist for over 20 years - www.ThePulseofEntertainment.com.)