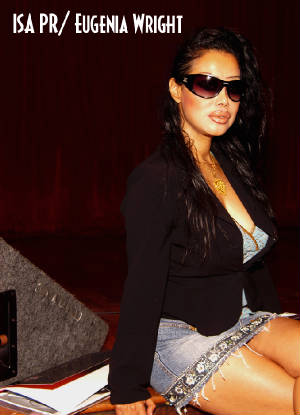 Kleopatra Girl's Ringside Report
By Eugenia Wright
Pop-R&B/Hip Hop singer Trueful thrilled to meet famed music producer Kashif but the truth is insiders say Kashif has a new career
The American Society for Young Musicians held it's yearly toy drive at the Scientology Celebrity Centre in Hollywood. Famed music producer Kashif (http://en.wikipedia.org/wiki/Kashif_(musician) graced the red carpet along with newcomer 21 year old Pop/R&B/Hip Hop singer Trueful. The young singer
considered it an honor to meet the mighty Kashif, but it looks like Kashif may have a new career. Insiders report that he's been taking photography lessons with one of Hollywood's renowned celebrity paps and was actually seen shooting others on the red carpet (!!!). Watch out papparazzos, big guy Kashif may elbow you out of a red carpet tabloid shot soon!!!! The truth is that Kashif has always had a fascination with cameras and just wants to be educated about the equipment for arts sake.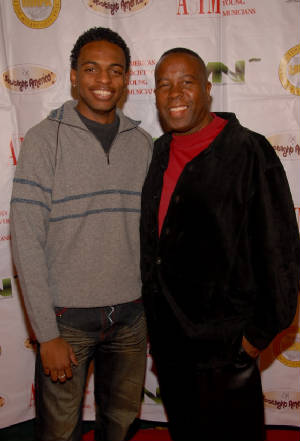 The event brought out many up and coming young talent such as, dancer Krystal, Destenee and Lil' Nay Nay (such a cutie that one). Other big names included the producer, Jarvee Hutcherson, founder of the Multi-Cultural Motion Picture Assn. and American Society for Young Musicians and his friend and associate Dick Michaels.
Healthy vegetable treats (ratatouille on crackers), mini pizza and the most delicious mocha coffe I've ever tasted were served along with chocolate cake. Heard the coffee was organically grown. Remember this is the Scientology Centre where standards of excellence are primary (so I'm told).
Famed music producer Russ Regan (responsible for the careers of Elton John, Neil Diamond, Olivia Newton-John and Barry White) was also on hand. ASYM provided opportunities for new talent like Trueful to meet some big wig producers up close and personal. (Photo: Vinni Ratcliff)