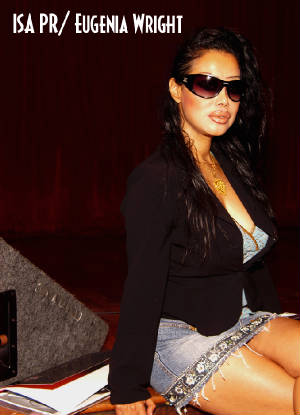 Kleopatra's Ringside Report:
By Eugenia Wright
'Grace,' a one-woman show on the life of Soul singer Brenda Lee Eager starring Brenda Lee Eager at Lucy Florence
In February I was introduced to "Soul" singer Brenda Lee Eager by Brandy Sanders (founder of The Kierrah Foundation) when I was handling the Wayne Simmonds event for Black History month (readers may recall my write-up). I have to admit I was not familiar with the petite singer who stands about 5' in heels, at the time, but later on did make the music connection. If you've ever met Brenda Lee, you would know that she radiates a sweet spirit, which also resonates in her breathy and sensual speaking voice.
A few months later after the event, Brenda Lee Eager attended another event I handled and then I received a personal invitation to the opening night of her show "Grace" The Brenda Lee Eager Story at Lucy Florence Art Gallery. Well, I had no idea that such a little lady could belt out the most soulful sounds I've ever heard and as the play unfolded I got to know the real soul singer, Brenda Lee Eager.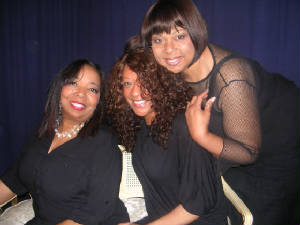 It's not often that a biographical theatrical piece stars the real life subject of the story. However, Brenda Lee Eager is at an age where she can transform herself on stage well as she takes you from her childhood in the south (her home town of Lower Peach Tree Alabama) picking cotton, to the streets of New York appearing at the Apollo Theatre, through her incredibly gifted voice inflections. She is able to convey to her audience the innocence of youth to adulthood and to her present golden years.

In the play, we are introduced to many legendary singers that Brenda Lee Eager has written for and we find out about those iconic music artists who influenced her such as, Sarah Vaughn, Dina Washington and Billie Holiday. Brenda Lee takes on their essence and sings some of their signature songs in the style of the original artist.

There were many struggles for Brenda Lee because she lived at a time when the South was heavily segregated with separate water fountains and yes evoking those painful memories of a Rosa Parks age. On stage, she dons a sun hat not for basking at sandy beach shores but to depict the image of her back breaking pose picking cotton in the blazing glaring, scorching sun for hours daily.

As a child Brenda Lee emphatically told her family and her pastor, while batting her butterfly lashes, that the only thing she wanted to do was to sing and she found a way to escape picking cotton by using her voice. Music was her passport out of the fields and on to the stage. While kids were playing in the schoolyard, Brenda Lee was busy writing lyrics and songs, her nose glued to her pad. This was her constant activity, which led to her being nicknamed "Granny" by one of her elementary school teachers.

There is so much more to tell, her involvement with many great music legends, her civil rights movement work with Jesse Jackson and Operation Breadbasket, the tears of joy and tears of sadness at the time of the birth of her daughter. This and other tales in her life paints the picture of a woman who has been through it all, seen it all and through her story... her journey she has lived to tell others. There is a lesson in "Grace." One that made me shed a few tears (post show) and as I sat in an audience with just a few theatergoers, I felt that others should know about her life. Her performance and her compelling story demands an SRO audience.

I couldn't' help but think also what better place than Lucy Florence in the heart of Leimert Park and the soul of LA's African-American community to mount "Grace" the story of a real soul singer.

As my readers know, I am a party reporter, Kleo Girl glitz and glam, red carpets and bright lights wearing dangling tinsel town earrings and stiletto heels but after seeing this show, I could not help but write a review. Honestly, I could not witness such a moving story and not tell...everyone! Some experiences are just awe-inspiring and this was such a moment.

Brenda Lee Eager was supported by two lovely background singers Pat Lee and Cynthia Bass. A soul food pre-show dinner of succulent BBQ chicken, white rice and sweet corn and refreshing iced tea was served.

To find out more about "Grace" and The Brenda Lee Eager Story, check out the schedule at Lucy Florence and ask for play dates. I highly recommend seeing this show. For me, a light bulb went off in my head about the purpose of life. As an audience member you will reach your own conclusion. (Photo: Brenda Lee, CeCe Bass and Pat Lee. Photo Credit: Brandy Sanders)