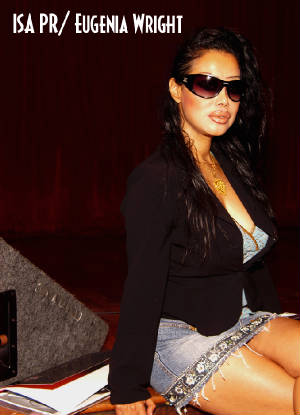 Kleopatra Girl's Ringside Report

Giulietta, 17 year old Australian music discovery enchants an American audience, wins multiple awards at The 19th Annual Los Angeles Music Awards held at Avalon in Hollywood

When you've got it, you've got it. There is no denying talent. Such is the case of young music artist Giulietta nee'Giulietta Russo a petite, blushing 17 year old raven haired Italian beauty from, Melbourne Australia. On meeting Giulietta, one is drawn to her instantly because of her enchanting Aussie accent and her spunky unique eclectic style of dress setting a new fashion trend that stands apart from the usual hip hop trendy apparel often seen on young people here in the States. Giulietta also delivers a new sound that could be described as a fusion of pop/dance/R&B with a funky electronica blend.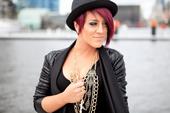 Pretty Giulietta was recently in Los Angeles to perform at the19th Annual Los Angeles Music Awards held at Hollywood's premiere music venue Avalon and to receive two prestigious awards, "Miss International Artist of The Year" and "Rising Star of the Year," from the Hollywood Chamber of Commerce, an amazing and impressive feat for one so young.

Apparently Giulietta, you could say, was born holding on to a mic instead of a milk bottle. At four years old she displayed undeniable talent like similar histories of many legendary super stars such as MJ, Mariah or Aguilera who were music geniuses at an early age. Giulietta's parents realized they had a child prodigy on their hands. Where did she get it from? It seems no one in her immediate family according to her dad Fab, displayed any music talent. Giulietta says listening to Whitney Houston and Mariah Carey influenced her. Her parents quickly moved to nurture this budding talent and by age15 Giulietta had amassed a huge fan base in Melbourne who loved to dance to her club music (Dirty South Music) and she became a local sensation. However, with a winning combination comprised of talent, brains and beauty plus an innate business sense (as well as acquired business skills from a business school), Giulietta began to make great use of speedy e-technology (internet, twitter, face book and my space) to promote and distribute her music worldwide. Today, her sound is appreciated globally.

A year ago, while on vacation in Southern California friends booked her to perform at the I Lounge in the OC. There she mesmerized her audience and news of this performance spread...to the ears of multiple Grammy winning producer David Kershenbaum. This was the catalyst that Giulietta needed to flame the fuel that would ultimately take her to the next level, which brought her to Hollywood this year as a reigning music princess at the 19th Annual Los Angeles Music Awards. With Kershenbaum on her team, Giulietta has secured an artist's dream of a lifetime alliance; greatness meets greatness in-the-making i.e. Quincy Jones-Michael Jackson, Caesar-Cleopatra. Need I say more? The outcome of this union is a single that has instantly become a commercial success entitled "Here We Go." This is the track that rocked the LA Music Awards and expresses Giulietta's growth and transition from club music to a truer Pop/R&B genre.

David Kershenbaum says of Giulietta that once he saw her perform, it was the "imagery" that excited him as well as the vocals. "She is very unique. She has the image but the live part is very important...she turns on and kicks butt (on stage). She's not inhibited and very expressive. People ask how do you know when something is good? There's a little part of me that gets a little chilled and my hair stands on end and I had a heavy hair moment. I can foresee her talent spilling into film and TV although I don't want to distract her from music just yet." As a seasoned and established pro David cautions Giulietta who is a burst of joy and energy that she should stay grounded and true to whom she is and not fall into the trap of believing one's own press. Sound advice.

At the LA Music Awards, audiences were able to witness Giulietta in action who claimed the stage at Avalon utilizing her great vocal ability and dancing skills with the help of choreographer JJ Villar. To top it off, on the night of the awards, it was her birthday, marking the end of sweet sixteen and the evening was pure magic. Giulietta dazzled. Albeit, it's certain that audiences can expect to see this standard of excellence whenever Giulietta takes the stage.

Giulietta has big dreams for the future and envisions herself a chart topper and standing in the wings waiting to go on stage to accept her Grammys. She realizes that there will be many steps towards this vision. Immediate plans are to finish her album and complete a music video with David Kershenbaum at the helm and staying on in the States for a while. Giulietta's parents have been hugely supportive as well as her young brother. They are willing to have dual residences Australia-US to further their daughter's career and schooling.

At the moment Giulietta's music is up-tempo reflecting her energetic persona but she plans to work on a few ballads in the near future.

Giulietta joins a list of rare imported jewels from "down under" that include Olivia Newton-John, Mel Gibson, Nicole Kidman, Hugh Jackman and Russell Crowe. www.myspace.com/officialgiulietta (Photo credit: Anthony Licuria