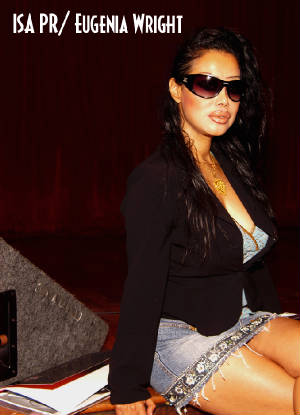 Cleopatra's Ringside Report: Filipina film star Donna Rowe rocks the E-World Music Awards and set to dazzle at stellar Oscar events
~
The E World Music Awards honored indie artists night before Grammy's at legendary SIR recording studios on Sunset. International film star and model Donna Rowe wowed everyone on the red carpet with her bright form fitting orange dress and gold shoes. Seen here with Hispanic rapper Legacy, Donna rocked the house. Also in attendance was Prince Ali who literally tazered the red carpet with his royal badness.
From there la bella Donna "rock star" attended the Presidential Inner Circle Grammy salute at the Paley Center in Beverly Hills taped for MTV. Constant companion Ralph Rieckermann who was absent at the E-World Music Awards tracked the sultry beauty and her group to Paley. There, they graced the red carpet like Hollywood's elite.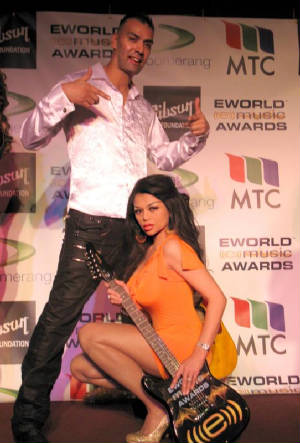 Donna was recently featured in rapper Down AKA Kilo's music video "Perfect Sunday."
Upcoming: Donna Rowe will be a special guest of Taylor Armstrong (Real Housewives of Beverly Hills) at her So-Cheec pre-Oscar gifting suite. She joins an illustrious list of stars at the Multi Cultural-Motion Picture Assn. Oscar luncheon at the Luxe Hotel as the official trophy model, then as a final piece de resistance, on Oscar Night, Donna Rowe will host live from "A Night of a 100 Stars" at the Beverly Hills Hotel for the Jeffrey Henderson TV and radio show.
Related link: http://www.imdb.com/name/nm1870095/