NEWS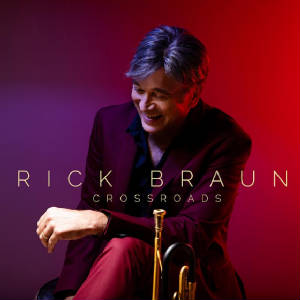 Chart-Topping Trumpeter Rick Braun Releases New Album 'Crossroads' August 16, 2019
(New York, NY) - Chart-topping Contemporary Jazz trumpeter Rick Braun release "Crossroads" on Shanachie Entertainment on August 16, 2019. The 10-track recording is a thrilling musical expedition giving us an intimate glimpse into Rick Braun's inspirations.
Somewhat of a musical chameleon, Braun's vision and virtuosity have allowed him to stand at the crossroads of the music world. He's amassed over 20 #1 Smooth Jazz hits and collaborated with Sade, Tom Petty and REO Speedwagon, among others. Braun has produced No. 1 hits for David Benoit, Marc Antoine and Jeff Golub. He's also achieved collaborative success on massive hits with Boney James as well as with the group RnR, with saxophonist Richard Elliot and BWB, a powerhouse trio completed by Grammy® winners Kirk Whalum and Norman Brown.

"Crossroads," Rick Braun's 18th recording as a leader, opens with the percussive and funky "Around The Corner." The song, which was inspired by his daughter Emma, is the perfect intro as it illustrates Braun's knack for crafting memorable grooves with fluid and soaring melodies that have a way of instantly drawing you in. The album's first single "Crossroads," is a buttery-smooth swinger that showcases Braun's joyous interplay with longtime collaborator, friend and co-writer Philippe Saisse on keys and vibes.
The show-stopping "The Moment I Saw You" is a sensuous and gorgeous Burt Bacharach/Hal David tinged ballad that almost stops you in your tracks while Stevie Wonder's 1976 hit, "I Wish," from the seminal Songs In The Key Of Life, is one of two memorable covers on Crossroads. Tenor saxophonist Richard Elliot, guitarist Tony Pulizzi, keyboardist Greg Phillinganes and percussionist Richie Garcia cut loose creating an exhilarating version that will dare you to sit still.
Rick Braun is the ultimate family man on and off the bandstand. Not only did he pen "Around The Corner" with his daughter Emma in mind, but he welcomes 17 year-old son Kyle to join in a reinvention of Bruno Mars' hit "Versace On The Floor."