"Ghostface Killah: Can't Kill His Vibe" by Jeneanne Collins
"Coorslight-Search for the Coldest MC in Baltimore" by Kimberly Brown
"Donna Rowe at E-World Music" by Eugenia Wright
"KC Amos arrives" by Eugenia Wright
"Trueful CD Release Concert Review" - Eugenia Wright
"Pam Grier Awarded" - by Eugenia Wright
"Karlyn Michel Pre-ESPY" by Eugenia Wright
"Pre & Post BET events" by Eugenia Wright
"Bianca Brown" by Eugenia Wright
"Cake Designer Theodore Crampton" by Eugenia Wright
"papaLee's 'SOULvival'" by Eugenia Wright
"Darius McCrary bday party" by Eugenia Wright
"Grace: One-woman show" by Eugenia Wright
"Producer MASE" by Priscilla Chatman
"Willie Gault fundraiser" by Eugenia Wright
"Steve Bauer & Sy Richardson" by Eugenia Wright
"Emmy Lu sweeps Hollywood" by Eugenia Wright
"Comic Robin Harris honored" by Eugenia Wright
"Latina women according to Bel Hernandez" by Eugenia Wright
"Oscar Wrap up" by Eugenia Wright
"NAACP Image Awards Post Party Gala at the SLS Hotel" by Eugenia Wright
"Trying to sell your product world-wide?" by Kerri Moseley-Hobbs
"Trueful's Listening Party" by Eugenia Wright
"Kim Cole launches new BET sitcom 'Pay it Off'" by Eugenia Wright
"Think you know the entertainment business?" by Kerri Moseley-Hobbs
"Norwood Young's White Christmas" by Eugenia Wright
"Choosing the right loan" - Xavier Thomas
"Trueful meets Kashif" by Eugenia Wright
"Letter of Intent" by Paul Gardner, Esq.
"Investment property vs residential" - By Xavier Thomas
Eugenia Wright: New Artist Tionne release new single 'Unfreeze'
"Starting a Publishing Company" by Paul Gardner, Esq.
"Wealth Building: FHA Loans" by Xavier Thomas
"Lisa Leslie Retires" by Eugenia Wright
Paul Gardner, Esq.: Why you need a Lawyer
"Wealth Building: Through homeownership" by Xavier Thomas
"Giulietta, 17 year old Australian" - Eugenia Wright




NEWS
'Ghost Brothers' Airing New Season of Ghost Hunting on Fridays 10/9c on TLC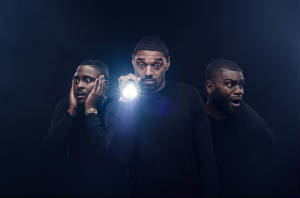 (New York, NY) - Featuring TV's first African American ghost hunters, "Ghost Brothers" features Dalen Spratt, Juwan Mass, and Marcus Harvey, budding paranormal enthusiasts on a mission to find out if legendary haunted locations are the real deal. These charismatic characters blend natural curiosity with comedic flair, bringing humor, good manners and southern charm to the spirit world. New Episodes air Fridays at 10/9c on TLC.
The "Ghost Brothers" are on a mission to find out who or what is haunting the Long Leaf Sawmill, and why they have remained. The team take a passionate hobby to the next level investigating historically haunted and often abandoned locations, testing their own spirit along the way. All raised in religious households, the "Ghost Brothers" were taught that "messing" with the dead is dangerous business, but some unexplained experiences of their own drove them to find out firsthand just how spooky the supernatural can be. Dalen, Juwan and Marcus enlist local historians and caretakers to provide the history of the property to better understand what they are facing. When night falls, viewers join the antics of their afterlife investigation as the trio uses local experts, investigative equipment, trigger objects, and most importantly, their southern charm, to help make contact with the other side.