NEWS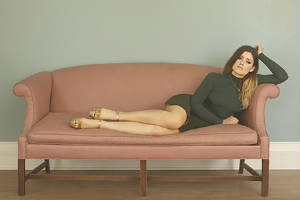 Swedish Pop Singer

Léon

Releases Self-Titled Album and First Single 'Come Home to Me' on BMG

(New York, NY) - Following the release of her widely celebrated singles "You and I," "Baby Don't Talk" and "Falling," Swedish artist Léon has released her highly-anticipated self-titled debut album.



Incorporating a mix of tender, heartfelt ballads and rousing up-tempos, every song on Léon's self-titled debut demonstrates her knack for writing and recording unforgettable Pop songs. Obvious highlights include the album's lead track, "Lost Time," which starts off with the dramatic sounds of an organ before her signature raspy vocal cuts in. Another standout, "Hope Is A Heartache" features poignant lyrics, with her soaring falsetto reaching new heights, while "Come Home To Me," an emotionally charged piano ballad hits the listener right in the heart. "Better In The Dark," meanwhile marries Léon's signature ear-worm melodies with glistening modern production. This body of work brings her full circle. For the first time, she gets to call all of the shots.

With effortless style equally reverent of dreamy sixties Laurel Canyon and modern day Europe, Swedish songstress Léon projects the kind of understated confidence a non-chatty Quentin Tarantino character might have.

The first song from the album was released last fall titled "Baby Don't Talk," arriving on the official three year anniversary of her debut single, "Tired of Talking." The follow-up track was "Falling," where her signature smoky vocals float above a bed of scintillating synths and foot-stomping percussion. Leon sings about forbidden love, torn between what feels good and what she knows is right. The gloriously up-tempo "You And I" followed last month, serving as an emotional call to the dancefloor.

This spring, Léon will bring her body of work to life when she hits the road for the 'You and I World Tour - Part 1,' presented by Ones to Watch, which starts in Europe on March 30, 2019. For a full list of tour dates see below or visit www.itsleonmusic.com.

Léon has consistently delivered with each and every release of hers since emerging in 2015. A trio of EPs-Treasure [2015], For You [2017], and Surround Me [2017]-announced her arrival as an international presence as she amassed over 250 million cumulative streams, made her North American late-night television debut on The Late Late Show with James Corden, and earned widespread critical acclaim with Vogue dubbing her "Sweden's next big thing."

Earlier this year, Léon joined Granny Award nominated Island Records duo Grey for their latest single "Want You Back,"