CHIC ladies take the Next Step with anticipated new project on PEM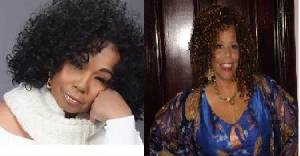 It is the year 1976 and it's the Disco era. Nile Rogers and Bernard Edwards just put a band together and they call their music Rock. The Soul/Rock band is called "CHIC featuring Nile Rogers." In forming the band Nile hired an already established singer Norma Jean Wright, whose voice can be heard on their first hit single "Dance, Dance, Dance" (1977). In preparation for their debut album at Norma's advice they hired her friend Alfa Anderson. Norma Jean releases her solo album produced by Nile and Bernard a year later in 1978 and that garners a #1 hit single "Saturday." Norma departs CHIC and Luci Martin is hired to take her place. Alfa and Luci contribute vocals to many of CHIC's hit songs such as "Everybody Dance," "Le' Freak," "Good Times" and "Aaa Freak Out" - which sold 6 million copies and reached #1 on U.S. Charts. Alfa Anderson, Luci Martin and Norma Jean Wright are back together in new group called "Next Step" on the PEM imprint - new label home for Kathy Sledge of Sister Sledge. The Next Step album will be produced by Max Martire (Spain) and Shanti Matkin (U.S.).
"We have actually been raising our families," said Luci Martin when asked if the three ladies had been singing together off-and-on throughout the years. "It wasn't until a few years ago we decided to do something together."
CHIC disbanded in 1983 after their seventh album "Believer" was released on Atlantic Records. Twenty-three years later CHIC (Nile, Bernard, Alfa, Luci and Tony) have released a 2015 single titled "I'll Be There" - with an anticipated album titled "It's About Time" to be released in 2016. In 2014 CHIC was inducted into the Rock and Roll Hall of Fame - they were inducted 10 times. Since Norma Jean Wright left the band she has sang back up for such notable artists as Randy Crawford, Will Downing, Aretha Franklin, Debbie Gibson, Luther Vandross, Madonna, Sister Sledge and Freddy Jackson. Since 1983 Luci Martin has been singing back up for Diana Ross, Carly Simon and Deborah Cox. In 2012 she performed with Norma Jean in Rome. Alfa Anderson, who is also an actress, performed in The Wiz in 1978 and is currently a school principal.
"At first we wanted to start singing songs we were most popular for," said Alfa about why they decided to form the group Next Step. "We realized the chemistry was still there. So we wanted to expand that, that's how Next Step came to be."
The ladies teamed up with producers Max and Shanti (Aristofreeks) and became the second act to sign to the producers label PEM. They intend to combine the 70's Disco era sound with the sounds of today.
"It began (recording) about a year ago (with the Aristofreeks) out of Spain," Luci informed me. "We started with Max primarily. He came up with the concept. He loves the Disco dance music. It's a small boutique label. They commissioned us...Kathy was the first signed."
"It is awesome to have a part two of your life," Alfa concluded about the upcoming album release.
To learn more about the Aristofreeks and their label PEM log onto www.PacificElectronicMusic.com.
SYNDICATED COLUMN: Eunice Moseley, has an estimated weekly readership of over ¼ million with The Pulse of Entertainment. She is also a Public Relations Strategist and Business Management Consultant at Freelance Associates, and is Promotions Director (at-large) for The Baltimore Times.www.ThePulseofEntertainment.com. EVENT: Sat April 16, 2016 the "Uplifting Minds II" Free Entertainment Conference founded by Moseley arrives in Baltimore at Security Square Mall and Sat October 22, 2016 (TBC) the "Uplifting Minds II" Free Entertainment Conference at the Celebrity Centre in Hollywood, CA. www.UpliftingMinds2.com.)