Walt Disney's The Finest Hours, an epic treasure of a true account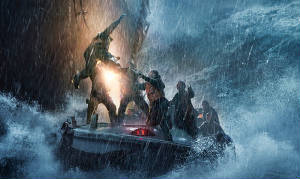 "You watch the news it's so depressing. This is news that actually happened...that good is being done. We need more stories like this," said Ben Foster (X-Men: The Last Stand) who stars in the Walt Disney presentation of The Finest Hours. "...To do stories of people looking out for others. The world needs to devote their lives in service to others. The selflessness...is appealing."

Films based on real life stories are on the rise and I love it too. Walt Disney's presentation of The Finest Hours is yet another true tale. This dramatic American disaster story is about four brave men on the U.S. Coast Guard Lifeboat #36500 that rescued 32 crewmen of a sinking oil tanker, SS Pendleton, in 1952. Written by Scott Silver, Eric Johnson and Paul Tamasy, The Finest Hours is an epic treasure. Directed by Craig Gillespie The Finest Hours also stars Chris Pine (Star Trek) and Academy Award nominated Casey Affleck (Ocean's Trilogy). The Finest Hours - shown in 3D, Real D3 and IMAX 3D - arrives in theaters January 29, 2016.

"It's not an American story it's a human story," said MTV Movie Award nominated Chris Pine. "It's based on a true story. The fact is it was a 36 foot boat in 75 foot waves. They carried 32 men that night. There is something good that we all have that's in us."

During a massive storm U.S. Coast Guard Officer Bernard Webber (Pine) takes a crew of three with him to see if an oil tanker was in distress and if so to see whether there were any survivors. Webber uses his skills to ride the gigantic waves and find 32 surviving crewmen who were desperately trying to make half the remaining oil tanker mobile enough it would give them more time until a rescue boat arrived. All the oil tanker crewmen that survived lived to see the rescue boat thanks to crewman Ray Sybert (Affleck) who had the leadership skills and tons of cleaver ideas to fix crisis when things went wrong. Boatswains Mate 1st Class Webber and crew - Engineman 3rd Class Fitzgerald (Kyle Gallner, "CSI:NY"), Seaman Livesay (Foster) and Maske (John Magaro) - tracked the oil tanker down without a compass and found their way back with 32 men on board to make a place in history as accomplishing the greatest rescue in U.S. Coast Guard records.

"It was destined. He had never been in a position to be a leader, to tell people what to do," said Casey Affleck (Chasing Amy) about the character he played who pushed into the reluctant hero role on the sinking oil tanker. "People put themselves in danger and he had to step up...so he came out of his cocoon."
The Finest Hours is based also on the 2009 book of the same name by Casey Sherman and Michael J. Touglas. It also stars Holliday Grainer (Giant Expectations) as Miriam Webber; Eric Bana (Hulk) as Chief Warrant Officer Daniel Cluff who ordered the rescue; Josh Stewart (Third Watch) as tanker crewman Tchuda Southerland; John Ortiz (Miami Vice) as Seaman Wallace Quirey; Graham McTavish (The Hobbit, "The Outlander") as tanker crewman Frank Fauteux; Kelynan Lonsdale (The Flash) as tanker crewman Eldon Hanan; Rachel Brosnahan ("House of Cards") as Bea Hansen; Michael Raymond-James as A.B. Seaman D.A. Brown; Matthew Maher ("Law and Order") as Carl Nickerson; Benjamin Koldyke as Sam and Beau Knapp (Southpaw) as Mel Gouthro.

The Finest Hours is Rated PG-13 and is a Walt Disney Pictures, Whitaker Entertainment and Red Hawk Entertainment Production.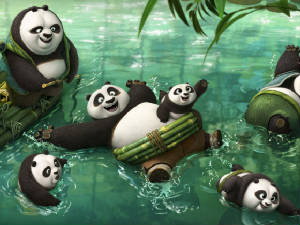 DreamWorks' Kung Fu Panda 3 takes Po on a great adventure to be the true Dragon Warrior
While facing the tasks of defeating Kai the evil Master, adapting to his new found Panda father Li and his Panda hometown Po takes on a great adventure to be the true Dragon Warrior he was meant to be in this 20th Century Fox presentation of the DreamWorks 'Animation Kung Fu Panda 3. Kung Fu Panda 3 is Rated PG and arrives in theaters January 29, 2016 in 3D.
Po, voiced by Jack Black (King Kong), has life altering events one after the other. First the Panda Ninja meets his biological father Li (voiced by Bryan Cranston, "Breaking Bad"), then returns home to learn the life of a panda is not so adventurous and then he learns he must defeat the evil villain Kai (voiced by J.K. Simmons, "The Closer") to save the ones he loves.
So along with his hometown (whom he trains to fight) and his crew of Ninjas - that include Tigress voiced by Angelina Jolie (Lara Croft: Tomb Raiders); Monkey voiced by Jackie Chan (Rush Hour); Vipor voiced by Lucy Lui ("Southland"); Mantis voiced by Seth Rogen (The League); Master Crane voiced by David Cross ("Arrested Development), and Master Shifa voiced by Dustin Hoffman (Rain Man) - Po embarks on a journey that will have him evolve into the ultimate Dragon Warrior.
Executive produced by Gullermo del Toro, produced by Melissa Cobb and directed by Alessandro Carloni and Jennifer Yuh Nelson Kung Fu Panda 3 is written by Jonathan Aibel and Glenn Berger. Also starring in the DreamWorks and Oriental DreamWorks Animation is Kate Hudson ("Glee") as Mei Mei; James Hong (Avatar: The Last Airbender) as Mr. Ping Po's adapted father; Randall Duk Kim (John Wick) as Master Oogway; Steele Gagnon as Bao; Liam Knight as Lei Lei and Wayne Knight as Big Fun.
SYNDICATED COLUMN:
Eunice Moseley, has an estimated weekly readership of over ¼ million with
The Pulse of Entertainment
. She is also a Public Relations Strategist and Business Management Consultant at Freelance Associates, and is Promotions Director (at-large) for
The Baltimore Times.
www.ThePulseofEntertainment.com
.
EVENT:
Sat April 16, 2016
the "Uplifting Minds II" Free Entertainment Conference founded by Moseley arrives in Baltimore at Security Square Mall hosted by AJ Showtime at 92Q Jams and Doresa Harvey at Heaven 600 and on
Sat October 22, 2016
(TBC) the "Uplifting Minds II" Free Entertainment Conference arrives at the Celebrity Centre in Hollywood, CA.
www.UpliftingMinds2.com.
)