Grammy Award winner Le'Andria Johnson brings her unorthodox preaching to 'Preacher's of Atlanta' on the Oxygen Network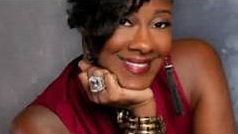 The Oxygen Network's original reality series "Preachers of Atlanta" premiered Wednesday February 3, 2016 and airs each week at 10/9c. It stars young Atlanta preachers Pastor Corey Hambrick (Police Officer) of the Life Church Christian Center; Pastor Canton Jones (Christian Rapper) of Freelife Church; Pastor Kimberly Jones-Pothier (Life Coach) of Church Harvest; Pastor Judah Swilley (Entrepreneur) of The Movement, and Pastor Le'Andrea Johnson (Gospel singer) of I.P.C. Ministries. The show follows the lives of these pastors and shows their journey in individually spreading the Gospel. On the show Le'Andrea is known for her unorthodox ways of spreading the Gospel.
"At one point of time I went out in the streets of Atlanta, brought a carton of cigarettes and I lit them up...and those on the streets smelled the aroma and came to me for a smoke. I said 'On one condition I have to talk to you,' That was Saturday, the next day Sunday those 20 people were in church and still attending church today," the Grammy Award winning Contemporary Gospel singer and Pastor said when questioned about what unorthodox ways of spreading the Gospel will be shown on the reality show "Preachers of Atlanta."
Johnson, who was Season three BET's "Sunday Best" winner, launched her church June 16, 2013 with her parents and singer Angie Stone in attendance. Le'Andria's father is Bishop Gregory Johnson head of HQ Ministries in Florida.
"'Sunday Best'...was a learning experience," Le'Andria said when questioned about that "reality" show. "I was learning at that time. It allowed me to venture off to do what I am doing now."
That venture so happens to be heading her own church, starring in a reality show and releasing new music. The two-time Stellar Award winner will be releasing a new album this year and the first single of the project is out titled "Better Days."
"We got to simplify God and show 'that' love," Pastor Johnson said about her ministry and what she hopes people get from her. She said, "The love of Christ...to know that there is a 2nd, 3rd and 4th chance...God looks at the heart. That's what made David special."
Oxygen was launched in 2000, it is a subsidiary of NBCUniversal and has two other reality shows highlighting preachers - "Preachers of Los Angeles" and "Preachers of Detroit." The network targets women, reaches 77.5 million households and its sister channels include E!, Bravo and Esquire Network.
"('Preachers of Atlanta') It shows my life a little more at a time," Johnson said. "You get to see how we live and minister. We live different from the traditional, we're untraditional. We are meeting people where they're at - no judgment."

NAACP Image Awards honors nominees at special luncheon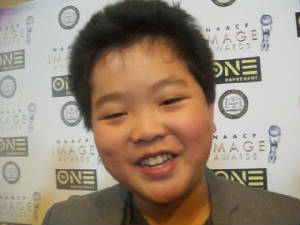 "It's a lot of fun on the show. I get to meet a lot of cool people," said Hudson Yang of ABC's comedy series "Fresh Off The Boat." Yang received an NAACP Image Awards nomination ("Outstanding Performance by a Youth") for his portrayal of Eddie Haung - the shows creator, producer and narrator. When asked if Eddie gives him advice on how to portray him Hudson said, "Sometimes. He use to come a lot but he can't he got five different shows he is working on...He's a great man."
I spoke with Eddie at the red carpet arrivals of the 47th NAACP Image Awards Nominee Luncheon that was hosted by Marcus Scribner and Yara Shahidi (ABC's "Black-ish") at The Beverly Hilton. The NAACP Image Awards will air live on TV One February 5, 2016 at 9pm/8c as a two-hour special (check for re-airing times).
Additional nominees include DeWayne "The Rock" Johnson for his work on HBO's "Ballers" ("Outstanding Actor in a Comedy Series"); LL Cool J for his work on CBS' "NCIS: Los Angeles" ("Outstanding Actor in a Drama Series"); Janet Jackson received four nominations for "No Sleeep" and "Unbreakable" ("Outstanding Music Video," "Contemporary Song," "Outstanding Album," and "Outstanding Female Artist"); Will Smith for his work on Sony Pictures' Concussion ("Outstanding Actor in a Motion Picture"); Kirk Whalum for his Mack Ave Records' release "The Gospel According to Jazz - Chapter IV" ("Outstanding Gospel Album"); Gabrielle Union for her work on BET's "Being Mary Jane" ("Outstanding Actress in a Drama Series"); O'Shea Jackson, Jr. for his work on Universal Pictures' Straight Outta Compton ("Outstanding Supporting Actor in a Motion Picture"); Jill Scott ("With this Ring") and Queen Latifah ("Bessie") for "Outstanding Actress in a Television Movie"; Loretta Devine for her work on Disney's "Doc McStuffins" ("Outstanding Character Voice-Over Performance"); Regina King for her work on ABC's "American Crime" ("Outstanding Supporting Actress in a Drama Series"), and Nzingha Stewart for her work on Lifetime's "With this Ring" ("Outstanding Writing in a Motion Picture/Television" and "Outstanding Directing in a Motion Picture/Television").
"I have been a music video director for a long time, 15 years, first. So I have been writing for as long as I been directing," Nzingha Stewart said when asked if she arrived at where she wanted to be as a writer for television and movies.
"I'm just here to support the nominees," said actor J. August Richards when asked if he was nominated. When asked what projects he is currently working on Richards said, "I have reoccurring roles on "Agents of S.H.I.E.L.D." and "Greys Anatomy."
Radio Personality, Real Estate Agent and now Author Egypt Sherrod - who was nominated for "Outstanding Literary Work/Instructional" for her book "Keep Calm...Its Only Real Estate..." - said when asked why she wrote about Real Estate that, "It was a labor of love."
You can log onto www.TVOne.TV or www.NAACP.org/pages/naacp-image-awards for more information on other nominees or the live airing of the honors Friday, February 5, 2016 at 9 p.m./8c.
SYNDICATED COLUMN:
Eunice Moseley, has an estimated weekly readership of over ¼ million with
The Pulse of Entertainment
. She is also a Public Relations Strategist and Business Management Consultant at Freelance Associates, and is Promotions Director (at-large) for
The Baltimore Times.
www.ThePulseofEntertainment.com
.
EVENT:
Sat April 16, 2016
the "Uplifting Minds II" Free Entertainment Conference founded by Moseley arrives in Baltimore at Security Square Mall hosted by AJ Showtime at 92Q Jams and Doresa Harvey at Heaven 600 and on
Sat October 22, 2016
(TBC) the "Uplifting Minds II" Free Entertainment Conference arrives at the Celebrity Centre in Hollywood, CA.
www.UpliftingMinds2.com.
)