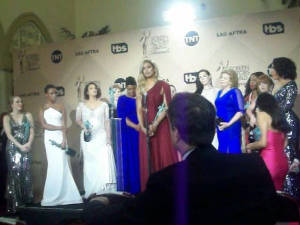 "I started on the show in 2013," said AMC's "Mad Men" star Sola Bamis, who plays Shirley on the dramatic series which was nominated for "Outstanding Performance by an Ensemble in Drama Series," when interviewed on the red carpet arrivals at the 22nd Annual SAG Awards held recently at the Shrine Theatre in Los Angeles. When asked what she hopes to achieve in this role on the network's hit show she said, "To use my talents to bring a voice to the voiceless - all races, ethnicities, sexual origination. People of every kind should be represented in the media. That's important to me. So if I can lend a voice to that cause and idea I'd love to."
Diversity is what the Screen Actors Guild Awards (SAG) brought on stage and on the red carpet. Nominees and winners were chosen by SAG members that serve on the SAG Awards Film and Television Nominating Committee of which my grandson actor/filmmaker Anthony Michael Hobbs (only 10 years old) is a voting member.
"I was just at home," said 13 year-old Mason Cotton, who also stars on "Mad Men" as Bobby Draper, about where he was when he heard that the cast was nominated for a SAG Award. "I've been on the show for four years, since I was 8 or 9. I like dramas. I like when you get to cry 'cause I'm pretty good at that, pretending to cry."

Unfortunately for Bamis and Cotton, PBS' "Downton Abbey" won the outstanding ensemble in a drama award. I got the impression though that they were just honored to have been nominated.

"Yes I been nominated for comedy ensemble," said Emily Robinson who plays Rose Boymelgreen in Amazon's comedy series "Transparent". When I commented that her comedic timing must be on point she said with a laugh, "Sure, we are redefining comedy 'cause its more of a 'drama-dy'."

"Transparent" did not win as well for "outstanding ensemble for a comedy series," the award went to the Netflix series "Orange is the New Black." The cast in "Orange is the New Black" is so very diverse with unknown and veteran actors such as Lori Petty and the subject matter so serious (prison life) that I asked them upon their arrival backstage about the "acting process." Laura Prepon, who plays Alex Vause, replied, "I think it's a different method for everyone."

"Yes, everyone has their own process," said Lori Petty who plays Lolly Whitehill. "Some people act crazy before acting and some are very, very quiet."
As always the SAG Awards was first-class in presentation and representation. Other winners include Queen Latifah for her performance in HBO's "Bessie"; Kevin Spacey for his performance in Netflix "House of Cards"; Idris Elba for his performance in BBC America's "Luther" and Netflix "Beasts of No Nation"; Jeffrey Tambor for his performance in Amazon's "Transparent"; Uzo Aduba for her performance in Netflix "Orange is the New Black", and living legend Carol Burnett was presented with the 82nd Annual SAG Life Achievement Award. The SAG Awards was aired live on TNT and TBS. Watch cable listing for re-airing. Also learn more about being a SAG member so you can serve on the voting committee by logging onto www.SAGAwards.org.

Founder of The Watts 103rd Street Rhythm Band Charles Wright publishes memoirs in 'Up From Where We've Come'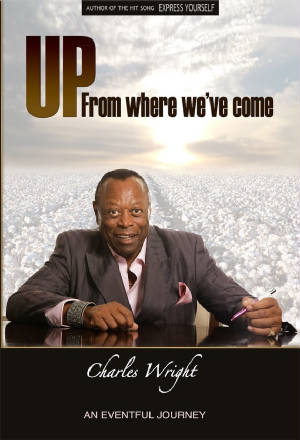 Charles Wright the founder and leader of the legendary Watts 103rd Street Rhythm Band which gave us hits such as "Express Yourself," "Do Your Thing," "Love Land" and "Till You Get Enough" (Warner Bros Records) publishes an autobiography titled "Up From Where We've Come" that chronicles his 40 years in the music business from being a sharecropper.

"I've been writing it for 40 years. I'd write a little walk away for months and sometimes years," said Charles Wright about the process and motive behind his memoirs. "It's about my life in entertainment from share cropping. I left Mississippi at the age of 12...I live in L.A. I just want to express myself."
In 1962 Wright formed a band called "Charles Wright and the Watts 103rd Street Rhythm Band," a Soul/Funk band that was prominent during 1967 - 1973. The band reached Billboard's Pop/R&B Hot 100 Charts.

"I had 300 songs out and the only reward is 'Express Yourself.' You can have a hit and starve," Charles told me when I praised him on all the hit songs he created. "I've been blessed. It's God's way of taking care of me otherwise the industry turned their backs on me."

One of the first band members was Daryl Dragon, keyboardist, also known as Captain of Captain and Tennille. He went on to play for The Beach Boys. Wright is a guitar player and singer and served as A&R for Def-Fi Records before he formed his own band. The band disbanded in 1973 and Charles Wright then released five solo albums. The "Express Yourself" hit, which reached #3 on Billboards R&B Chart, has been sampled the most and appears in the motion picture films Mr & Mrs. Smith and most recent Straight Outta Compton.

Advice this veteran gives to those on the "come-up" in the music business is, "Stick to it. Play genuine music and not machines. We brought some of the best music from Africa, we just scratched the surface. They tricked us into using machines instead of music from the heart."

You can find "Up From Where We've Come" at Amazon.com and learn more about Charles Wright and his legendary band at www.ExpressYourself.com.