Nadji Jeter stars in the Youtube Red Original film Dance Camp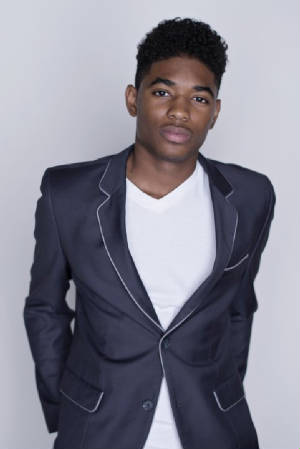 "I hope it gets a sequel. This movie has so many styles of dance," said dancer/actor Nadji Jeter who stars in the first Youtube Red Original film, Dance Camp - in theatres now. "The similarities Hunter and I have started with dancing. Dancing is my first love. (Like Hunter) I put it on the back burner, now I got a chance to breakout my talent."
Nadji started dancing professionally as the Mascot for NBA's Atlanta Hawks - they called him the dancing Mascot.
"I actually started off as a dancer in Atlanta, Georgia with Usher," Nadji pointed out.
That was in 2005 and he was 9 years old dancing for Usher's New Look Foundation's Gala in New York. As an actor the following year, 2006, he appeared in the movie Dirty Laundry. In 2007 the year included a role in the series "Grey's Anatomy;" "Everybody Hates Chris" was next in 2008; in 2010 and 2013 he had a role in Adam Sandler's Grown Ups (1 and 2); in 2011 he appeared in 12 national commercials for Coca-Cola - as the new face of Coca-Cola; in 2013 he appeared in the series "Castle"; 2015 brought with it a role in the BET series "Reed Between the Lines," and this year roles in the film The 5th Wave and the current Youtube comedy drama movie Dance Camp. Dance Camp is about a dancer named Hunter who was sent off to a dance camp by his mother to live with a group of misfits to keep him out of trouble. While there he has to deal with the camps "leader" Lance played by Jake Paul (Knights of Mayheim), then along the way he finds love in Cheyenne, played by Meg DeAngelis (Royal Crush).
Dance Camp is produced by Jon. Chu (Step Up 3D) and choreographed by Fatima Robinson (Save the Last Dance). It also stars Josh Leyva, Jerdyn Jones, Niki Demartino and Gabi Demartino.
"I'm still not where I want to be," Jeter said when asked. "I want to be more iconic, more world wide as an entertainer." When asked about his role in the Dance Camp film he said, "The character is based on my life. It really brought a lot back out of me. I put my old hobby aside. (Dance) is a lot of cardio exercise. The youth are doing the Whip and the Nae Nae, we haven't had a movie like this in a long time. Kids and dancers will appreciate it."
Rated PG-13 Dance Camp was released February 10, 2016 and is currently in theaters.
Radio personality Egypt Sherrod's first book, 'Keep Calm...Its Just Real Estate,' receives nomination for an NAACP Image Award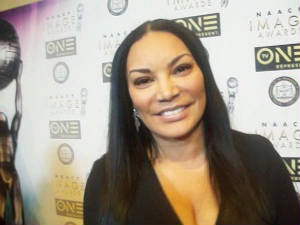 "It was really a labor of love," said Egypt Sherrod, a 20 year award winning veteran radio personality (Radio One, Inner City Broadcasting) and a 14 year veteran real estate agent, when asked about the motivation for writing a book about real estate titled "Keep Calm...Its Just Real Estates" (Perseus Books). "I wrote the book in my closet and my daughter - who is four - was two going 'mommy, mommy, mommy' so in order for me to get a clear thought I had to go in the closet. But it was an answer to a zillion emails from potential home owners, those wanting to buy a house and wanting to know how to go about it - how to properly plan."
"Keep Calm...Its Just Real Estate" is sold at Amazon and Sherrod said it was the highest selling real estate book in its genre.
"I wanted to make it fun...be me and do it in love," she said sincerely.
A Philadelphia native and resident of Atlanta Egypt started in broadcasting at WWRL - FM (Radio One) then ended up at WVEE - FM 103.3 in Atlanta (Inner City Broadcasting) reaching over 60 cities in syndication. She is a licensed real estate agent in two states and her expertise was sought by HGTV ("Property Virgin"), CNBC, FOX, CNN, and NBC's "Today Show."
"This is why I tell people to always have a Plan A, but work on your Plan B at the same time," she pointed out. "Radio was great but I knew there was going to come another chapter. Simultaneously I was investing in real estate, flipping houses. I was a real estate agent at the same time I was on radio and decided it was time to graduate myself...grow my brand and teach people how to do it - go from girlhood to womanhood."
Egypt also writes a real estate column for "Atlanta Magazine" and its' "Home Edition." To learn more about her book log onto www.KeepCalmItsJustRealEstate.com.
SYNDICATED COLUMN:
Eunice Moseley, has an estimated weekly readership of over ¼ million with
The Pulse of Entertainment
. She is also a Public Relations Strategist and Business Management Consultant at Freelance Associates, and is Promotions Director (at-large) for
The Baltimore Times.
www.ThePulseofEntertainment.com
.
EVENT:
Sat April 16, 2016
the "Uplifting Minds II" Free Entertainment Conference founded by Moseley arrives in Baltimore at Security Square Mall hosted by AJ Showtime at 92Q Jams and Doresa Harvey at Heaven 600 and on
Sat October 22, 2016
(TBC) the "Uplifting Minds II" Free Entertainment Conference arrives at the Celebrity Centre in Hollywood, CA.
www.UpliftingMinds2.com.
)