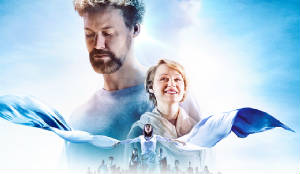 Fathom Events presents the musical feature film Easter Mysteries, the retelling of the Passion of Christ which is the last twelve hours of his life and his resurrection. Easter Mysteries will arrive in theaters for one day only Tuesday, March 22, 2016 at 7 p.m. in 300 selected theaters across the country through Digital Broadcast Network. Easter Mysteries star Wallace Smith (Broadway's "Lion King" as Simba, "Godspell") as Jesus and Tony Award Nominee Phillip Boykin (Freedom, Top Five) as Caiaphas.

"I was not apprehensive in the least," said Three-time Tony Award winning producer Ron Simons (Blue Caprice) when asked about tackling a Biblical story about Jesus Christ found in the New Testament. "I was concerned treading into new territory. There have been movies and plays on the subject. What I really really love about this film is it brought...the people accessible. What did that do to him (Caiaphas) personally...he was a human being that had to make some tough decisions."
The music and lyrics to the musical feature film, Easter Mysteries, was written by Tony Award winning Broadway producer John O'Boyle. The prolific Easter story also stars Stephen Lee Anderson as Herod; Erin David as Mary Magdalene; Kevin Earley as Peter; Benjamin Howes as Thomas; P.J. Griffith as Judas and Michael X. Martin as Pilate.

When Ron I asked how he was picked to be the producer he said, "The composer/writer, a Broadway producer, we worked on a project together. We were in Florida...he asked me am I on to be executive producer...I was starting to do things (a producer would do). I brought on the company that did the poster. I brought the strategies. So we decided...I was actually producing it. In small projects we're big minded but with small prestige and money. We wear a lot of hats."

The Simons Says Entertainment and Fathom Events presentation is directed by Danny Goldstein and the music is directed by Milton Granger. After the film is presented there will be a panel of Christian, Jewish and Muslim leaders discussing the impact of the Passion story on the world.
You can find out what theaters will be screening Easter Mysteries by logging onto www.FathomEvents.com. Find out more about the musical feature film by logging onto www.EasterMysteries.com.
SYNDICATED COLUMN: Eunice Moseley, has an estimated weekly readership of over ¼ million with The Pulse of Entertainment. She is also a Public Relations Strategist and Business Management Consultant at Freelance Associates, and is Promotions Director (at-large) for The Baltimore Times.www.ThePulseofEntertainment.com. EVENT: Sat April 16, 2016 the "Uplifting Minds II" Free Entertainment Conference founded by Moseley arrives in Baltimore at Security Square Mall hosted by AJ Showtime at 92Q Jams and Doresa Harvey at Heaven 600 and on Sat October 22, 2016 (TBC) the "Uplifting Minds II" Free Entertainment Conference arrives at the Celebrity Centre in Hollywood, CA. www.UpliftingMinds2.com.)