NAACP Theatre Awards honor directors, playwrights and actors with special presentation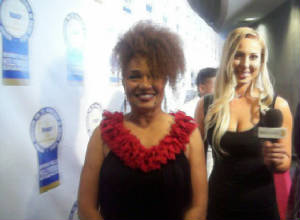 "I was nominated for best choreography for Visionary Man," said Ali North, a dance instructor at Dean College.
North was present along with a long list of stage directors, producers, playwrights, actors and designers nominated for the NAACP Theatre Award. They were all arriving at a special press conference where the winners of the 2015 nominees were announced by Obba Babatunde ("The Bold and the Beautiful"); Richard Lawson ("Saints and Sinners"); Jason George ("Grey's Anatomy"); Harold Bell ("Raising Whitley"); Renee Lawless ("The Haves and Have Nots"); Margaret Avery ("Being Mary Jane"), and Ella Joyce (Nina, "Being Mary Jane").
When veteran actress Ella Joyce (pictured) was asked how she felt about the NAACP hosting an awards event to honor theatre she said, "It is important. If we don't learn to celebrate our own nobody will. To recognize and acknowledge what we are and who we are keeps theatre alive. Theatre is our unedited voice and if we don't keep theatre alive everything we do will be edited. We have to encourage those coming up to keep introducing it and taking it to another level so that we become people who own theaters so we don't have to have things green-lit, but do it cause we want to. So it's very important."
The NAACP Theatre Awards press conference was held at the Nate Holden Performing Arts Theatre/Ebony Repertory in Los Angeles. Four-time NAACP Theatre Award winner Playwright, Director and Producer Kinnik Sky was the host.
"I think the most challenging thing with this is I was working with, for the most part, non-dancers," said choreographer Ali North when asked about her experience choreographing a stage play. "It's not considered a dance show but there was a dance sequence that needed movement. I am a classically trained dancer...it was great to see it come to life."
The NAACP honored local and Equity choreographers, producers, directors, playwrights, designers and actors. The announcements were followed by a VIP reception where attendees were entertained by stellar theatrical performances.
"It was absolutely amazing," said Director/Producer Wallace Demarria (JAG, Coach Carter), who was nominated for the stage play "Secrets," about his experience with the play. "Actually the host for tonight Kinnik Sky was the female lead. It had an incredible cast. We had an incredible time. Every night was different and the audiences were packed in, they loved it."
"'Secrets' is about secrets in a marriage. I don't want to give the ending away but that's how this marriage ended," Wallace said when I commented that some secrets kill a marriage. "I don't believe in living a life miserable. I don't believe in that...One way or another find your way to be happy."
The NAACP Theatre Awards is presented by the Beverly Hills/Hollywood NAACP Branch - Ron Hasson is Branch President. Tia Boyd is Executive Producer of the NAACP Theatre Awards Show. The NAACP Theatre Awards also gave a special honor to Casting Director Peter Wise. This branch of the NAACP also hosts a four-day theater festival where thespians can express their craft to the community.
The ensemble of "Flyin' West" stopped by to chat and also there to support the event and its winners included comedian Michael Colyar, actor Exie Booker ("Criminal Minds"), Ro Brooks ("The Haves and Have Nots") and Kiki Shepard ("Apollo Amateur Night").
SYNDICATED COLUMN:
Eunice Moseley, has an estimated weekly readership of over ¼ million with
The Pulse of Entertainment
. She is also a Public Relations Strategist and Business Management Consultant at Freelance Associates, and is Promotions Director (at-large) for
The Baltimore Times
.
www.ThePulseofEntertainment.com
.
EVENT:
Sat April 16, 2016
the "Uplifting Minds II" Free Entertainment Conference founded by Moseley arrives in Baltimore at Security Square Mall hosted by AJ Showtime at 92Q Jams, Doresa Harvey at Heaven 600 and DJ Fatman. On Sat October 22, 2016 (TBC) the "Uplifting Minds II" Free Entertainment Conference arrives at the Celebrity Centre in Hollywood, CA.
www.UpliftingMinds2.com.)