Stellar winner Jonathan Nelson releases fifth album 'Fearless' on Light Records/eOne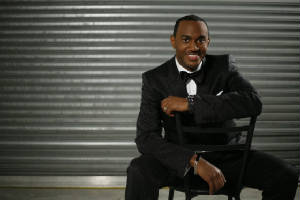 "Everything about this album is different," said multi-Stellar Award winner Jonathan Nelson about his new album "Fearless" (Light Records/Entertainment One Music) compared to his previous releases. "It's a different team, different band. Some (singers) I never met a day in my life but I know God had called me to work with them. It has the same co-producer (Kenneth Shelton) and music director."
Nelson is a worship leader, songwriter/producer and singer whose style of Praise and Worship has made him a name in the Gospel industry. "Fearless" has released two singles "Anything Can Happen" and "I Believe."
"To live out the word, to be full of faith and know fear but still do something you have never done," Dove Award nominee Nelson said is what the album "Fearless" is about. "I never did an African song...never did a song with Hip-Hop flavor (Da T.R.U.T.H.) and Tye Tribbett style."
Also featured on the album are three-time Stellar Award winner Kim Burrell, South African Gospel vocalist Sonnie Badu, Jason Nelson, the beautiful vocals of Jade Nelson and Dorinda Clark-Cole (The Clark Sisters). "Fearless" is a 14 track project, but a 17 track digital deluxe edition will be released on iTunes.
"I want to create a flow with songs for signaling a full journey of hearing what I'm feeling like, sound like," Jonathan said about the purpose for the new project.
"Fearless" was record live at his home church The Faith Center in Sunrise, Florida. Jonathan Nelson however is a Baltimore native and is the son of a preacher.
"We just debuted at #1 which is a blessing," Nelson told me about the new project's release reaction. When asked about his expectation for the new project he said, "The expectation I was praying for was reached in faith. I believe God will let me experience...a 'Fearless Tour'."
My favorite cuts on the "Fearless" album are the title track "Fearless" featuring Gospel rapper DaT.R.U.T.H. whose style is reminiscent of Hip-Hop rapper Diddy but with a slightly faster flow; #3 "My Hope" because its horns and beats from the drum inspires you to have hope; #5 "Anything Can Happen" because Jonathans' vocals represent the ultimate inspiring Praise & Worship style that makes you believe in miracles; #6 "BaBa (Jesus) Oh" featuring Sonnie Badu who gives a passionate delivery; #8 "Forever Settled" featuring three-time Grammy Award winner Dorinda Clark-Cole because its a jump up out your chair and dance Praise & Worship selection that has a Jazz twist to it thanks to the contribution of Dorinda; #9 "Brand New" featuring Dove Award winner Kim Burrell is a sweet sincere inspiring song; #12 "Everything You Are (Jesus Chant)" because of the military drum roll throughout as a backdrop that makes you want to march in the army of Jesus Christ, and #14 "I Give You Glory" featuring Grammy nominated and Stellar Award winner Tye Tribbett because it's a victory over the devil song that makes you get up and Praise God for that victory, as Tye did sounding like he was loosing his mind in musical praise!
Learn more about Jonathan Nelson or his new album release "Fearless," co-executive produced by Phil Thornton, by logging on to his website
www.JonathanNelson.us
and you can follow him @JonathanNelsonMusic on Facebook and @NelsonJonathan on the social media platforms.
SYNDICATED COLUMN:
Eunice Moseley, has an estimated weekly readership of over ¼ million with
The Pulse of Entertainment
. She is also a Public Relations Strategist and Business Management Consultant at Freelance Associates, and is Promotions Director (at-large) for
The Baltimore Times
.
www.ThePulseofEntertainment.com
.
EVENT:
Sat April 16, 2016
the "Uplifting Minds II" Free Entertainment Conference founded by Moseley arrives in Baltimore at Security Square Mall hosted by AJ Showtime at 92Q Jams, Doresa Harvey at Heaven 600 and DJ Fatman. On Sat October 22, 2016 (TBC) the "Uplifting Minds II" Free Entertainment Conference arrives at the Celebrity Centre in Hollywood, CA.
www.UpliftingMinds2.com.)