Slim of 112 is 'Refueled' with fresh sounding solo album release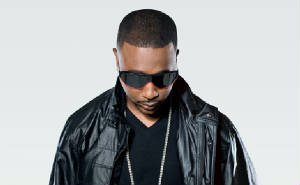 "For me it's the song," said Slim, lead vocalist for the Grammy Award winning R&B group 112, about his second solo album released on May 13, 2016. "Because of my success producers sample...outrageous numbers....fueled by one record."
The one song Slim may have been talking about is his solo hit single
"So Fly" released in 2008 featuring Yung Jock. The single was released on his debut solo album "Love's Crazy." Eight years later Slim, real name Marvin Scandrick, releases his second solo album titled "Refueled" featuring vocal assistance from Carl Thomas, Ma$e and Rich Homie Quan.
"I am refueling everything in my personal life," Slim said about the meaning of the album. "I always prefer that you shouldn't have to skip...listen to the whole album," he added when asked about the project. "It is not about putting your favorite artists on, it's about the message. That's why I chose certain people. My phone was blowing up when people heard I was doing a record...all spectrums of musicians old and young."
The artists Slim felt would compliment his message included Carl Thomas, Ma$e and Hip-Hop's Rich Homie Quan. After the Slim solo album debut he said there were million dollar deals offered.
"I want to thank everyone who supported me," Slim said about his first solo album success. "It was bigger than I expected. Straight up I was flying."
Slim said he learned since his last solo album that the music business is a marathon not a sprint.
"This time I am going to focus on who I am touching," he said about his marketing plans for the album's release. "I challenged Rich Homie Quan...and he delivered. When I write Its in the first person...so they (fans) can get to know me."
Slim is reuniting with his 112 members Q Parker, Daron Jones and Michael Keith for a 20 year anniversary celebration as well as reuniting with the groups founder Puff Daddy for a Bad Boy Family Tour this summer which will kick off at the Barclays on May 20th.
"I never done a record with Carl Thomas and I ran into Ma$e and sent him a track and he sent back the record," Slim said about how his feature guests came to be on the project.
" Refueled" is released on Shanachie Entertainment's record imprint, home of Regina Belle, Silk, Pieces of a Dream, Angie Stone and Najee.
"(Randall Grass) He was always on the phone hearing the record. He wanted to know my frame of mind," Slim said about the general manager of his label's New Jersey based company when I told him he was with a great label. "I am different from their line-up. I still have that Hip-Hop edge. My first single may not necessarily be a ballad...he understands."
"I love my job and music at the end of the day is a job," Slim said sincerely.
My favorite cuts on the Slim solo album "Refueled" include #1 "Forever" featuring Carl Thomas, I love the support of the military drum beat its fresh and that it is laced with the sounds of a lead guitar softly screaming in the background; #2 "Never Break Up" featuring Rich Homie Quan, for its infectious fresh Hip-Hop beat and you get to hear that distinctive Slim vocal sound too; #7 "Hey You" sounds like a nice sexy slow dance club selection; #8 "Ain't Going Nowhere," a sweet love song, which has a nice classical guitar to support it, and #10 "Ready to Fall" another sweet love song with a fresh drum roll beat in the back possessing all the qualities needed for an award winning song.
Slim was signed with the other members to Bad Boy Records on Def Jam as 112 in 2002 in Atlanta by Puffy (Sean Combs). They would go on to release six albums and garner a Grammy nomination. They received a Grammy Award for the "I'll Be Missing" you single release with Puffy and Faith Evans. His unique vocal sounds can be distinctly heard on such 112 hit singles as "Cupid" and "Peaches and Cream." Slim is also the CEO and owner of his own company M3 Productions.
You can learn more about Slim's "Refueled" project at www.Shanachie.com.
SYNDICATED COLUMN: Eunice Moseley, has an estimated weekly readership of over ¼ million with The Pulse of Entertainment. She is also a Public Relations Strategist and Business Management Consultant at Freelance Associates, and is Promotions Director (at-large) for The Baltimore Times. www.ThePulseofEntertainment.com. EVENT: Sat October 22, 2016 (TBC) the "Uplifting Minds II" Free Entertainment Conference arrives at the Celebrity Centre in Hollywood, CA. www.UpliftingMinds2.com.)