Warner Bros.' 'Central Intelligence' shows anyone is hero material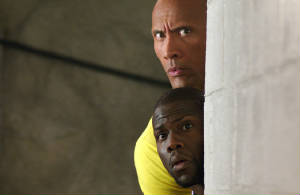 Kevin Hart (Ride Along2) in a Warner Bros. Pictures' presentation titled Central Intelligence along side heavy weight actor/wrestler Dwayne "The Rock" Johnson (Fast 8) told me it was going to be funny when I screened it so I came prepare to have my jar-locked from laughing too hard, but I was pleasantly surprised by the serious messages which showed me that anyone is hero material and that bullies never win - they just seem to. Released June 17, 2016 Central Intelligence also stars Oscar nominated Amy Ryan (Gone Baby Gone) and Aaron Paul ("Breaking Bad").
The Rated PG-13 comedic/drama is action packed and follows the lives of two high school classmates of the year 1996 in Baltimore, one is Calvin Joyner played by Hart ("What Now" comedy tour) a class "hero" with good grades and awesome athletic abilities and the other is over-weight Bob Stone played by Johnson (San Andreas) a classmate picked on by bullies so bad Calvin came to his rescue when no one else would. Both of their paths crossed that day and it would be the reason why Calvin is chosen by Bob, a seemingly rogue CIA Agent, to help save the country from chaos and destruction.
At a time when Calvin the accountant is unhappy at work, which means his wife Maggie Joyner played by Danielle Nicolet ("Born Again Virgin") is unhappy, he is contacted by his old "friend" Bob during a 20th high school anniversary celebration who is now the very muscled Agent Jones. Unfortunately his own people at the CIA are after him dead or alive for the "seemingly" murder of his partner Agent Phil played by three-time Emmy Award winner Aaron Paul (Exodus: Gods & Kings). Jones needs Joyner's skills for numbers to help him solve the case, which could mean the fall of the United States if he doesn't, before the CIA - lead by Agent Pamela Harris who is played by SAG Award winner Amy Ryan ("The Office") - catches up with him. Through lots of action and much more in laughter the two somehow form a partnership but can they save the country?

Directed by Rawson Marshall Thurber and produced by Michael Fottrell, Peter Principato, Scott Stuber and Paul Young Central Intelligence is a New Line Cinema and Universal Pictures presentation of the Bluegrass Films, Principato-Young Entertainment and RatPac-Dune Entertainment production. The story was written by Ike Barinholtz and David Stassen and the screenplay is written by Ike, David and Thurber. Central Intelligence also stars Timothy John Smith, Megan Park and Thomas Kreteschmann.
For more information about the comedic film Central Intelligence starring Dwayne Johnson and Kevin Hart or to view the trailer log onto www.CentralIntelligenceMovie.com.
SYNDICATED COLUMN: Dr. Eunice Moseley, has an estimated weekly readership of over ¼ million with The Pulse of Entertainment. She is also a Public Relations Strategist and Business Management Consultant at Freelance Associates, and is Promotions Director (at-large) for The Baltimore Times. www.ThePulseofEntertainment.com. EVENT: Sat October 22, 2016 (TBC) the "Uplifting Minds II" Free Entertainment Conference arrives at the Celebrity Centre in Hollywood, CA. www.UpliftingMinds2.com.