Sax-Man Steve Cole Makes You Feel Good with 'Turn It Up' Release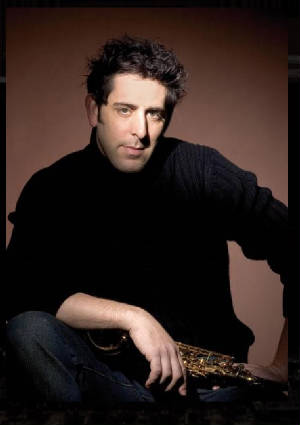 "I was actually talking to a friend of mine, we were listening to music in the car, and I said 'turn the volume up.' So I wanted to make an album where you'd want to turn the music up," said saxophonist Steve Cole when I asked about the title to his eight album "Turn It Up" (Mack Avenue/Artistry Music), released July 15, 2016. I think Steve accomplished that. The first single off the album "Turn It Up" when released was the #1 added single on Billboard's BDS Chart.
I asked him if that meant he partied through the making of the whole album he said, "Some of it was. It was a process started with David Mann in New York. I get so inspired in New York hanging out in Manhattan, I love starting music there."
Steve Cole is a contemporary Jazz sax-man who is also part of a group of musicians called the Sax Pack with Jeff Kashiwa, Kim Waters, Jackiem Joyner and Marcus Anderson. His friend he spoke about, David Mann produced the "Turn It Up" project for him. He has collaborated before with Mann on his sophomore album in 2000 titled "Between Us." The "Turn It Up" album also has assistance from Nicholas Cole on keyboards and James Lloyd (Pieces of a Dream) on piano.
"I want people too listen and feel good," Cole said sincerely. "People look for a good time...substance...when you feel music."
That's what Steve provides on this project, substance. My favorite selections on the "Turn It Up" album is the #2 title track and single "Turn It Up" a smooth Jazz sounding selection with enough Pop in it to make it a hand-clapping feel good song; #3 "Reverence" because Steve's horn talent gives you an uplifting feeling of triumph; #5 "Bright Side" not because that is how I try to see life in general but because it is another feel good song that provides a little Funk vibe of grandeur and I love the keyboard support by David Mann too - his fingers must have been flying: #8 "Laws of Attraction" because its such a powerful piece, and #9 "Workhouse" because it had me drumming on my table, so you know I was loving the beat. Steve Cole is on tour and you can hear some of the new album as he arrives in your town. He arrives in Long Beach, California August 14, 2016, San Antonio, Texas August 20th and Denver, CO September 16th - just to name a few.
Other musician on the project include Keith Fluitt (vocals), Lamar Jones (bass), Dan Levine (trombone), Trevor Neumann (trumpet), Khari Parker (drums), Ricky Peterson (Hammond B3) and Bernd Schoenhart (guitar) You can log onto www.MackAvenue.com or www.SteveColeMusic.com for more information on the "Turn It Up" album release or his concert appearances.

SYNDICATED COLUMN: Eunice Moseley, has an estimated weekly readership of over ¼ million with The Pulse of Entertainment. She is also a Public Relations Strategist and Business Management Consultant at Freelance Associates, and is Promotions Director (at-large) for The Baltimore Times. www.ThePulseofEntertainment.com. EVENT: Sat October 22, 2016 the "Uplifting Minds II" Free Entertainment Conference arrives at the Celebrity Centre in Hollywood, CA. www.UpliftingMinds2.com.)