Ellis Hall is Music Personified, a Talk with a Musical Genius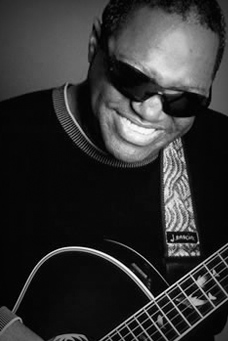 They say when one of your five natural senses are not working the others are amplified five times. I believe its true and its evidence in Ellis Hall, who is music - personified - as a five-octave vocalist and musician who plays keyboard, bass, electric guitar, acoustics and drums expertly even though he has been blind since he was 18 because of extreme congenital glaucoma. Recently Ellis Hall made a rare appearance in Los Angeles to perform at Herb Alpert's Vibrato Grill. Normally he is on his "Ellis Hall Presents: Ray, Motown and Beyond" tour of the symphony halls.
"We tour a lot and record a lot," Hall said. "Thank God for my wife/manager. The club scene is not what it used to be. Lots of clubs you have to pay to play."
So performing as a featured artist for such symphonies as Boston Pops Symphony, Dallas Symphony, Seattle Symphony and Hartford Symphony has kept him constantly on tour. Ellis is also a song writer and producer and has contributed to the soundtracks of such films as The Lion King 2, Shrek 2, Chicken Run, Invincible and Bruce Almighty. He has also dived into acting having appeared on Martin Lawrence's Big Momma's House and in the musical stage-plays such as "The Gospel at Colonus," where he was nominated for an Ovation Theater Award.
"I'm on the soundtrack of many lives. I am honored to be the vessel," Ellis said sincerely about his creative gifts.
His first professional recording was for Rock artist Paul Pena on Capital Records in 1971, he played bass. He played bass also for the Spinners. Hall went on to become opening act for Earth, Wind and Fire and the Temptations. In 2001 he met Ray Charles and impressed him so much that he signed Ellis Hall to his label CrossOver Records in 2002. It was Ray Charles that told him about the symphony circuit. After Ray's death Ellis went on to play with Pittsburgh Symphony with Marvin Hamlisch conducting. He was a lead vocalist for the band Tower of Power for three years and was even the voice of one of the California Raisins in that years' marketing campaign.
In September, 2016 he releases "Soul Unlimited" - conducted by Jeff Tyzik who gave Ellis the title "Ambassador of Soul." The album includes the cover of David Bowie's "Let's Dance" and George Harrison's "Something" featuring Billy Preston who Hall is a protege' of.
"I am all about uplifting. There is enough in the world for everyone," Ellis Hall said, concluded our interview. "Music has no boundaries. I tell folks it wasn't until I was 14 that I recognized what I was suppose to do. I was on corners at eight and nine years old singing. People started throwing things - it was money!"
Ellis Hall has a passion for Jazz but all genres, as with musical instruments, have his love and passion for music.

SYNDICATED COLUMN: Eunice Moseley, has an estimated weekly readership of over ¼ million with The Pulse of Entertainment. She is also a Public Relations Strategist and Business Management Consultant at Freelance Associates, and is Promotions Director (at-large) for The Baltimore Times. www.ThePulseofEntertainment.com. EVENT: Sat October 22, 2016 the "Uplifting Minds II" Free Entertainment Conference arrives at the Celebrity Centre in Hollywood, CA. www.UpliftingMinds2.com.)