Hands of Stone, the Rise of WBC Welterweight Roberto Duran, is Life Inspiring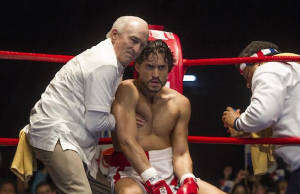 When there are no barriers placed on a child's mind, all things are possible. The Weinstein Company presentation of Hands of Stone, based on the rise of Roberto Duran as the WBC Welterweight champion of the world, is life inspiring and a prime example of how far the "human will" can take a person. Emmy nominated Edgar Ramirez (Zero Dark Thirty) stars as Roberto Duran, Usher Raymond (Texas Rangers) plays Sugar Ray Leonard who held the WBC Welterweight title and Academy Award winner Robert De Niro (The Good Shepherd) plays legendary boxing trainer Ray Arcel. Hands of Stone arrives in theaters August 26, 2016.
Hands of Stone will take you on an amazing journey of a young boy who survived on the streets of Panama with his fists. His street suave and fighting skills along with his persistent desire to find a boxing trainer who could help him take his winning streak on the streets into the boxing ring where the money was guaranteed his success. Roberto Duran (Ramirez) had a persistent and an undefeated reputation that paid off for him when he received the support of the man who helped make boxing an official world sport, trainer Ray Arcel (De Niro) who taught 18 world champions.
Rated- R the Hands of Stone peaks during his infamous 1989 show-down with Sugar Ray Leonard. I remember the fight well. It seemed everyone in the world watched that fight to see if an undefeated 29 year-old boxer from the streets of Panama could take the WBC Welterweight belt from the charismatic and very skillful American boxer Sugar Ray Leonard (Raymond). He did take it in a very close full round competition. His triumph became the triumph of his people and his defeat, that same year in a rematch, was their defeat. Duran would go on to box professionally his entire career retiring in 2002 at the age of 50.
Directed and written by Jonathan Jakubowicz Hands of Stone shows all the different personalities that influenced him, the personal and career choices that fueled him and the historical events that gave him a permanent place in history's time-line delivered in a beautifully constructed masterpiece. Those that are not boxing fans can now appreciate the creativity of the sport of boxing, understand the trails and tribulations of the lifestyle that comes with the pentacle of success he achieved and applaud at the end for how Duran handled it. Hands of Stone, though historical in events that are well known, has many surprises courtesy of some scenes and particulars that came out in the film that are life inspiring.
Jay Weisleder, Carlos Garcia de Paredes, Claudine Jakubowicz and Jonathan Jakubowicz are the films' producers. Based on a book by Christian Giudice Hands of Stone also stars Reg. E. Cathey (The Machinist) as Don King; Ruben Blades (Predator 2) as promoter Carlos Eleta; Ana de Armas as Felicidad Iglesias (Duran's wife); Jurnee Smollett-Bell ("True Blood") as Juanita Leonard (Leonard's wife); Golden Globe nominated Ellen Barkin (Ocean's Thirteen) as Stephanie Arcel, and Emmy winning John Turturro (Transformers) as Frankie Carbo the mafia owned boxing promoter. Arriving in theaters August 26, 2016 Hands of Stone is a Fuego Films, Vertical Media, Epicentral Studios ad Panama Film Commission production.
SYNDICATED COLUMN: Eunice Moseley, has an estimated weekly readership of over ¼ million with The Pulse of Entertainment. She is also a Public Relations Strategist and Business Management Consultant at Freelance Associates, and is Promotions Director (at-large) for The Baltimore Times. www.ThePulseofEntertainment.com. EVENT: Sat October 22, 2016 the "Uplifting Minds II" Free Entertainment Conference arrives at the Celebrity Centre in Hollywood, CA. www.UpliftingMinds2.com.)