Bob Baldwin Makes a Big Statement with 'The Brazilian-American Soundtrack'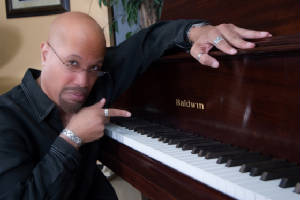 "I wanted to make one big statement," said Grammy nominated keyboardist Bob Baldwin about his newest musical release "The Brazilian-American Soundtrack" (City Sketches/Red River Entertainment) a two-disk project. "I was flowing pretty hard. I could have easily released the second next year...the first is a spin off of an album I did in 2004."

Baldwin labels disk one "Movement I: Rio-Ipanema" and disk two as "Movement II: New York". One offers 14 selections and the second 12. There is a long list of featured artists which include Café' De Silva (percussion), Porter Carroll II (vocalist), Zoiea Ohizep (vocalist), Gabriel Mark Hasselbach (trumpeter) and Leo Gandelman (sax). The album is executive produced by the Urban Jazz keyboardist.
Bob received his love for Brazilian music through his father who played it in the 60s.
"I was just 5 or 6 years-old. The delivery was in a different way, the flow...harmonic," he said about the culture's music. "Over the years I gravitated towards that sound. I studied it ... and it grew."
It grew into a genre I have never heard of but I will define this project as Urban Brazilian Jazz. My favorite cuts on the project include (disk one) #1 "Funky Rio" for its unique beginning with what sounds like bongos and I was surprised by the pleasing sound of Bob Baldwin's vocals; #3 "Tear Drop" featuring Ragan Whiteside (flute) because Baldwin's finger must have been moving rapidly on the keys evoking that Brazilian feel and I loved the flute support; #4 "Caiperinha/The Redeemer" featuring Torcuato Mariano (guitar) because of the unique mixture with Bob's keys have with the guitar - they did a beautiful dance together, and #8 "Lookin' at Me" featuring vocalist GiGi because Baldwin let his keys carry her sweet vocals creating an even sweeter melody. On disk two my favorites include #3 "My Soul" featuring Marion Meadows (sax) I love the play on the keys making it sound almost magical; #5 "Summer Madness" featuring James "Crab" Robinson (vocals) for the way Bob's fingers must have been flipping and turning taking me back to a time when I would sit on the front steps and watch the neighborhood live with people having fun and making money; #6 "Yesterday" a cover of the hit song of The Beatles featuring Freddy V (sax) because I love how he changed it from a British Pop song to American Urban Jazz selection, and #10 "State of Mind" for evoking a feeling of peace in me through its Smooth Jazz delivery.
"Music is the Universal language," Bob concluded. "Different...same page."
For more information on the Bob Baldwin "The Brazilian-American Soundtrack" two-disk release log onto www.BobBaldwin.com.
SYNDICATED COLUMN: Eunice Moseley, has an estimated weekly readership of over ¼ million with The Pulse of Entertainment. She is also a Public Relations Strategist and Business Management Consultant at Freelance Associates, and is Promotions Director (at-large) for The Baltimore Times. www.ThePulseofEntertainment.com. EVENT: Sat October 22, 2016 the "Uplifting Minds II" Free Entertainment Conference arrives at the Celebrity Centre in Hollywood, CA. www.UpliftingMinds2.com.)