Grammy Nominated Rev. Luther Barnes is Passionate About 'The Favor of God'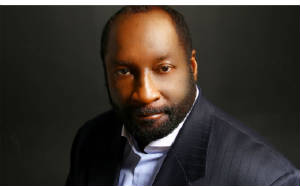 "You still have to live the life," said Grammy Award nominated Rev. Luther Barnes about the content of his newest album release featuring his Restoration Worship Center Choir titled "The Favor of God." "Be thankful...God has been good...try to give it back to him (in praise)."
Worship and Praise is what Rev. Barnes' new project is all about. The first single "God's Grace" reached Billboard Gospel's Top 20 Charts proof that positive and inspiring content is in demand. Barnes, the son of Bishop F. C. Barnes who wrote the Gospel standard "Rough Side of the Mountain," answered the "call" to music ministry at a young age as a member of his father's church. He has accumulated 28 album releases since then and garnered a Grammy Award nomination and Stellar, Vision and GWMA Excellence Award wins.
"Back in the early 80s I started recording in Atlanta. We put out an album every year," Rev. Barnes pointed out about his career in Gospel music.
Rev. Luther Barnes started his own church just recently, the Restoration Worship Center in Rocky Mount, NC which currently has over 250 members. His choir is featured on the new album "The Favor of God" - a 27 member choir.
"I have my flock I have to minister to...and the world," Barnes said when asked if his message was the same to both. "I have to go beyond (his church)...try to speak as a singer about things we go through. The bases of the album is to thank God for slowing me down...making me wait. Even though you got problems it's about praising God. We all go through that just give God praise...don't let it get personal."
The musicians on the album are from Rev. Luther Barnes church as well and are exquisite. My favorite selections on "The Favor of God" project include #1 "One More Time," featuring the vocals of Barns and daughter Bonita Greene a member of the Restoration Worship Center Choir, because it is an inspiring Praise & Worship song; #2 "God's Grace," the first single off the album, because Rev. Barnes delivers passionate vocals layered with that old-school Gospel feel with superb support by the choir; #3 "Old Saints Praise," featuring the vocals of Bonita Greene, because of the horn support by Lloyd Barry which had me envisioning myself marching down the street into victory; #5 "Feel the Fire," featuring the vocals of Lisa Wilson, because it is a sweet selection of the love of God and I adored the ending with her singing in a cappella; #6 "Jesus Is a Friend," featuring the vocals of Portia Thorton also a member of the Restoration Worship Center Choir, because of her passionate eloquent vocal delivery and I love the support of what sounds like violins, and #9 "You're My God" because Rev. Barnes' vocals make you feel the depth of his love of God.
Rev. Luther Barnes' career has had him in the studio or performing with such Gospel greats as Shirley Caesar, Kirk Franklin, The Brooklyn Tabernacle Choir, John P. Kee and The Mighty Clouds of Joy. Learn more about "The Favor of God" album release on SRT Entertainment/Shanachie Entertainment at http://www.Shanachie.comor www.LutherBarnes.us.
The Los Angeles 2016 Merge Summit Takes Over The Millennium Biltmore Hotel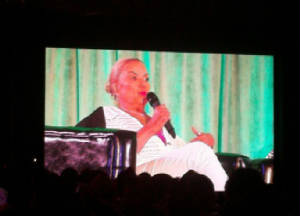 Los Angeles and the Millennium Biltmore Hotel literally pulled out the red carpet for the 2016 Merge Summit held recently to inspire synergy and provide priceless bits of information, experiences and advice from some of the entertainment and faith based industry leaders.
"Be brave enough to pull out the weeds," advised legendary artist manager Suzanne De Passe credited for the success of The Jackson Five at Motown.
I came especially for her "Conversation" session because our paths had cross a couple times in her career and the "Casting Director" session with casting agent Robi Reed who I worked with as a journalist before her move to head BET Network's casting division. The wait was long and just as I had to leave both ladies entered and spoke on the same panel.
When someone of Suzanne De Passes' statue and success gives advice it stops you in your tracks or it should - at least for a while. Sometimes advice, even when paid for and proven correct is rejected, but De Passe came on the stage on point with her advice. First she commented on being asked if she was "still" working in the entertainment industry because she was 70 years old - a good looking and vibrant 70 too. I could tell that bothered her. I get that comment as well because I have been a journalist for over 30 years and a public relations and business consultant for 23 years, but I brush it off because one thing you do not loose is your time and experience in your career. Robi Reed took advantage of the opportunity of being on stage with the legendary manager unexpectedly and asked about casting her projects. You see the Merge Summit is about gaining knowledge and taking advantage of opportunities.
That is the essence of the Merge Summit to provide opportunities to network and learn. If that was the goal of the two day event, then it was a success from what I could see of the eager and hunger-for-advice attendees.
Other sessions included DeVon Franklin, Sallie Richardson-Whitfield, LisaRaye and Meagan Good. A concert was offered as well featuring Kierra Sheard. The Merge Summit seeks to integrate faith and entertainment in a series of exclusive events that education, inspired, empower and provide opportunities. You can learn more about the series of Merge Summit events by logging onto www.TheMergeSummit.com.
SYNDICATED COLUMN: Eunice Moseley, has an estimated weekly readership of over ¼ million with The Pulse of Entertainment. She is also a Public Relations Strategist and Business Management Consultant at Freelance Associates, and is Promotions Director (at-large) for The Baltimore Times. www.ThePulseofEntertainment.com. EVENT: Sat October 22, 2016 the "Uplifting Minds II" Free Entertainment Conference arrives at the Celebrity Centre in Hollywood, CA. www.UpliftingMinds2.com.)