The Return of Authentic Western Films with Fuqua's Magnificent Seven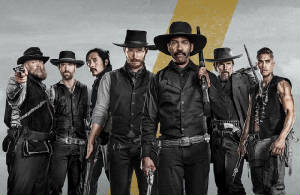 I love Westerns and hoped that the Metro-Goldwyn-Mayer/Columbia Picture presentation of Magnificent Seven was real enough for me to enjoy. The Antoine Fuqua directed Magnificent Seven marks the return of authentic Western films. Based on the remake of the 1960 film, Fuqua's Magnificent Seven stars Academy Award winner Denzel Washington as Sam Chisolm a Bounty Hunter hired to save a town called Rose from the heartless industrialist Bartholomew played by Peter Sarsgaard (The Center of the World) who is draining the town of its people's lives and resources. Magnificent Seven arrives in theaters (IMAX, 2D, 3D included) September 23, 2016.
Sam (Washington) is hired by Emma Culler played by Haley Bennett (The Equalizer) whose husband Matthew Cullen, played by Emmy Award winner Matt Borner (The Normal Heart), was murder by Bartholomew (Sarsgaard) for trying to protect a ruthless beating of a town member. Emma and townsmen Teddy Q played by Luke Grimes (American Sniper) collect all what the town had to give in money and offered it for protection. Bounty Hunter Chisolm enlists the help of some skillful, ruthless but kind hearted misfits to accompany him - Josh Furraday played by Christ Pratt (Jurassic World), Goodnight Robicheaux the sharp shooter played by Academy Award winner Ethan Hawk (Total Recall), Jack Home a tracker played by Vincent D'Onofrio (Men in Black), Billy Rock as knife wheeling expert played by Byung-Hun Lee (Terminator Genisys), Vasquez a Mexican Outlaw on Sam's Bounty Hunter's list played by Manuel Gracia-Rulfo and Red Harvest a Comanche Warrior played by Martin Sensmeier. The odds are against them but their skills, the help of the towns' people and prayer gives the film an unexpected ending that will have you too cheering (and crying) at the end.
The sound, sight and feel of Magnificent Seven give you that authentic, out of the studio, backdrop that makes it authentic. Mix that with IMAX, 2D and 3D and you have another iconic film to represent the seven, who first appeared in a 1954 Japanese film titled Seven Samurai. Magnificent Seven is produced by Roger Binbaum and Todd Black, and it also stars Jonathan Joss, Sean Bridgers, Billy Slaughter, Cam Gigandet and Vinnie Jones. Magnificent Seven, Rated PG-13, is a LStar Capital, Village Roadshow Picture, Pin High Production, Escape Artists production.
Warner Bros' Storks Takes You on a Delightful Road Trip Back Home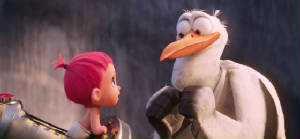 The Warner Bros. Picture's animation Storks takes you on a delightful road trip back home with Andy Samberg (Cloudy with a Chance of Meatballs) as the voice of Junior the dutiful stork up for promotion and Katie Crown as the voice of the open hearted optimistic orphaned human Tulip. Storks is Rated PG and arrives in IMAX, 2D and 3D theaters September 23, 2016.
An undelivered baby named Tulip ages out at 18 and must leave the stork factory called Cornerstone on Stork Mountain which no longer delivers babies but parcels. Instead she is placed by herself in the old baby making factory. When Tulip receives one lonely letter from a young boy named Nate, voiced by Anton Starkman pretending to be his parents who asks for a baby boy with a Ninja kick, she excitedly submits the letter unknowingly creating an unauthorized baby. Stork Junior, who put her in the factory alone, is afraid his boss will find out so he takes Tulip and the baby, whom they name Diamond, on an adventurous road trip to Nate Gardner's home with his parents Sarah Gardner voiced by Jennifer Aniston (Horrible Bosses) and Henry Gardner voiced by Ty Burrell (Finding Dory). His parents, to please Nate, are preparing the roof of their house for the Storks' arrival.
Of course the trip has its frightful, precious, funny and awe inspiring moments that take you on a journey that will end either with you crying or clapping in excitement - you decide when you see. The Warner Bros. Animation Group project also stars the voices of Kelsy Grammar (Toy Story 2) as the Cornerstone factory Boss about to retire and is looking at Junior as a replacement, comedians Keegan-Michael Key ("Key & Peele") and Jordan Peele ("Key & Peele") as the Alpha and Beta wolves who start out wanting to eat the baby and end up wanting to adopt her, and Danny Trejo (The Book of Life) as Jasper the giant stork who did not deliver Tulip as a baby who has been stalking her every since. Nicholas Stoller (Neighbors) and Oscar nominated Doug Sweetland (Cars) directs the comedic adventure film with Stoller as writer. Stoller also produced the animation with Brad Lewis (Antz). Executive producers of the 3D computer animated film include Glenn Ficarra, Phil Lord, Christopher Miller and John Requa. Storks is a Warner Animation Group, RatPac-Dune Entertainment, Stoller Global Solutions production. You can log onto www.StorksMovie.com for more information or to watch the trailer.
SYNDICATED COLUMN: Eunice Moseley, has an estimated weekly readership of over ¼ million with The Pulse of Entertainment. She is also a Public Relations Strategist and Business Management Consultant at Freelance Associates, and is Promotions Director (at-large) for The Baltimore Times. www.ThePulseofEntertainment.com. EVENT: Sat October 22, 2016 the "Uplifting Minds II" Free Entertainment Conference arrives at the Celebrity Centre in Hollywood, CA. www.UpliftingMinds2.com.)