Vernon Neilly's New Album 'Outta Time' is the Fire of Jazz Meeting the Chill of Hip-Hop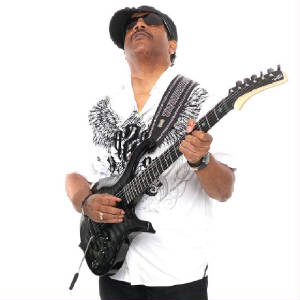 Born in the Philippines, raise in the Bahamas and the United States makes Jazz guitarist Vernon Neilly literally a man of the world and on his latest project "Outta Time" (Boosweet Records) it is evident as you hear the Fire of Jazz meeting the chill of Hip-Hop that he is worthy of an audience of over 100 million. Fluent in the Latin language Neilly is a world traveler because of the demand for his guitar skill, but this eight song project will leave you full. It features 15 musicians and vocalists.
"I've played with many many people," said award winning Jazz guitarist Vernon Neilly about his long career in the music business that have included playing for and with such great artists as Ella James, George Clinton, The Temptations, The Dramatics, Warren G, Howard Hewitt and Teena Marie. "They were called 'the vehicles'..."
Neilly means they helped him make it in the business by using his skills. Neilly also rides the actor vehicle appearing in such movie projects as Along Came Polly, Starsky & Hutch, Walk Hard and television series such as "One on One" and "Girlfriends." Overseas Vernon has much more popularity then here in the states. As a celebrity musician he has performed on the Brazilian version of "The Tonight Show" before a viewing audience of over 100 million after the release of this last project. The crowds there were clawing at him as if he was Jimi Hendrix back from paradise. In fact Vernon covers a Jimi Hendrix hit song titled "Fire," featuring Vernon and lead guitarist Greg Howe (Michael Jackson, Rihanna, Justin Timberlake), which is one of my favorite selections on the "Outta Time" project. The vocals on "Fire" are reminiscent of Prince.

"The single 'Outta Time' features my son Khalif you've met him, it debuted on Billboard Charts (on August 29, 2016) at #6 on Hot Singles," he said about the album's release. "He is my youngest son... he help me write the lyrics to the first two songs. One of them is the one on the Billboard Chart. He's 20 years. He got an artist he is producing coming out before the end of the year."
Vernon's son Khalif Neilly is a Hip-Hop lyricist who also appears on the "They Don't Care" selection.
"I'm fortunate and blessed," Neilly said when we talked about his long career. "(But) There is not enough of reaching back in our community. My parents and grandparents taught me knowledge is power, just like you said E. You have to learn the system to know how to maneuver in it. That is what's missing for our youth....access. Not enough people do what you do (giving exposure) at the level that could make a difference."
The long list of musicians and vocalists on this "Outta Time" project shows Vernon is a man that has reached back. I know because he has reached back fro me by participating and sponsoring my community event, "Uplifting Minds II", for half of the 17 years I've held it in Los Angeles, Houston and Atlanta.
"Outta Time" is released like all his award winning projects "G-Fire I," G-Fire II," from his own label, Boosweet Records, started in 1999 and headquartered in Los Angeles.
"I do it this way (independently) because that's my only option," he admitted. "This is my fifth project. I have been working on it for a few years...because of the people I wanted to record on the project - they had busy schedules...so it took a little while."
The wait was worth it just because of my favorites on the project make it worth the purchase, those selections include #4 "Get Yo' Lyfe Rite," featuring Vernon and Victor Johnson, because of those crazy guitar skills reminiscent of Jimi Hendrix transitioning to a Prince flavored feel and then at the end making the guitar cry; #6 "Nassau Nights", featuring Vernon, Frank Gambale and Cacau Santos, because I love that Brazilian or Latin feel and #7 "Metta Funk Trip", featuring Vernon and Kiko Lourirro, because of that futurist electronic sound - I can't make out if it's a guitar or keyboard or both sounding the same.
"Outta Time" is executive produced by Neilly and Rosalie Mayers and also features such artists as Mattias Eklundh, Bill Hudson, Jennifer Batten, Juan Belson, and Charles Glen. Also a producer Vernon has worked with Seymour Duncan (guitar manufacturer).
Vernon's first job was as a radio personality on the #1 station in South Florida on WEDR 99 Jamz. He went on to record and tour with Johnny "Guitar" Watson. His last album was "A Tribute to Stevie Wonder" featuring the skills of Greg Howe. Log onto www.VernonNeilly.com to learn more about his newest album release "Outta Time" or for performance dates.
SYNDICATED COLUMN: Eunice Moseley, has an estimated weekly readership of over ¼ million with The Pulse of Entertainment. She is also a Public Relations Strategist and Business Management Consultant at Freelance Associates, and is Promotions Director (at-large) for The Baltimore Times. www.ThePulseofEntertainment.com. EVENT: Sat October 22, 2016 the "Uplifting Minds II" Free Entertainment Conference featuring panelist Entertainment Counsel Paul W. Gardner (www.TheGardnerLawGroup.com) and Celebrity Stylist Jeneanne Collins (Rebellious Beauty) and www.EURweb.com publisher Lee 'The Voice' Bailey arrives at the Celebrity Centre in Hollywood, CA. www.UpliftingMinds2.com.)