Bishop J. Drew Sheard Goes Epic with 'GEI LIVE' New Album Release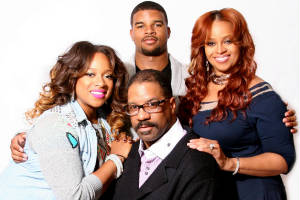 "The one thing that was absolutely epic...the single with Kierra. We had the kids' choir...come down the isles, then they were joined by the teen's choir and they were joined by the adult choir. It was fantastic to see that," said Bishop J. Drew Sheard about the live recording "GEI Live" released from his label Karew Records, which he owns with his Grammy Award winning wife Karen Clark Sheard who is also the First Lady of his church Greater Emanuel Institutional Church of God in Christ (C.O.G.I.C.). "On the single one of the choir members is a rapper he did his rap piece. It was phenomenal."
The single Bishop Sheard is talking about featuring his daughter Grammy Award nominated Kierra Sheard is titled "Hang On." The album was record live before a full house in Detroit. It also features The Clark Sisters, Karen Clark Sheard, Dorinda Clark Cole and Elbernita "Twinkie" Clark.
"God gives us gifts. Those gifts have to be nurtured," said the Bishop when I mentioned that everyone in his family is outstanding artists. "It is up to us to nurture so he can get the glory. It has been a blessing. My house when the kids were home...was booming with music. That was my house...everyone blasting music, no one could hear."
Bishop J. Dew Sheard is the featured vocalist on the "Press On" selection. Karen Clark Sheard is feature on the track "I Owe Your Praise." Dorinda Clark Cole is featured on "I'm In His Arms" and Twinkie Clark takes the lead on "I'm Delivered." The "GEI Live" project is produced by the Bishop's son J. Drew Sheard II who is the featured artist on the track "My God is Real" and The Clark Sisters are the featured vocalists on "Look to the Hills."
Log onto www.GEICOGIC.org for more information about the "GEI Live" (Karew Records) album release by Bishop J. Drew Sheard.
SYNDICATED COLUMN: Eunice Moseley, has an estimated weekly readership of over ¼ million with The Pulse of Entertainment. She is also a Public Relations Strategist and Business Management Consultant at Freelance Associates, and is Promotions Director (at-large) for The Baltimore Times. www.ThePulseofEntertainment.com. EVENT: Sat October 22, 2016 the "Uplifting Minds II" Free Entertainment Conference featuring panelist Entertainment Counsel Paul W. Gardner (www.TheGardnerLawGroup.com) and Celebrity Stylist Jeneanne Collins (Rebellious Beauty) and www.EURweb.com publisher Lee 'The Voice' Bailey arrives at the Celebrity Centre in Hollywood, CA. www.UpliftingMinds2.com.)