Grammy Nominated VaShawn Mitchell Found a Secret Place in South African with New Album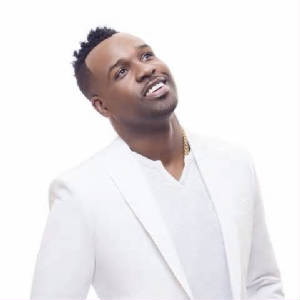 "I travel to South Africa...I realized it's become my secret place where I am not bothered by emails and cell phones...just you and God," said VaShawn Mitchell, a Grammy nominated Contemporary Gospel vocalist, songwriter and producer (Smokie Norful), about the location of the live recording of his latest album release "Secret Place: Live in South Africa" featuring Tasha Cobbs and Bebe Winans (November 4, 2016). "It was important not to just go and record, and not incorporate South African artists."
Born in Chicago November 19th VaShawn has been in the Gospel music business for almost 20 years, starting as a member of Youthful Praise which still backs him. His accomplishments are great which includes a street in his hometown named after him; two Grammy Award nominations; six Stellar Award wins, and two Dove Award nominations. This recent live recorded project, "Secret Place: Live in South Africa," is Mitchell's ninth album. The current single off of the project is titled "Joy."
"It came together over time," VaShawn said when asked if he had a concept for the album when it began. "We invited the South African artists. I personally reached out to the top artist...and he said yes! So it came together over time with South African's sound."

"Secret Place: Live in South Africa" was recorded near Johannesburg to a sold out crowd where VaShawn combined his American Contemporary Gospel sounds with the worship sounds of South
African artists. American guests on stage with Mitchell included Tasha Cobbs on "Jesus Reigns" and Bebe Winans on "Nobody Greater."

"It was epic to see the massive worship experience," VaShawn pointed out. "The energy will transfer to the Word and Spirit. It's worship from front to back."
VaShawn said that South Africa is Americanized. "South African is almost an Americanized country...technologically advanced," Mitchell stated when I asked. "I spent time in Johannesburg - everyone should visit!"
If you can not visit South African then listen to VaShawn Mitchell's "Secret Place: Live in South Africa." Log onto www.VaShawnMichell.com for more information about the artist who is noted as Billboard's "Gospel Artist of the Year" (2011) or about the "Secret Place: Live in South Africa" album release.
Baltimore Filmmaker Anthony Michael Hobbs Wins Again at GIBFF for Naga Pixie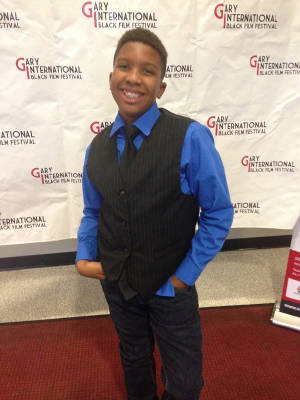 Anthony Michael Hobbs is only eleven years old and yet a seasoned actor with an Emmy nominated project to his credit (PBS's "The Abolitionists") and a four-time award winning record as a film director/producer (One Nation). Hobbs adds another filmmaking award for receiving the 2016 Gary International Black Film Festival "Best Youth Film Director" Award for his second short film Naga Pixie (Imagination Lunchbox) starring Anthony Michael Hobbs and Trinity Breanne Perio as Naga Pixie.

"I'm happy, very proud," said Hobbs about his fifth award as a filmmaker. "Also very sad I wasn't able to accept it."
Anthony Michael's mother Kerri Moseley-Hobbs drove him 13 hours from his hometown of Baltimore, Maryland to Gary, Indiana to attend the four day event where his short film Naga Pixie was screened twice. They had to leave before the awards ceremony to get him home in time for school.

"I guess it's thanks to my mom," Anthony Michael admitted when asked who he credits for his career as an actor, model, motivational speaker and film producer/director which started at the age of four. "Without my mom I wouldn't have been able to go...to travel...to meet the people."

The people Hobbs refers to are his adult supporters and fans. While on the road to the Gary International Black Film Festival the media was reaching out for him, he had a radio interview while in route. While at the film festival and while on the red carpet people and journalist were so excited to meet the young articulate professional. I was there to cover the screening because this outstanding artist is my youngest grand child. He was pulled here and there for interviews and conversations with people saying to him, "I heard you on the radio station and I just had to come meet you."

When I asked him which craft, acting or filmmaking, does he like to do the most he said, "They are equal. While filmmaking I act in the films that I make."

Before he started his filmmaking career at age 9, his acting credits included a role as young Frederick Douglas in the PBS documentary "The Abolitionist" which earned a 2013 Emmy nomination. PBS chose Anthony Michael Hobbs to represent them at the Emmy Awards ceremony that year. He was the voice that welcomed website visitors of TBWA World Wide, the largest advertising holding company in the world. The TBWA campaign was "our website is so easy to navigate through a child can show you." He starred in the DreamWorks documentary "How to Train Your Dragon: Dragons and Dinosaurs," he stars in numerous PBS Sprout Network mini-segments - "Claritin Kids Allergy Medicine," "Sunnyside Up Show," and "Good Night Show" and he stars in a national classroom program called KinderRhyme which appears in over 2600 school programs

Hobbs is also a stage actor appearing in two professional plays. As a model Hobbs has appeared in the USDA Healthy Kids national print campaign and the Finish Line Athletics chain print in-store campaign. As a speaker he has worked for author Daniel Shields at a dramatic book reading event, former NFL player Joel Gamble (Cleveland Browns) at his Foundation's Scholars Program and for Ocktober Film Festival for the Youth Award Presentations.

"I think its great," Anthony Michael said when I mentioned that kids came up to me saying their roles in his films or his films have encouraged them to be actors. "The more people in the business the better...I'm sure people are tired of seeing the same actors over and over."

In Anthony Michael's first short film One Nation (Imagination Lunchbox) he plays Steven who along with his friends decide to give back to servicemen returning home from the war. One Nation was screened at 10 national film festivals and he won at four of them - the Alhambra Theatre Film Festival's "Spirit Award"; the Montclair Film Festival's "Grand Prize for Kidz Shortz"; the Ocktober Film Festival's "Best Youth Filmmaker," and the Gary International Black Film Festival's "Best Youth Short." In his current film Naga Pixie Hobbs plays Jason who teams up with his friends again to figure out why Naga Pixie is always nagging them about things they think are trivial such as not hurting animals and respecting nature. Naga Pixie, which held a special red carpeted screening in his hometown of Baltimore in August, 2016 at the Firehouse Community Hall with Iron Man in attendance, will also be screened at the Sunrise Film Festival in Nova Scotia in Canada.

To kids like him looking to become filmmakers and actors the advice this young achiever gives is, "If your mom say sure then just do it. Just do it. If you are an adult just do it. Like Nike' say, 'Just do it.'"

Learn more about this extraordinary young man by logging onto www.Anthony-Michael.com or www.ImaginationLunchbox.com.
SYNDICATED COLUMN: Eunice Moseley, has an estimated weekly readership of over ¼ million with The Pulse of Entertainment. She is also a Public Relations Strategist and Business Management Consultant at Freelance Associates, and is Promotions Director (at-large) for The Baltimore Times. www.ThePulseofEntertainment.com. EVENT: The 18th annual "Uplifting Minds II" Free Entertainment Conference (Baltimore in April and Los Angeles in October, 2017). Offering an entertainment business panel and national talent showcase competition (vocal, songwriting and dance) with over $10,000 in prizes. www.UpliftingMinds2.com.