'The Bible Experience,' Celebrating 10 Years of Making the Bible Exciting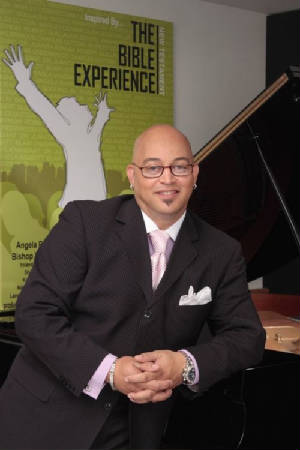 "I spent 20 years of my life in faith based entertainment...a friend...one of the executive producers...was shopping for Christmas and the only place open was Barns and Noble so he brought everyone an audio Bible and brought one for himself. He popped it in and popped it out saying it was so boring," explained Grammy, Dove and Stellar Award winning producer Louis "Buster" Brown about how the project to record an audio version of the Bible, titled "The Bible Experience," came to be a reality. Celebrating 10 years "The Bible Experience" consists of well over 200 high profile celebrities. "He is a film and television person...so him and myself came together to produce an audio Bible dramatization."
"The Bible Experience," a New International Version translation, is published by Zondervan and produced by Inspired by...Media Group. The audio Bible is executive produced by Brown (multi-media); Kyle Bowser (film and television); Robi Reed (Emmy winning casting director) and Inspired By Media Group founder Ron Belk (multi-media). "The Bible Experience" was also produced by Chip Hurd (producer/director), whose daughter is the talented Kim Fields. The audio Bible is 70 hours long covering Genesis to Revelations.
"A year later I realized it was a big job. My background gave me most of the responsibility," said Lou, whose uncle is the legendary Motown writer-producer Norman Whitfield. "Anytime you uplift God you get under attack. It's been ten years...challenges and rewards. Struggling is a part of the balance of life. When you have struggles you didn't invite...you still have to deal with it. I was not as prepare as I thought when we took this job. It was a huge calling."
The multi-million dollar project became the best selling audio Bible in the world and this year it is celebrating 10 years. Its cast consists of over 200 high-profile celebrities voicing the characters in the Bible.
"We don't realize...the greatest thing we can do is be servants," said Buster, who is a producer that has worked on such projects as Prince of Egypt and Mountain High, and with such artists as Kirk Franklin and the Family, Yolanda Adams and Michelle Williams.
Voices dramatically presented on "The Bible Experience" includes Blair Underwood as Jesus; Samuel Jackson as God (New Testament); Kirk Franklin as Simon Peter; Angela Bassett as Esther; Cuba Gooding, Jr. as Jonah; LL Cool J as Sampson; Eartha Kit as the Serpent; Bishop T.D. Jakes as Abraham; Pastor Shirley Caesar as Naomi; Bishop Eddie Long as Joel, and Tisha Campbell-Martin as Mary Madeline - to name a few. Also appearing in "The Bible Experience" are Denzel and Paula Washington, Judge Greg Mather, Common, McLyte, Anthony Hamilton, Angie Stone, Faith Evans and Queen Latifah.
"When we did the project the goal was to be a blessing. The first thing we did was build a house (after Katrina)," Lou Brown added. "We also gave 100,000 bottles of water to Flint."
This project was the first time Brown had to deal with someone else's interpretation of the Bible. They spent 10,000 hours bringing it to life.
"It was the intent, as a team, to bring out the interpretation God was leading us to bring out. The Black perspective of the Christian experience," he said sincerely. "The Word belongs to all of us...we brought our culture."
Lou said they debated on who would voice Jesus. They went through many people and decided to go with Blair Underwood. To learn more about 'The Bible Experience" log onto www.TheBibleExperience.us or www.Zondervan.com or www.InspiredBy.com.
SYNDICATED COLUMN: Eunice Moseley, has an estimated weekly readership of over ¼ million with The Pulse of Entertainment. She is also a Public Relations Strategist and Business Management Consultant at Freelance Associates, and is Promotions Director (at-large) for The Baltimore Times. www.ThePulseofEntertainment.com. EVENT: The 18th annual "Uplifting Minds II" Free Entertainment Conference (Baltimore in April and Los Angeles in October, 2017). Offering an entertainment business panel and national talent showcase competition (vocal, songwriting and dance) with over $10,000 in prizes. www.UpliftingMinds2.com.