Life's Better When You 'Sing,' the Universal Picture's Animation 'Sing' Arrives In Theatres December 21, 2016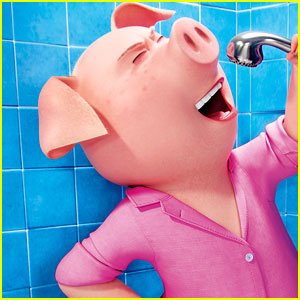 The Universal Picture's new animated presentation shows that life is better when you "Sing." "Sing" is a 3D computer-animation musical of animal characters all with aspirations of singing for people. "Sing" arrives in theatres December 21, 2016 and stars the voice of Matthew McConaughey as Buster Moon a very optimistic koala bear whose theatre is loosing its audience. He gets the bright idea to hold a talent contest with the winner getting every dollar he has left which is almost $1,000. His elderly assistant mistakenly makes the prize $100,000 so not only is everyone in the city who thinks they can sing at his door to audition so are thieves and criminals out to take the winnings. What happens through it all will make you leave the theatre believing that life's much better when you 'sing.'
The story line rings so close to my own life because I have a community event "Uplifting Minds II" (ULMII) that is a talent show which in its heyday, when my partner was a high-profile entertainment person, attendees filled an entire mall. It too lost its audience after the partnership ended to competition. Like Buster however I am an optimistic person and so ULMII continues after 17 years with its over $10,000 worth of prizes and barely an audience. In "Sing" its qualifying talent also touches on my own event which includes the voices of Reese Witherspoon as Rosita the domestic house-wife pig with a Pop voice and nice dance moves on stage and in the supermarket aisles (need I have to say I love roses, love to eat, snoot when I laugh and can sing on stage, and though my kids and grandkids hate it I am known to sing and dance in the aisles of the supermarkets); Seth MacFarlane as Mike the Frank Sinatra sounding arrogant mice that lost big at the card table so he has gangsters chasing him (my late husband called Mike lost big gambling once); Scarlett Johansson as Ash the Punk-Rock-Star porcupine (inside joke for 'ash' reference, but I love all genres of music Punk-Rock included); Tori Kelly as Meena a shy Indian Elephant with a powerful voice suffering from stage fright (I have Cherokee in my blood, lost 70 pounds so I guess you can say I was elephant size, one of my ULMII talent show multi-winners is named Neenah and two of my friends in elementary school left me on stage once due to stage-fright); Taron Egerton as Johnny the mountain gorilla with piano skills and a superb R&B voice whose father is a thief, and Nick Kroll as Gunther a flamboyant domestic pig with a German accent selected by Buster to be Rosita's dance partner.
Directed by Garth Jennings and Christophe Lourdelet, "Sing" also includes the voices of John C. Reilly as Eddie Noodelman a Suffolk sheep and Buster's doubting partner in the theatre business; Nick Offerman as Norman a domestic pig that is Rosita's devoted workaholic husband; Garth Jennings, also the screen writer, as Miss Crawley a green iguana who is the elderly assistant of Buster with a glass eye she keeps loosing; Jennifer Saunders as Miss Nana Noodelman a wealthy former singer and grandmother of Eddie, Buster's partner, who the two are seeking funding from; Grammy Award winning Jennifer Hudson as a young NaNa Noodleman; Rhea Perlman as Judith a brown llama from the bank looking to repossess his theatre if he doesn't pay what is owed; Peter Serafinowicz as Big Daddy a mountain gorilla and father of Johnny; Beck Bennett as Lance Ash's ex-boyfriend who picked another singing partner when she entered the competition alone; Leslie Jones as Meena's supportive mom, and Jay Pharoah as Meena's encouraging grandfather.
"Sing" consists of 85 classic hit songs and an original song by Stevie Wonder and Ariana Grande titled "Faith." The vocals throughout the film are of high quality and will be totally enjoyed by all. The "Sing" soundtrack offers 16 selections. Those who sung their own songs in the film and on the soundtrack include Taron Egerton ("I'm Still Standing," "The Way I Feel Inside"), Seth MacFarlane ("I Did It My Way," "Let's Face the Music and Dance"), Scarlett Johansson and Beck Bennett ("I Don't Wanna"), Scarlett ("Set It All Free"), Reese Witherspoon and Nick Kroll ("Shake It Off," "Venus"), Tori Kelly ("Don't You Worry About a Thing," "Hallelujah") and Jennifer Hudson ("Golden Slumbers," "Carry That Weight"). Produced by Chris Meledandri and Janet Healy with a budget of $75 million "Sing" is an Illumination Entertainment production that arrives in theatre December 21st. Log onto www.SingMovie.com for the trailer or more information.
SYNDICATED COLUMN: Eunice Moseley, has an estimated weekly readership of over ¼ million with The Pulse of Entertainment. She is also a Public Relations Strategist and Business Management Consultant at Freelance Associates, and is Promotions Director (at-large) for The Baltimore Times. www.ThePulseofEntertainment.com. EVENT: The 18th annual "Uplifting Minds II" Free Entertainment Conference (Baltimore in April and Los Angeles in October, 2017). Offering an entertainment business panel and national talent showcase competition (vocal, songwriting and dance) with over $10,000 in prizes. www.UpliftingMinds2.com.