Grammy Nominated Will Downing Brings the Classics to Rams Head on Stage January 29, 2017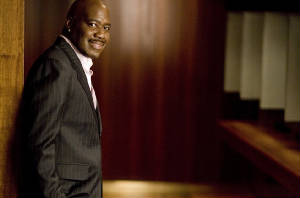 "The classics... if I don't someone is getting hurt," laughed Grammy nominated Will Downing about the roster for his performance Sunday, January 29, 2017 at Rams Head on Stage in Annapolis. Maryland at 8 p.m. "It will be a collection of everything. There is going to be a problem if we don't do the classics, so we make sure we do the classics and we also do the current."
Will Downing's latest projects include "Black Pearls" (2016) an album of cover songs of legendary black female singers/songwriters and "Chocolate Drop" (2015) both off of the Shanachie Entertainment imprint. The latest project "Black Pearls" features assistance from Kirk Whalum on flute, Dwayne "Smitty" Smith on bass, and Mike Logan and Chris "Big Dog" Davis on keyboards. Songs covered include Angela Winbush's "Your Smile;" Brenda Russell's "Get Here;" Deniece Williams' "Black Butterfly;" Cherrelle's "Everything I Miss at Home," and Rufus and Chaka Khan's "Ever Lasting Love." Downing's classic hits consist of "All the Man You Need" featuring Chante' Moore, "A Love Supreme," "Nothing Has Ever Felt Like This" featuring Rachelle Ferrell and "Pleasures of the Night" featuring Gerald Albright.
"I am selective in booking...but its enough to keep me satisfied, paying my bills and keeping the audience happen," Will said when I asked about what seems to be constant tour dates. When I asked if he would rather have a residency he said, "I would like that...but I still enjoy doing what I do."
Will Downing started in the music business as a backup singer for Jennifer Holiday, Kool and the Gang, Billy Ocean and Regina Bell. In 1989 he signed a two record deal with Island Records. By his fourth album he was signed to Broadway Records where his single, a Coltrane cover, "A Love Supreme" reached #4 on Billboard's Hot Club Songs. He launched a radio show "The Wind Down" where his fans can listen to his deep sultry voice and his play list of songs.
"The audience dictates the show," he said when I asked about the difference in audiences and performances in small venues verses larger ones. "You get immediately feed back when you are up close and personal."
Rams Head on Stage is an up close and person type venue that was established in Annapolis, Maryland in 1997. Its parent company Rams Head Group was established in 1989 and offers food, fun and a bar. It also owns several other venues - Pier Six Pavilion in Baltimore; Rams Head Tavern in Savage Mills, Maryland; Rams Head Glen Burnie, Maryland; Rams Head Arundel Mills, Maryland; Rams Head Live in Baltimore (2004); Rams Head Road House, and Rams Head Shore House.
Will Downing's touring will take him to The Birchmere in Alexandria, VA on February 11th and 12th; Scottish Cathedral in West Reading, PA on April 17th; BB King Blues Club and Grill in New York, NY on April 21st, and Governor Amphitheater in Las Vegas on April 29th. You can log onto www.WillDowning.com or www.RamsHeadonStage.com for more information.
SYNDICATED COLUMN: Eunice Moseley, has an estimated weekly readership of over ¼ million with The Pulse of Entertainment. She is also a Public Relations Strategist and Business Management Consultant at Freelance Associates, and is Promotions Director (at-large) for The Baltimore Times. www.ThePulseofEntertainment.com. EVENT: 18th annual "Uplifting Minds II" Entertainment Conference (Baltimore Sat. April 22, 2017 and Los Angeles in October, 2017). This is a free event that offers an Entertainment Business panel and national talent showcase competition (vocal, songwriting, acting and dance) with over $13,000 in prizes. www.UpliftingMinds2.com.