Arian Simone Follows Opportunity to a Fearless Franchise, Launches 'Fearless Podcast'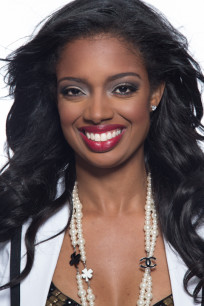 "Sometimes it's not the thing...but the thing that leads to the thing," said Arian Simone about her career choices thus far. "It was not my intention to build a brand and inspire...I have a fearless attitude."
Fearless indeed is how you should describe this lady. Straight out of college (Florida A&M University) as a Business graduate she relocated to Los Angeles for a job opportunity. Once she arrived the job was not the stable job she thought it would be. Instead of going back home to Detroit the fearless college graduate decided to stay. Life was hard to the point she was living out of her car, then one day she was asked to work on a public relations assignment - the BET Awards. Through connections made there and referrals she ended up with over five projects in a two week span.
"I do believe in walking into opportunity's door...when they called I was down," Simone said. "But (opportunity) it has to align with my goals and values."
Arian's parents where business owners and it is clear to me that the job she came to California to start was not meant to be. She was meant to be her own business. Those assignments afforded her the chance to open an office where she secretly lived for a while. It was in the same building where the "Steve Harvey Morning Show" airs. This allowed her more opportunities to solicit and she became a "celebrity publicist" working on projects for such clients as Sony Pictures - Stomp the Yard, Takers, Limitless and Sparkle.
"By default I started building a brand," Simone pointed out about her "Fearless" ventures. "In only extreme hardships do you step out of the comfort of employment...I was hired and fired in 30 days. I thought it was a stable job with purpose."
Simone started her Fearless brand by first publishing a "Fearless" book to inspire and motivate. Recently she has launched the "Fearless Discussion Podcast with Arian Simone" airing Wednesdays at 7 p.m./ET and her "Arian Simone Fearless TV" airing Mondays at 10 a.m./ET on the Youtube channel.
"It's a show that will inspire," she said about her talk show. "It wasn't my intention what so ever. Video is the most embraced vehicle reference to technology and social media. People like to see."
Arian explained that she is, "meeting the needs of the audience."
"I'm a servant and I serve the people. Find out what the needs are and meet the needs," she advised to those looking to start their own businesses. "I continue the message in productions, events and classes."
To learn more about Arian Simone and her "Fearless" movement you can log onto www.ArianSimone.com.
SYNDICATED COLUMN: Eunice Moseley, has an estimated weekly readership of over ¼ million with The Pulse of Entertainment. She is also a Public Relations Strategist and Business Management Consultant at Freelance Associates, and is Promotions Director (at-large) for The Baltimore Times. www.ThePulseofEntertainment.com. EVENT: 18th annual "Uplifting Minds II" Entertainment Conference (Baltimore Sat. April 22, 2017 and Los Angeles in October, 2017). This is a free event that offers an Entertainment Business panel and national talent showcase competition (vocal, songwriting, acting and dance) with over $13,000 in prizes. www.UpliftingMinds2.com.