SAG Awards Brings the Best and the NAACP Image Awards Christens Nominees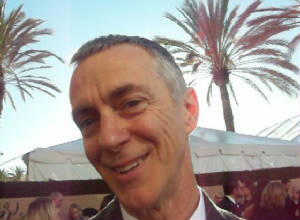 I call it awarding art season when an ocean of organizations honor the arts. Recently the SAG Awards brought out the best of the best in television and film actors when they aired live on TNT and TBS, while the NAACP Image Awards christened their nominees with a luncheon hosted by RonReaco Lee and Erica Ash of the nominated "Survivors Remorse" series. I'm sure the SAG Awards are re-airing so check the networks' schedule for times and the winners of the NAACP Image Awards will be announced Saturday, February 11, 2017.
The SAG Awards is presented by the SAG-AFTRA membership only organization of over 160,000 professionals. They took over the Shrine Auditorium and transformed it into an oasis of elegance to rightfully honor some of its members for their outstanding performances.
"We are all so honored to work with each other. The diverse stories reflect the world," said Lori Petty to me back stage after "Orange is the New Black" won for "Outstanding Ensemble in a Comedy Series."
"All the elements in the project that coalescent, the amazing producers and Netflix letting them do their thing," said Mark Steger (pictured above) about what he felt was the reason for the honor given to "Stranger Things," which won for "Outstanding Ensemble in a Drama Series."
Nominated in the same category was "Westworld." When I asked cast member Shannon Woodward what she felt was the reason for the nomination this year from SAG-AFTRA organization for their prestigious SAG Awards she said, "I think the show is one of the smartest shows on television. I think the people respond to that. I think it's exciting."
Other winners that night included Denzel Washington for "Outstanding Make Actor in a Leading Role" in Fences; Emma Stone for "Outstanding Female Actor in a Leading Role" in La La Land; the cast of Hidden Figures for "Outstanding Cast in a Motion Picture"; William H. Macy for "Outstanding Male Actor in a Comedy Series" in "Shameless," and Julia Louis-Dreyfus for "Outstanding Female Actor in a Comedy Series" in "Veep" - to name a few.
The 48th NAACP Image Awards winners will be announced in another red carpeted event February 11th where the nominees honored at the recently luncheon held at the famous Loews Hollywood Hotel will learn if they are winners.
"We thank the NAACP, we thank black radio, we thank black media because we can make all the music we want but if you guys don't put it out there nobody would know," said Gary Hines, director of Sounds of Blackness nominated in two categories "Outstanding Group" and "Outstanding Contemporary Song" for single "Royalty."
Such a wide range of talent was nominated from the seasoned veterans like Loretta Devine who was nominated in two categories as well "Outstanding Character Voice-Over" in Disney Junior's "DOC McStuffin" and "Outstanding Comedy Series" as a cast member in "The Carmichael Show" to the up-and-coming actors such as Emyyri Crutchfield for "Outstanding Performance by a Youth" for her role in "Roots."
When I asked Emyyri about challenges the role gave her she said, "I had a lot of bad scenes...having a baby and getting raped. I've never been through that so I had to really dig deep and do a lot of research. I read on rape victims' stories how they felt and I asked people about giving birth."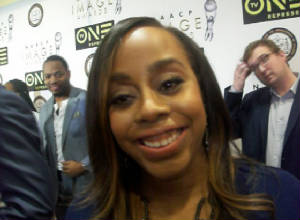 Nominated Directors Anthony Hemingway of "Underground" and Debbie Riley-Draper (pictured) of "American Prejudice" were on hand to give me the challenges they faced with their projects. Hemingway saying it was the, "Historical nature of it. It is a story that is to be taught in its complexity and depth - that's what we look to do on 'Underground'."
"Trying to unearth footage and photographs of African-Americans from 80 years ago...correct birthdays... It took four years to do the research...When you loose the stories, you loose the people, when you loose the people you loose the culture."
Other nominees there I had a chance to briefly talk to included Rutina Wesley nominated for "Outstanding Actress in a Drama Series" in "Queen Sugar" (OWN); Director Carl Seaton nominated for "Outstanding Director in a Motion Picture" in Bad Dad Rehab (TV One); RonReaco Lee a cast member in "Survivors' Remorse" nominated for "Outstanding Comedy Series;" Lonnie Chavis nominated for "Outstanding Performance by a Youth" in "This Is Us" (NBC); Nikkolas Smith nominated for "Outstanding Literary Children's Book" for his "The Golden Girls"; Vince Webber Jr., nephew of Miles Davis, there for the nomination of Don Cheadle who stars in the "Miles Ahead" project for "Outstanding Actor in a Motion Picture"; Catfish Jean as a cast member of "Survivors' Remorse" (STARZ) nominated for "Outstanding Comedy Series," and the Chairman of the National Board of Directors of the NAACP Roslyn M. Brocks - she told me what she would say to President Trump as his Advisor.
The 48th NAACP Image Awards will be broadcasted live on TV One Saturday, February 11th at 9 p.m./8c as a two-hour special hosted by Anthony Anderson with a 90 minute pre-show red carpet arrival aired live as well. You may catch a re-airing of the 2017 SAG Awards on TNT or TBS. The SAG-AFTRA organization is a member of AFL-CIO and its members not only include actors but DJs, broadcast announcers and journalists, dancers, news writers, news editors, program hosts, puppeteers, recording artists, singers, stunt performers and voice-over actors.
SYNDICATED COLUMN: Eunice Moseley, has an estimated weekly readership of over ¼ million with The Pulse of Entertainment. She is also a Public Relations Strategist and Business Management Consultant at Freelance Associates, and is Promotions Director (at-large) for The Baltimore Times. www.ThePulseofEntertainment.com. EVENT: 18th annual "Uplifting Minds II" Entertainment Conference (Baltimore Sat. April 22, 2017 and Los Angeles in October, 2017). This is a free event that offers an Entertainment Business panel and national talent showcase competition (vocal, songwriting, acting and dance) with over $13,000 in prizes. www.UpliftingMinds2.com.