By
Eunice Moseley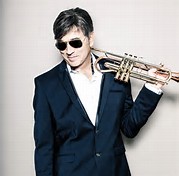 "It's a very physical instrument," said Rick Braun about being a trumpet player. "It's similar to singing you only have a certain number of notes, unlike the sax and piano."
If that is the case then Rick Braun gives a wonderfully exhausting performance on his newest album release "Around the Horn" (Shanachie). Wonderful because you can tell he absolutely loves what he does when you hear the album, which features the vocals of Lindsey Webster and John Stoddart, Peter White on guitar and Tilt Bronner on a muted trumpet.

"It was a challenge," Rick said of recording the new album. "I wanted to set it apart...draw on contemporary music instead of reaching back to the 70's vintage, I wanted to stay with contemporary."

The title "Around the Horn" is a play on words Rich said. One meaning is to push the envelope on playing his horn by exploring the trumpet deeper and the other is to be diverse. In being diverse he offers listeners sounds from the Mediterranean, Urban cities such as New York, South Beach, Jamaica and the Caribbean.

"It's a musical journey," he said about recording this album.

Also assisting on the project are keyboardist John Stoddart who co-produced six songs; Third Richardson on drums; Gerey Johnson on guitar; Ron Reinhardt on keyboards and bass, and Kenny Wild on acoustic bass. This is Rick Braun's 17th solo project. He is known to back and collaborate with some of the best in Jazz music such as Kirk Whalum, Norman Brown, Dave Koz, Boney James and Brian Culbertson.

"John and I had worked together back on Warner Brothers Jazz," Rick said about John Stoddart. "He has been a keyboard player with BWB. He is such a talented vocalist and piano player. I asked him (to help on the album) and he said yes!"

BWB is a trio Braun is a member of with living legends Kirk Whalum on sax and Norman Brown on guitar. The trio BWB has released three albums. Braun attended the Eastman School of Music and co-founded the label ARTizen Music with sax man Richard Elliott. ARTizen is now known as Artistry Music distributed by Mack Avenue Records. Even though the Pennsylvania native is a self taught piano player, he is a trumpeter. In his early years he toured with Natalie Cole, Tom Petty and Rod Stewart.
The "Around the Horn" project includes three covers and eight originals. My favorite selections on the album include #1 "So Strong" because it sounds like the essence of what Jazz is all about; #2 "Pool Dancer" because it has a Funk and B-Bop feel which is laced with the electric sound of Gerey Johnson's guitar and I also love the way Rick flips that horn at the end; #3 "Take My Love" because of the perfect combination of the beautiful vocals of Lindsey Webster and Rick's horn; #4, a cover of Charlie Puth and Selena Gomez's "We Don't Talk Anymore," because Rick Braun's Jazz twist is perfection; #6, a cover of Alicia Key's "In Common," because his Jazz version brings a futuristic feel to it which makes it unique; #9 "Vila Vita," featuring Peter White on guitar, because the cross-breed combination of the B-Bop and Jazz into a Latin musical delivery gives it a unique sound and I love the ending; #10, a cover of Coldplay's "Yellow," because I love the use of what sounds like water at the end, and #11 "One South Beach Night" because it is simply outstanding. I have always believed that Rick Braun is a Jazz icon because his trumpet playing is like no other with skills so awesome he makes the instrument seem alive. Learn more about "Around the Horn" and Rick Braun by logging onto his website at
www.RickBraun.com
.