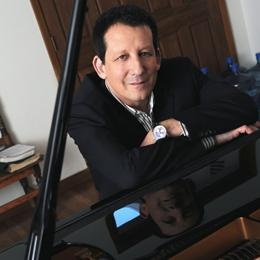 "When you are getting ready to build you build a bunch of prototypes...to the final prototype...a new thing. I though it was a cool name," said Grammy Award nominated Jazz Pianist Jeff Lorber about the title of his latest album release "Prototype" (Shanachie)/

Lorber offers a new thing with "Prototype" by fusing together Jazz with Soul, Funk, Pop R&B and Gospel. "Prototype" features assistance from guitarist Chuck Loeb and Paul Jackson, Jr. and saxophonist Dave Mann. What a mixture!

"This is where music is going," Jeff said. "Funky Jazz...cool grooves, bluesy."
Just having Paul Jackson, Jr. and Chuck Loeb on the album indicates what type of tone Lorber is trying to set with the "Prototype" album release. Jackson, Jr. is a Grammy Award winning lead guitarist that has back the whose-who in the music industry on stage and in the studio such as Whitney Houston, Dru Hill, Elton John and Michael Jackson. Loeb is a two-time Grammy Award winner whose music is featured on the soundtracks of such films as Untouchables and Hitch.

"I've had a posse of musicians - Paul Jackson, Jr., David Mann, Michael Thompson -he is not well known but he is a top session player. He does a guitar solo on the second (track) that's great. Jimmy has been with me playing base and co-producing...my sounding board," said Jeff Lorber about the featured musicians on "Prototype."

Aside from Jackson, Jr., Loeb and Mann "Prototype" also has bassist Jimmy Haslip; drummer Gary Novak; saxophonist Andy Snitzer; guitarist Larry Koonse; bassist Nathan East, and guitarist Michael Thompson. Lorber has featured the known and unknown musicians and is credited for introducing the world to the skills of Kenny G, who use to play in his band.
"I first was going to name it mutation, but it's like a new car...like a prototype. 'Hyper Drive' is first on the album and there's 'Test Drive," Lorber explained.

On "Test Drive" Jeff also plays guitar. While a student at Berklee College of Music he developed his still of Jazz he calls Jeff Lorber Fusion, another name for his band, because it is fused with Funk where as early fusion musicians are more R&B/Pop fused. Jeff Lorber Fusion released their first album in 1977 and their 1980 album released introduced Kenny G. He released a solo project in 1982 and garnered his first Grammy award nomination with his 1986 release "Step by Step." He has also produced projects for Gerald Albright, Richard Elliot and Rick Braun. His 2007 release "He Had a Hat" received a second Grammy Award nominated for the visionary Jazz Pianist. He was on a roll because his 2010 solo release "Now is the Time" also received a Grammy Award nomination, along with his 2012 "Galaxy" and 2013 "Hacienda" bringing his total Grammy nominations to five.

"One of the songs called 'Park West' is named after a club we se to play in the 80s," Jeff informed me. "I deal with a lot of details; Jimmy sees the big picture...looks from a distance. That's important, you want to overall have a whole approach thing fit where we position."