"Don't be desperate," the ASCAP "I Create Music" Expo panelist said as I walked it the door to cover its three day music industry extravaganza of panel sessions and exhibits of all kinds there to help visitors reach that next level in the music business. This particular panel was the "Creative Artist Funding" session.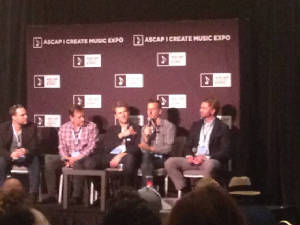 ASCAP, the American Society of Composers, Authors and Publishers, is a membership organization of over 600,000 songwriters, composers and music publishers with a mission to license, promote, collect public performance compensations and royalties for its members. ASCAP represents over 10 million copyright works. It is the largest worldwide leader in performance royalties' representative and the only American performance rights organization that is owned and governed by its members.

Other powerful sessions included "We Create Music" with James Fauntleroy (20/20 Experience") on the panel; "Behind the Beat" with producers/songwriter Brian Kennedy ("Forever"); "Where Credit is Due" with producer/songwriter Desmond Child ("I Was Made For Lovin' You"); "The Writers' Jam" with Sevyn Streeter ("Fine China"), and the "R&B/Hip-Hop Feedback" with producer/songwriter Vincent Berry ("Lemonade").

"Melody is the most important part of the song. The hook sounds different than the verse," said Berry as I walk into the "R&B/Hip-Hop Feedback" session. He was giving good information so fast and direct that it made me pull my note pad out cause I could tell from experience he was going to be on point with what he was saying. "Creating journeys of the moments are important."

The 12th annual ASCAP "I Create Music" Expo ended with a "Keynote Interview" with living legend Stevie Wonder who at 12 years old was at the top of the music charts. Today Stevie has received 25 Grammy Awards and sold more than 100 million records worldwide. Oscar winning ASCAP President Paul Williams presented Stevie Wonder with the ASCAP "Key of Life Award" for his incredible musical legacy.

Last year the ASCAP "I Create Music Expo" attracted over 3,000 people and from what I saw this year at the Loews Hollywood Hotel in Los Angeles it did not fall short of that number. Some of the exhibitors included CDBaby.com, BerkleeOnline.com. Billboard.com, The Recording Academy GrammyPRO.com, CasioMusicGear.com and MusicRegistry.com. Learn more about ASCAP at www.ASCAP.com.