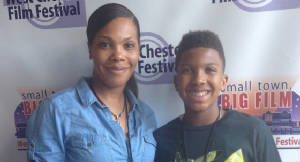 "I have good friends that support me," said Anthony Michael Hobbs, co-founder and co-executive producer at Imagination Lunchbox, LLC a film production company in Maryland that is a small ripple making big waves.

"I have an anti-social personality so if people come to me (with ill intentions) it's not working because my personality won't allow it," explained Kerri Hobbs, mother of the 12 year old filmmaker, when asked about how she handles the entertainment industry sharks that try to hinder or benefit from her and her son's hard work.

Kerri is also co-founder and co-executive producer at the company that she formed for her award winning son. Anthony Michael Hobbs, as a successful child actor and model, wanted to produce his own films that he could star in. His most notable role as an actor is as a young Frederick Douglas in the Emmy nominated PBS special "The Abolitionist." He represented PBS at the 2013 Emmy Awards and he has also starred in DreamWorks "How to Train Your Dragon: Dragons and Dinosaurs." As a model he has appeared in national marketing campaigns for such major companies as Finish Line Athletics and Toys-R-Us.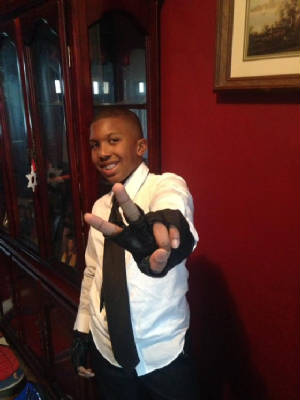 Imagination Lunchbox, LLC was named after Anthony's dog and it has already produced three short films for him - One Nation, Naga Pixie and Agent Hollywood. Collectively the films have screened at over 15 international film festivals and have won a total of 6 awards. Recently the production company held its first annual Imagination Lunchbox International Children's Film Festival (ILICFF)) where 15 films from Spain, Thailand, New Zealand, Japan, and the U.S. were screened. The films were made by kids, made for kids or either has kids in starring roles. He also had a premiere screening of his company's 3rd short film Agent Hollywood. Five awards were handed out that day. Aside from the three categories previously mentioned the film festival also presented "Film Festival Choice" and "Most Uplifting Film" Awards. The most uplifting film award was sponsored by the "Uplifting Minds II" entertainment conference celebrating 18 years. ILICFF also offered a panel discussion where the audience had plenty of serious questions. The festival also provided the audience with popcorn, fried chicken wings and drinks! The event was developed by his company's Los Angeles based public relations firm Freelance Associates as a community service event because Hobbs wanted to inspire young kids to accomplish their dreams too.

When asked if he inspired kids at his film festival he said, "I think I did. We had a lot of submissions and half the audience that came were children."

Kerri Hobbs added, "A young filmmaker there looked like she had a good time she came up to Anthony and said he inspired her." The filmmaker she mentioned, Jillian Lebling, won "Best Film By Kids" for her short "SleepTalker."

Imagination Lunchbox, LLC is currently in the production stages of a documentary film made in association with the Smithfield Foundation in Virginia. Kerri sits on the foundation's board and their film production company was hired to produce several projects. This current project is about the interactions between the Preston family, owners of the Smithfield plantation, and one of their enslaved families - the Fractions of which the Hobbs are descendents.

When asked about who makes the final decisions in a company that belongs to a 12 year old Anthony Michael Hobbs said, "If something happens it's my decision. She tells me if it's good or bad...if she says something is bad, but I say it's good we do it."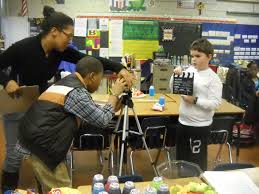 "You have to support them," Kerri said about letting him lead the way. "Parents ask me how do you make him...and I say I am not making him...he is leading. We talk about it...the only time I do not let him have his way is if it's detrimental to him. I don't let that happen."

Anthony Michael's circle of friends is in all of his movies, though very few want to be actors or filmmakers.

"They only do it for me," Hobbs admitted. "Stace is getting more into acting. My friends Josh and Robert they want to get into the NBA."

Hobbs is also an award winning athlete. He was recently chosen out of hundreds of kids trying-out to be on the Maryland AAU team called the Ravens. AAU was formed in 1888 and is the Amateur Athletic Union where most national championships in the U.S. take place. AAU represents the US in international sports federation games and they work closely with the US Olympic Committee to prepare athletes for the Olympic Games.