The Pulse of Entertainment: Johnny Depp Owns Role of Jack Sparrow Again, in Pirates of the Caribbean 5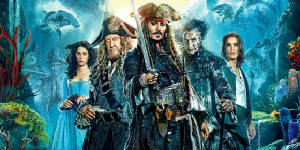 I must admit this is my first time seeing the Pirates of the Caribbean installments and what fun it was thanks to Johnny Depp's superb comedic timing. The Walt Disney Studios Motion Picture presentation of Pirates of the Caribbean: Dead Men Tell No Tales, the 5th installment of the movie franchise, has three-time Academy Award nominated Johnny Depp owning the role of Captain Jack Sparrow again making the film bigger than life. I can see why Depp has been asked to return to this leading role time and time again. He was also involved in the writing process announcing to the public that Pirates 5 will be the last.

Pirates 5 has Captain Jack Sparrow down on his luck but there are those that still need and believe in him - to steal the Trident of Poseidon. The Trident of Poseidon is an artifact that will allow the owner the ability to control the seas. Depp wants to control the seas in order to free his ship the Black Pearl. Pirates of the Caribbean 5 will be in Digital 3D, Real D 3D and IMAX 3D theatres May 26, 2017.

A young thief, Henry Turner played by Brenton Thwaites, frees Depp from the guillotine so Sparrow can undertake the journey with him to find the Trident of Poseidon. His motives however is to see his father Will Turner (Orlando Bloom) again. Turner is a black Smith and is Captain of the Flying Dutchmen lost at sea. To make the journey the two are in need of a map, that no "man" cam read, that is in the possession of Carina Smyth (Kaya Scodelario) an astronomer about to be put to death for witchcraft. Turner rescues her and Sparrow. Carina reluctantly joins them only because they map leads the orphaned girl to who her father is. Who her father turns out to be, the adventures involved in their quest and the mind blowing special effects makes this Joachim Ronning and Espen Sandberg directed fantasy film a winner.
Pirates 5 is a Walt Disney Pictures, Jerry Bruckheimer Film production Rated PG-13. The Bruckheimer produced project also stars Geoffrey Rush as Captain Hector Barbossa a pirate and former Captain of the Black Pearl; Javier Bardem as Spanish Captain Armando Salazar traveling the seas killing all pirates in his path - even after death; Stephen Graham, Golshifteh Farahani, David Wenham, Jessica Green, Goran D. Kleut, Kevin McNally, Martin Klebba. Keira Knightly, Paul McCartney, and Anthony De La Torre plays a younger Jack Sparrow. The script was written by Jeff Nathanson.
SYNDICATED COLUMN: Eunice Moseley, has an estimated weekly readership of over ¼ million with The Pulse of Entertainment. She is also a Public Relations Strategist and Business Management Consultant at Freelance Associates, and is Promotions Director (at-large) for The Baltimore Times. www.ThePulseofEntertainment.com. EVENT: 18th annual "Uplifting Minds II" Free Entertainment Conference (Baltimore and Los Angeles in October, 2017). Entertainment Business panel and national talent showcase competition (vocal, songwriting and dance) with over $13,000 in prizes. www.UpliftingMinds2.com.