The Pulse of Entertainment: Travis Greene Testifies About God's Patience on 'You Waited' Single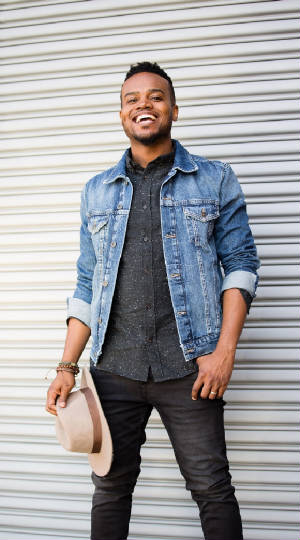 "I gave God my faith. People would say it's the favor of God," said seven-time Stellar winning Travis Green about his mind-blowing music career and the meaning behind his single "You Waited" from his new live album "Crossover: Live from Music City." "He has allowed me to do what I'm doing. What would I be if He left me? God is rich in patience. God revealed his patience to me."
A musician, as well as a songwriter, my favorite Travis Greene selection is "Living Water" because it simplifies what God does for us every single second of the day. The recent Billboard Award winner started his career while in college in 2007. He released his first album "Stretching Out" (Pendulum) in 2010 and "The Hill" (RCA Inspirational) in 2015, which reached #1 on Billboard. He has produced two #1 singles "Intentional" (2015) and "Made a Way" in 2016.
"Crossover: Live from Music City" will be his third commercial album release and yet, aside from seven Stellar Awards and the one Billboard Award, Travis has already garnered 13 Stellar nominations, three Billboard nominations and two Grammy Award nominations. The "You Waited" music video is taken from the "Crossover: Live in Music City" recording event, which was a sold-out concert in Nashville.
Greene, now Pastor of Forward City Church in Columbia, SC, is currently performing nationally and internationally. He has a show in Trinidad and Tobago on June 15, 2017, in West Nigeria on June 21st and at the Mega Fest in Dallas, TX June 30 - July 1st.
"I started pasturing just in August, it's only been 9 months," he kind of giggled when I questioned him about his career as a Pastor.
Learn more about Travis as I did by logging onto his website at www.TravisGreene.tv.
SYNDICATED COLUMN: Eunice Moseley, has an estimated weekly readership of over ¼ million with The Pulse of Entertainment. She is also a Public Relations Strategist and Business Management Consultant at Freelance Associates, and is Promotions Director (at-large) for The Baltimore Times. www.ThePulseofEntertainment.com. EVENT: 18th annual "Uplifting Minds II" Free Entertainment Conference (Baltimore and Los Angeles in October, 2017). Entertainment Business panel and national talent showcase competition (vocal, songwriting and dance) with over $13,000 in prizes. www.UpliftingMinds2.com.