The Pulse of Entertainment: OSCIA's 'Celestial Awards of Excellence' Honors Positive Influencers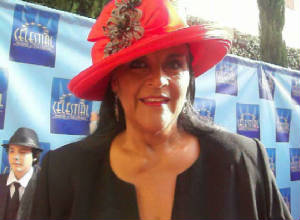 Established in 2010 by Oscar Hernandez and presented by his company OSCIA Production the "Celestial Awards of Excellence" honors those with outstanding accomplishments of excellence that have contributed positively to our society. Recently the 2017 "Celestial Awards of Excellence" was held at the Alex Theatre in Los Angeles hosted by actor Oba Babatunde. Awards ranged from entertainment, medical, education, community service and other areas of expertise.
When I asked Emmy Award winning model/actress/sports broadcaster Jayne Kennedy ("The NFL Today," "Greatest Sports Legends") what excellence meant to her she said, "When you find something you are passionate about and you do not let anything get in the way...you never stop."
Young actor Hunter Payton (CBS' "Criminal Minds") said excellence to him meant, "Doing the best you personally can do. For me it's how far you can push yourself to do things and how far you are willing to go for a certain thing because excellence is an arbitrary word that many people have many definitions of."
Those honored included Academy Award winner Louis Gossett, Jr. (Roots) with the "Lifetime Achievement Award;" Founder of "The Medgar & Myrlie Evers Institute" Myrlie Evers-Williams with the "Civil Rights Icon Award"; actor Art Evans with the "Mentor for Success Award"; Dr. Williams Charles Akins (Akins High School) with the "Education Award"; Founder of the "Music & Fine Arts Foundation" Conrad O. Johnson with the "Fine Arts Award"; actress Marla Gibbs ("The Jeffersons") with the "Visionary Award;" former U.N. Ambassador Andrew Young with the "Civil Rights Icon Award;" Olympic Gold Medalists Edwin Moses with the "Sportsman Trailblazer Award;" Founder of the World Chamber of Commerce Solange Warner with the "International Business Award;" Founder of American Soldier Network Annie Nelson with the "Helping Hands Award;" Olympic Gold Medalist Bob Beamon with the "Pride Award;" President of Tubman Truth Corporation Anita DeFrantz with the "Angel Award." Entertainment was provided by Howard Hewitt, Kim Whitley, Eloise Laws, Shanice Knowles and Glynn Turman.
The "Celestial Awards of Excellence" benefits the Bahati Foundation of seven-time U.S. National Champion cyclist Rahsaan Bahati formed to positively impact inner city youth through cycling, education and music.
Actor Art Evans said about awards in general, "I've been fortunate to have a couple awards but they don't define your craft. But it brings attention to it."
There should be no stress in reaching excellence just doing your best and never stopping. Awards don't provide a measurement of your excellence, but gives them a spotlight.
"Believe in yourself and do the best you can do," said actress Hayley Gripp of "CSI: Las Vegas." "In life we want to be perfect...perfection doesn't exist."
Sponsors include Alcorn State University, World Chamber of Commerce, ACON Construction, Victoria Choi, Gazi Kahn, OPEN Development, VCR Construction & Designs and Ron Berryman. You can learn how you can help fund the "Celestial Awards of Excellence" or the Bahati Foundation by logging onto www.CelestialAwardsofExcellence.org.
SYNDICATED COLUMN: Eunice Moseley, has an estimated weekly readership of over ¼ million with The Pulse of Entertainment. She is also a Public Relations Strategist and Business Management Consultant at Freelance Associates, and is Promotions Director (at-large) for The Baltimore Times. www.ThePulseofEntertainment.com. EVENT: 18th annual "Uplifting Minds II" Free Entertainment Conference (Baltimore and Los Angeles in October, 2017). Entertainment Business panel and national talent showcase competition (vocal, songwriting and dance) with over $13,000 in prizes. www.UpliftingMinds2.com.