The Pulse of Entertainment: Embrace Jackiem Joyner's 'Trinity' Off of His New Album 'Main Street Beat'; Robert E. Person Releases New Single 'I Give You Praise'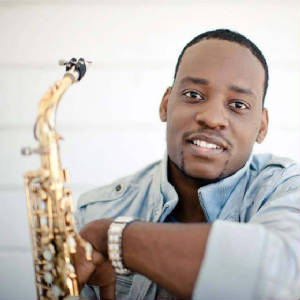 "My daughter really inspired me," said Soul/Jazz saxophonist Jackiem Joyner about his new album "Main Street Beat" (June 30, 2017 release), which first single "Trinity" is named after his daughter. "It was my first time writing with her in the studio. She loves to sing to the TV."
Released on Artistry Music the single "Trinity" features Steve Oliver on acoustic guitarist - as the voice of Trinity. When I asked if his daughter is showing signs of musical talents he indicated when Beyonce' music comes on she breaks out singing and dancing so her instrument may be vocals. Billboard chart topping Joyner plays the tenor, alto, soprano and baritone saxophones.
"It's a groovy and funky CD. The first five songs are upbeat. I stretched my writing playing more tenor for that Motown feel...takes you back to Motown," said Jackiem.
Known as Lil' Man on stage Jackiem Joyner enlisted Raymond Johnson (drums), Darryl Williams (bass), Kyle Bolden (guitar) and Carnell Harrell (piano) to form his band for the project or for at least six of the tracks. Jazz guitarist Nick Colionne is a featured artist on the "When You Smile" selection. Trombonist Nikolai Egorov is featured on the "Southside Blvd," "That Good Thing" and "Don't Make Her Wait" songs.
"Main Street Beat" is his sixth album. His first album release was in 2007 titled "Babysoul," which garnered him the "Debut Artist of the Year" Smooth Jazz News Award. His sophomore album was released two years later, "Lil Man Soul" garnering him a #1 spot on Billboard Singles Chart and a "Song of the Year" American Smooth Jazz Award for "I'm Waiting for You."
"I had this idea to play the drums. I knew I was going to be part of a band as a freshman in high school. Unfortunately or fortunately they had enough drummers and I had to choose another instrument. I chose the saxophone because it looked like the most expensive. My classmate chose the trumpet. People heard us in science class. (My teacher) He gave me a tape of Grover Washington Jr., Charlie Parker and Coltrane to listen to. I tried to play out what I heard. I advanced quickly. My teacher had the principle come listen and said, '...And it's only been three weeks!'"
As they say the rest is HIStory. Jackiem Joyner is now on tour. He has performed at the Cincinnati "Celebration of Black Music," Birmingham's "Jazz in the Park" and at San Diego's Mediterranean Jazz and Super Club. Check out the www.JackiemJoyner.com website for up coming show dates.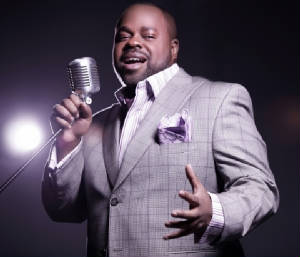 Gospel/Jazz vocalist Robert E. Person releases his first single too, "I Give You Praise," off of his upcoming album "Classic Covers" to be released in the Fall, 2017. The single is a 40 year old Richard Smallwood hit song. Robert was able to collaborate with Richard Smallwood on it.
"(Working with Richard Smallwood) It met and exceeded my expectations," Person said when asked about working with a living legend such as Richard Smallwood. "I wanted to breathe new life to it without loosing the interiority to the song. I didn't want to change it too much, but I incorporated as much live music as I could."
Richard Smallwood is a pianist, singer and songwriter and is known for his choirs and hit songs. One song was made infamous by Whitney Houston in The Bodyguard movie titled "I Love the Lord."
"I was so honored because he is so nonchalant. I'm a Washingtonian and I grew up listening to Richard. I know him from a far. I got up the nerve, courage and fear and asked him if I could record his song. He said, 'Yes, it's bigger than me. This song is 40 years old and is still relevant.' It took a few months but it happened."
Person began his career singing background for Josh Groban. He went on to perform for the Pope as well. An upcoming performance includes an August 27th date at the Mt. Sinai Baptist Church in Washington, DC. He recently performed at the Berean Baptist Church in DC, the Christian Tabernacle and the Indie Gospel Artist Alliance in Beltsville, Maryland.
Robert E. Person said he hopes his music brings peace to the world.
"We are still dealing with hate. The universal message of love is my message," Person said seriously. "My last two albums centered around love but was just music. I decided to have a message this particular time stating that the word that God is Love, we are love. I don't think we get enough love."
Listen to Robert E. Person's cover of "I Give You Praise" or learn more about his upcoming performances and his "Classic Covers" album release by logging onto his website www.RobertEPerson.com.
SYNDICATED COLUMN: Eunice Moseley, has an estimated weekly readership of over ¼ million with The Pulse of Entertainment. She is also a Public Relations Strategist and Business Management Consultant at Freelance Associates, and is Promotions Director (at-large) for The Baltimore Times. www.ThePulseofEntertainment.com. EVENT: 18th annual "Uplifting Minds II" Free Entertainment Conference (Baltimore and Los Angeles in October, 2017). Entertainment Business panel and national talent showcase competition (vocal, songwriting and dance) with over $13,000 in prizes. www.UpliftingMinds2.com.