The Pulse of Entertainment: Premieres, Jagged Edge's 'Unsung' on TV One and 'In the Cut' on Bounce TV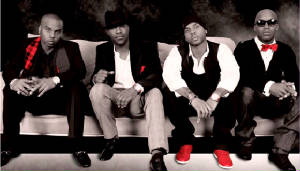 Four guys from Atlanta had a dream. Twin brothers Brian and Brandon Casey, Kyle Norman and Richard Wingo formed the R&B/Hip-Hop act Jagged Edge. They sneaked in places where entertainment industry notables were to get a chance to sing for them. The Jagged Edge odyssey to worldwide fame is honored July 9, 2017 on TV One at 10 p.m. (ET) on a new season of "Unsung."
"The first time we were introduced to Jermaine Dupri was at Jack the Rapper's." said Brian about their "discovery" moment.
"We sneaked in," Wingo added laughing.
"We introduced ourselves. He said meet him at the bathroom," Brian continued. "We waited 30 minutes, an hour, two hours. JD never showed up. We said we gonna show him. The second time was through Kandi (Xscape) who knows Wingo, they went to school together. We did a demo and he took it by to her."
As it goes Kandi knew Jermaine Dupri because her group Xscape was signed to his label So So Def. Group mate Tiny also spoke up for them to JD so he could listen to the groups' demo.
"To all our surprise," the group said. "She fell in love with it. Sometimes we leave Tiny out of the story but she was part of making the relationship with Jermaine Dupri."
Jermaine hit the scene with his So So Def Records label in early 1990s releasing projects from Kris Kross, DaBrat, and Xscape. It was his collaboration with Mariah Carey on "Always Be My Baby" that gave JD his first #1 song.
Through So So Def/Columbia Records Jagged Edge garnered three hit songs that still have them riding the success-wave today - "I Gotta Be," "Let's Get Married" and "Promise." On the TV One "Unsung" episode highlighting their career and journey to success the network interviewed Tiny and Kandi of Xscape; LaTavia Roberson, formerly of the group Destiny's Child, who the guys toured with; Q Parker of the group 112 who they also toured with; songwriter/producer Bryan Michael Cox; radio personality The Poetess; JD's father Michael Mauldin who was President of Columbia Records' Urban Division, and the man himself Jermaine Dupri.
"Diffidently we are working," said the group. "Every weekend...We have multiple tours offered. We pick what we want...when you don't see us we still on the road."
Jagged Edge also admitted that they own their name. An important thing to note in an industry full of people looking to not only take your name for profit but your image and public performance choices.
"For us we never wanted to be put in that position (to get ripped off). We made sure we got a lawyer...we still got jerked but we are still maintaining. We are...self contained. Black owned, no A&R, no big label...its all us, our style. Some artists don't own their names, we own Jagged Edge," said the group concluding on a serious note.
The twins Brian and Brandon are also songwriters who have written for Usher and Toni Braxton. Jagged Edge is currently promoting their 9th project titled "The Lay-Over." Their TV One "Unsung" episode airs Sunday, July 9th at 10 p.m. ET. Find out more on TV One's "Unsung" episodes for this new season by logging onto www.TVOne.tv and for information on "The Lay-Over" or Jagged Edge upcoming performances log onto www.JEHeartBreak.com.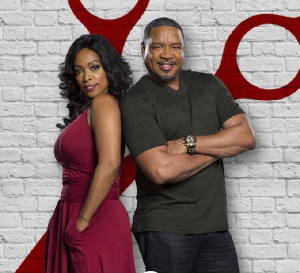 On Tuesday July 11, 2017 at 9 p.m. (ET) Bounce TV premiers Bentley Kyle Evan's "In the Cut" sitcom starring Dorien Wilson as Jay Weaver, Kallita Smith, Ken Lawson and John Marshall. "In The Cut" takes place in a barbershop owned by Dorien's character Jay and Kallita's character Cheryl - his ex-wife - has a hair saloon a couple doors down the street. Ken is Jay's son Kenny Clark whom he never knew he had and John is Smitty Jay's best friend.
Bentley, producer/writer of "In the Cut," credits include "Martin" (1992 - 1997), "The Jamie Foxx Show" (1996-2001), Family Time (201202017), "Love That Girl" (2010-2014) and of course "In The Cut" (2015 - 2017). This will be the third season for the family sitcom dealing with Jay's relationship with his 30 year old estranged son, his best friend and business competitor ex-wife Cheryl.
"We are not trying to hit you over the head but make you think," Dorien said about the shows message. "We just want to tickle your funny bone and make you forget (your troubles). Our show is structured so everybody can relate - 55 year old men, 30 year old women and teens."
All of Bentley's projects make you feel as though you can relate that's why they are long running shows. Bounce TV's "In the Cut" also stars Golden Brooks, Vanessa Bell Calloway and Ernest Thomas. You can get more details on the episodes by logging onto www.BounceTV.com/shows/in-the-cut/.
SYNDICATED COLUMN: Eunice Moseley, has an estimated weekly readership of over ¼ million with The Pulse of Entertainment. She is also a Public Relations Strategist and Business Management Consultant at Freelance Associates, and is Promotions Director (at-large) for The Baltimore Times. www.ThePulseofEntertainment.com. EVENT: 18th annual "Uplifting Minds II" Free Entertainment Conference (Baltimore and Los Angeles in October, 2017). Entertainment Business panel and national talent showcase competition (vocal, songwriting and dance) with over $13,000 in prizes. www.UpliftingMinds2.com.