The Pulse of Entertainment: Marvin Sapp Profiled on TV One; Jonathan Butler Releases New Single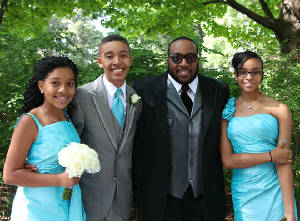 Two-time BET Award winner Marvin Sapp's life and career as a Gospel artist, Pastor and father will be profiled in a TV One "Unsung" episode airing Sunday July 16, 2017 at 10 p.m. ET. His career as a Gospel singer started in the 1990s as a member of the group Commission thanks to an invite from Fred Hammond. He went on to record solo projects that resulted in Billboard Chart topping songs, such as his first #1 hit and signature song "Never Would Have Made It" (2007).
"It was after I buried my father at an early morning service," Marvin Sapp said about the birth of his signature song "Never Would Have Made It." "I broke down...we were doing Praise and Worship, its normally up tempo. This time I stopped the music and I started to sing these word, 'never would have made it, no I never could have made it without you.' I never thought that years later it would still be playing."
Sapp is Pastor of Lighthouse Full Life Center Church in Grand Rapids, Michigan. He received an honorary Doctorate degree in Divinity from Aenon Bible College and an honorary Doctorate degree in Ministry from Friends International Christian University.
"All of us have those 'never would have made it' moments," Marvin said. "I think it's a powerful message. It's a story about endurance, not giving up. You get knocked down but not knocked out."
Sapp is a prime example of this sentiment because not only did he lose his father but he lost his loving wife to cancer and he battled his own illness. On the "Unsung" episode TV One interviews those that touched his life such as Kirk Franklin, Bryon Cage, Donald Lawrence, Dorinda Clark Cole and Fred Hammond.
The GMA Award winner's solo career includes seven albums. His time with Commission garnered three albums. Sapp has three children Marvin II, Mikaila and Madisson. Learn more about this exceptional man by logging onto www.MarvinSappMusic.com and for more on his TV One 'Unsung" episode airing July 16th at 10 p.m. ET log onto www.TVOne.tv.
South African born Jazz guitarist Jonathan Butler recently released a new single from his new album titled "Free." The single is entitled "Show Me The Way" f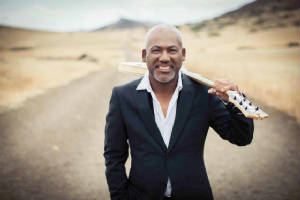 eaturing vocals from Myron Butler and Travis Greene. Jonathan is currently touring with Gerald Albright, which will take them to his native country South Africa.
"We thought it would be a great move to get Myron and Travis involved," Butler said about his "Show Me the Way" single.
Travis is a very popular Contemporary Gospel artist and when I asked about his collaboration with Greene Jonathan said, "We met twice. We got together at the Stellar Awards this year and had a chance to talk."
Grammy Award nominated Jonathan Butler also plays Jazz Fusion and Worship music. He started touring at the age of seven! By the age of 14 he had the #2 song in South Africa - a cover of The Drifters song "Please Stay." In 1977 he signed to Jive Records, he was 16 years old. He went on to live in the United Kingdom for 17 years before relocating to California.
"As I've been writing certain songs...you feel excited about it," Butler said. "'Free' is very personal. To be free to speak...walk in your freedom, to say what you need to say."
Jonathan Butler was raised in Capetown, South Africa and he hosts a annual safari taking 30 people across the world to his country.
"It's a bucket list of a life time dream (for them), even for me," he said concluding the interview.
You can learn more about this living legend of a Jazz guitarist and his single "Show Me the Way" featuring Myron Butler and Travis Greene by logging onto www.JonathanButler.com.
SYNDICATED COLUMN: Eunice Moseley, has an estimated weekly readership of over ¼ million with The Pulse of Entertainment. She is also a Public Relations Strategist and Business Management Consultant at Freelance Associates, and is Promotions Director (at-large) for The Baltimore Times. www.ThePulseofEntertainment.com. EVENT: 18th annual "Uplifting Minds II" Free Entertainment Conference (Baltimore and Los Angeles in October, 2017). Entertainment Business panel and national talent showcase competition (vocal, songwriting and dance) with over $13,000 in prizes. www.UpliftingMinds2.com.